Storm Forecast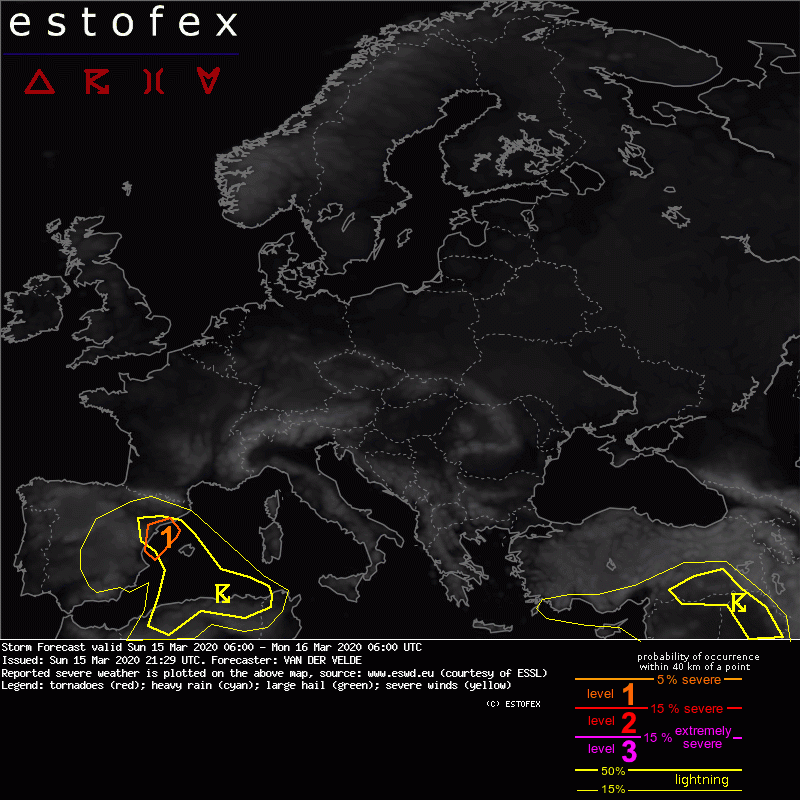 Storm Forecast
Valid: Sun 15 Mar 2020 06:00 to Mon 16 Mar 2020 06:00 UTC
Issued: Sun 15 Mar 2020 21:29
Forecaster: VAN DER VELDE
A level 1 was issued across E Spain mainly for local excessive rainfall and slight tornado chances.

DISCUSSION

An upper trough has cut off over the Iberian Peninsula and stimulates deep convection by cold upper levels and lifting at the east side of the cold pool. A plume of warm surface air gets pulled towards the E coast of Spain, with low CAPE but humid and a weak cap the air forced over the orography is lifted and can trigger storms lingering around, producing locally copious rainfall. Vertical low level and deep layer shear (>20 m/s) support rotation with some chance of tornadoes mainly across eastern Spain. Most storm activity should occur during afternoon and evening and can persist into the morning. Over N Algeria CAPE meets enhanced SREH but lacking 0-6 km shear, limiting threats.
Another major elongated trough lies WSW-ENE across Turkey with unstable stratification in the warm airmass over S and E Turkey and Syria, but generally less than moderate shear (<10 m/s).