Storm Forecast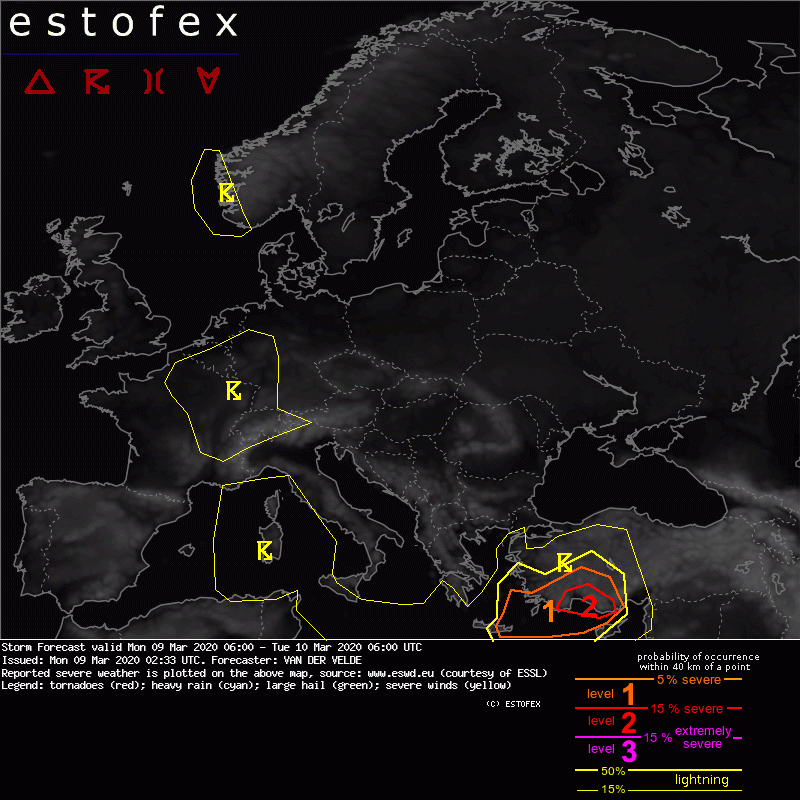 Storm Forecast
Valid: Mon 09 Mar 2020 06:00 to Tue 10 Mar 2020 06:00 UTC
Issued: Mon 09 Mar 2020 02:33
Forecaster: VAN DER VELDE
Levels 1 and 2 were issued across Crete and SW Turkey mainly for chances of tornadoes, marginally large hail, severe wind gusts and excessive precipitation.

SYNOPSIS / DISCUSSION

A large scale upper trough spans a significant area of Europe, within which two surface low pressure cores with associated shortwave troughs circulate, one over the Ligurian Sea, another sweeping with a negative tilt into the Aegean/SW Turkey area. The latter builds up a few hundred J/kg CAPE and a sharp cold frontal convergence zone with tremendous upper support starting the day at Crete and affecting S Turkey mainly from 15Z-21Z. 20 m/s DLS and 300 m2/s2 of 0-3 km SREH supports supercell updrafts with large hail, tornadoes may be possible despite lowish 0-1 km shear (mostly below 10 m/s - until 18Z).
From 18Z, further east, LLS increases while storms could also survive inland. 1-3 km mean wind speed over 22 m/s supports severe gusts while excessive precipitation could occur in more areas by storms growing on increased onshore moist air advection.