Storm Forecast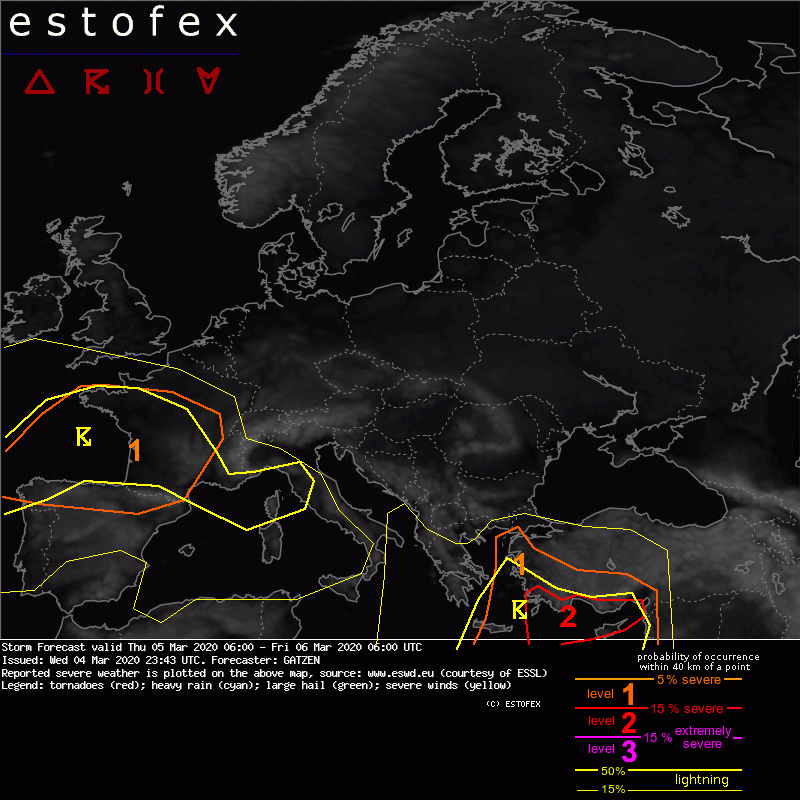 Storm Forecast
Valid: Thu 05 Mar 2020 06:00 to Fri 06 Mar 2020 06:00 UTC
Issued: Wed 04 Mar 2020 23:43
Forecaster: GATZEN
A level 2 was issued across southern Turkey mainly due to severe wind gusts and to a lesser extent tornadoes, large hail, and heavy rain.

A level 1 was issued across the east Mediterranean and surroundings mainly due to severe wind gusts and to a lesser extent tornadoes, large hail, and heavy rain.

A level 1 was issued across the Bay of Biscay western and central France mainly due to severe wind gusts and tornadoes.

SYNOPSIS

A deep trough is situated across Central Europe and the central Mediterranean and slowly progresses east. Its vorticity center will be located over western Turkey at the end of the period. Upstream, amplification of an intense trough is expected. This strongly-forced synoptic situation will affect western Europe. An overlap of rich boundary-layer moisture and steep lapse rates is expected close to the axis of the east-European trough, especially the east Mediterranean.

DISCUSSSION

East Mediterranean, Cyprus, southern Turkey

Ahead of the approaching trough, a very strong mid-level jet streak points towards southern Turkey. Its progression will be associated with strong synoptic forcing. At lower levels, a warm air mass spreads northward. Lapse rates within this air mass are rather steep. In the boundary-layer, rich Mediterranean moisture is present, and MLCAPE is forecast to reach several 100 J/kg. Initiation is expected along a cold front that approaches from the west. Strongest lift will be where frontal ascent is superimposed to topographic lift along the southern coasts of Turkey. Thunderstorms are forecast.

Latest models indicate strong vertical wind shear ahead of the cold front, with mostly straight-line hodographs and storm motion vectors slightly to the right of the cold front. Therefore, we expect linear organization of multicells along the cold front, together with some right-moving supercells ahead of the cold front. These can produce all kinds of severe weather, including tornadoes due to strong low-level vertical wind shear in excess of 10 m/s in the lowest kilometer. Strong tornadoes are not ruled out. Main threat, however, will be severe wind gusts along bowing segments of the cold-frontal convection. Additionally, local flash floods are not ruled out. The continuous propagation of the cold front will limit this threat, though.

Bay of Biscay into France

A strongly-forced synoptic situation is expected on Thursday, with an intense trough amplifying into the west Mediterranean. A cold front moves east in the morning hours, and one or two narrow cold-frontal rain bands are forecast to develop. Pre-frontal air mass will be characterized by rich moisture, however, lapse rates are limited since strongest stretching remains east off the warm air mass. Later in the period, the tropopause fold will become less pronounced, and low-level stretching will weaken. Current thinking is that severe potential will mostly exist due to bowing segments and associated severe wind gusts. However, tornadoes are not ruled out. Severe potential will decay during the period.