Storm Forecast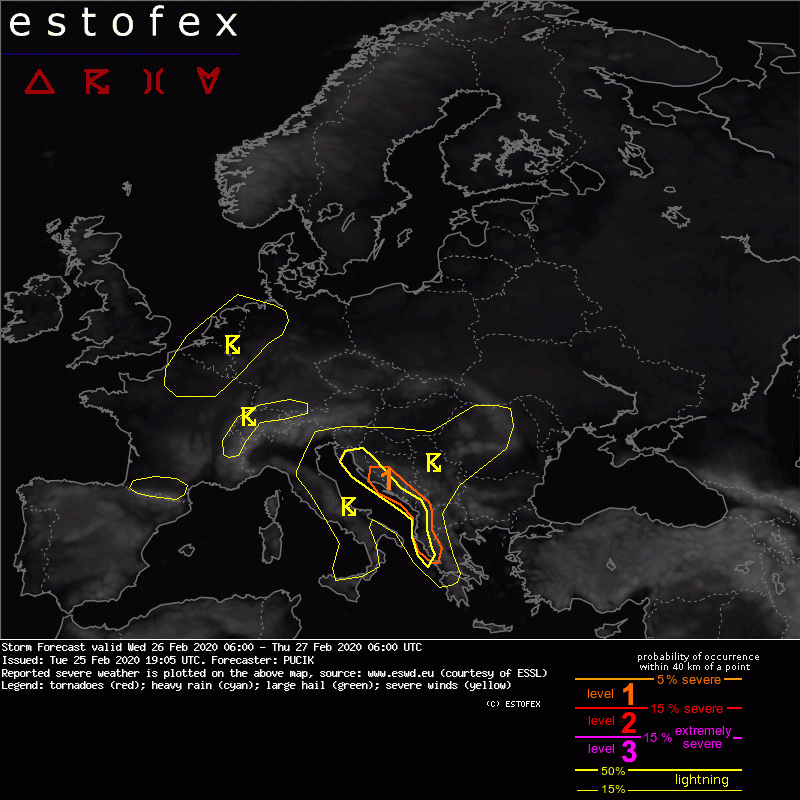 Storm Forecast
Valid: Wed 26 Feb 2020 06:00 to Thu 27 Feb 2020 06:00 UTC
Issued: Tue 25 Feb 2020 19:05
Forecaster: PUCIK
A level 1 was issued across parts of the Balkans coastline mainly for marginally severe gusts, marginally large hail and tornadoes.

SYNOPSIS and DISCUSSION

Main macro-synoptic scale feature will be a deep trough that will move from NW Europe towards southeast, amplifying and reaching Balkans by Thursday morning. Convective storms are forecast to form underneath the core of the trough with lapse rates exceeding 7.5 K/km and on its forward flank, ahead and along the advancing cold front. Strong shear on the forward flank of the trough, with 0-3 km and 0-6 km values over 20 m/s should suffice for supercells with chance of marginally severe gusts and/or isolated tornado event along the coastline. Marginally large hail may occur as well with stronger cells. Level 1 was also considered for parts of Serbia, Romania, but was discarded due to the inconsistency in CAPE signal in models.