Storm Forecast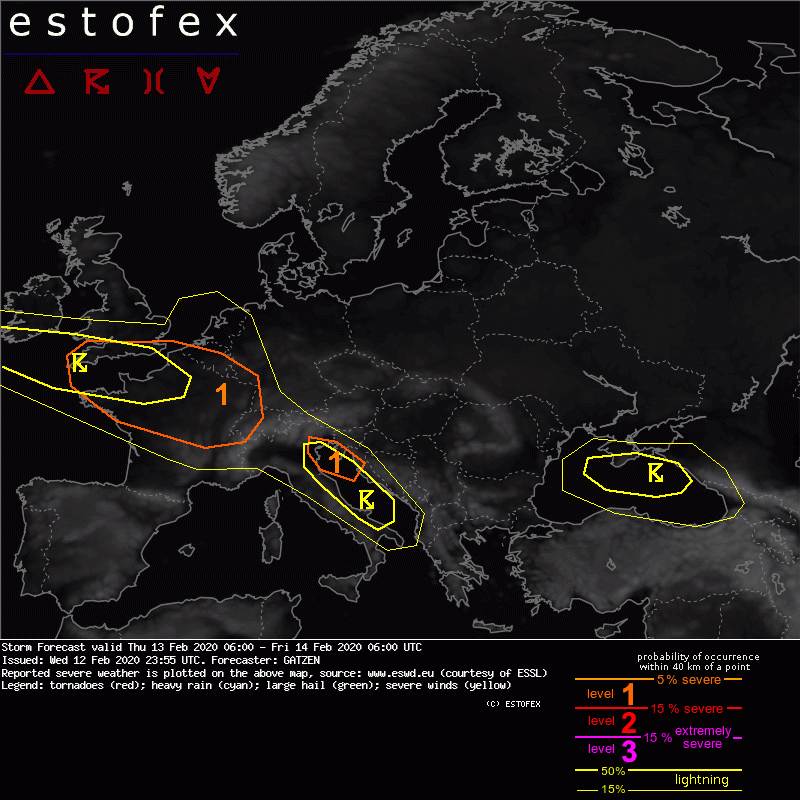 Storm Forecast
Valid: Thu 13 Feb 2020 06:00 to Fri 14 Feb 2020 06:00 UTC
Issued: Wed 12 Feb 2020 23:55
Forecaster: GATZEN
A level 1 was issued across the Chanel region, northern and eastern France, western Alps, and northern Adriatic mainly for severe wind gusts and to a lesser extent tornadoes.

SYNOPSIS

A strong mid-level jet extends from western Europe towards Turkey. Two progressive mid-level troughs are embedded in the jet, one crosses the Black Sea, another moves from the British Isles eastwards and amplifies into the Mediterranean. Both troughs are associated with steep lapse rates. However, moisture is very limited, in particular across eastern Europe. With some better moisture over the Black Sea, some weak storms are forecast, but CAPE is too weak to support stronger storms. The trough across western Europe will be associated with more favourable moisture.

DISCUSSION

The Channel, northern France, and surroundings

A sharp trough gigs across France and will affect the northern Mediterranean late in the period. Strong DCVA is forecast downstream of the trough axis. At low levels, a moist air mass spread into France ahead of the trough. The moist air will experience low-level stretching ahead of the cold front, however, steep lapse rates will hardly overlap with the best moisture. Therefore, it is questionable if sufficient instability will develop to sustain deep moist convection.

Though, strong frontal lift can still lead to some embedded storms that will organize along times given very strong vertical wind shear. Severe wind gusts will be the main threat with these storms, although tornadoes are also forecast. Late in the forecast period, some more storms are expected to develop over the Adriatic region. Although vertical wind shear is weaker, some severe wind gusts are still forecast.