Storm Forecast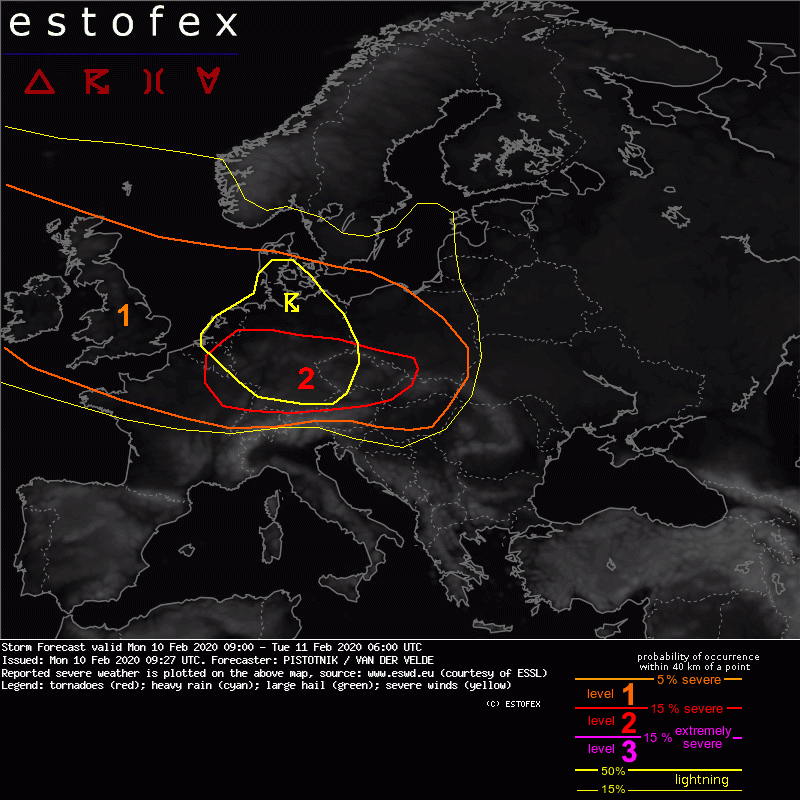 Storm Forecast
Valid: Mon 10 Feb 2020 09:00 to Tue 11 Feb 2020 06:00 UTC
Issued: Mon 10 Feb 2020 09:27
Forecaster: PISTOTNIK / VAN DER VELDE
A level 1 and level 2 are issued for a large area from the British Isles into east-central Europe mainly for severe convective wind gusts and to a lesser extent tornadoes.

SYNOPSIS

An unusually strong and straight mid-level jet runs from the North Atlantic across France and the Alpine region before it curves northward into the Ukraine and Russia. By the end of this forecast period, it will cover almost entire Europe.
At the surface, the center of a sub-950 hPa cyclone is placed over N Scandinavia. Its cold front quickly crosses Poland, the Czech Republic, the Alpine region, the N Balkans and E Europe. A frontal wave will follow from the Channel region (Mon 15 UTC) to central Poland (Tue 06 UTC). Placed in a neutral position with respect to synoptic forcing, it is not predicted to deepen, but will maintain an extraordinarily strong wind field (25-35 m/s at 850 hPa) at its southern flank until beyond this forecast period.

DISCUSSION

A wide area of northwestern, central and east-central Europe will see scattered to widespread severe and isolated extreme wind gusts on Monday. Involvement of convection is difficult to assess. Forecast profiles show neutral stratification up to the mid-troposphere, locally marginally unstable in coastal areas, in response to daytime heating over land, and ahead of travelling small-scale vorticity maxima. Electrified convection will therefore stay rather scattered.
Three foci of an enhanced wind risk exist:
(1) The cold front mostly until 12 UTC. Maximum wind gusts are exceeding 40 m/s at the time of writing in N Switzerland and S Germany. This wind maximum will affect parts of the Czech Republic and N Austria in the next few hours, though evaporative cooling in Foehn-dried air seems to play a bigger role than deep convection - lightning is rather sporadic. Though gradually relaxing, severe wind gusts will likely affect Poland, Slovakia and Hungary in the afternoon and evening.
(2) Several rounds of postfrontal convection will move across the British Isles, the North Sea, BeNeLux and Germany, enhanced either by daytime heating or small-scale troughs. While the wind field is slightly weaker, instability is deeper and lightning will be more frequent.
(3) The mentioned frontal wave will carry another round of deep convection across N France, central and S Germany, N Switzerland and N Austria after 18 UTC.

Next to the main risk of severe straightline winds with any deep convection that manages to form, one or tornadoes are not ruled out in case of discrete storms, which can organize into low-topped but strong multicells and at least transient supercells. The limiting factor which precludes a larger level 2 or even a level 3 area is the small amount of CAPE, and hence the expected limited coverage of electrified convection within the broad area of strong winds and wind shear.