Storm Forecast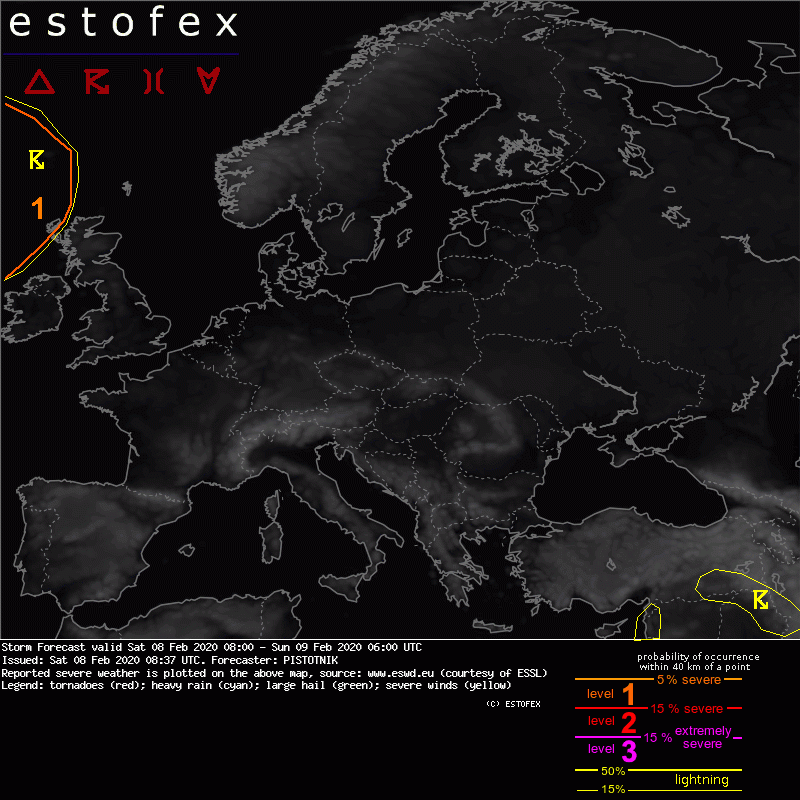 Storm Forecast
Valid: Sat 08 Feb 2020 08:00 to Sun 09 Feb 2020 06:00 UTC
Issued: Sat 08 Feb 2020 08:37
Forecaster: PISTOTNIK
A level 1 is issued for sea waters NW of the British Isles for severe convective wind gusts.

SYNOPSIS and DISCUSSION

A long-wave ridge slowly shifts eastward across central Europe and Scandinavia. It is flanked by a highly amplified trough over far-eastern Europe and another trough over the British Isles. The latter gets flattened as warm air advection ahead of an intense jet streak over the North Atlantic sets in.
Stormy conditions affect the sea area NW of the British Isles on the cold side of the frontal zone. Showers and isolated low-topped thunderstorms ahead of a travelling vorticity maximum may partly contribute to widespread severe wind gusts. Limiting factor is the low depth of instability and the low coverage of electrified convection.