Storm Forecast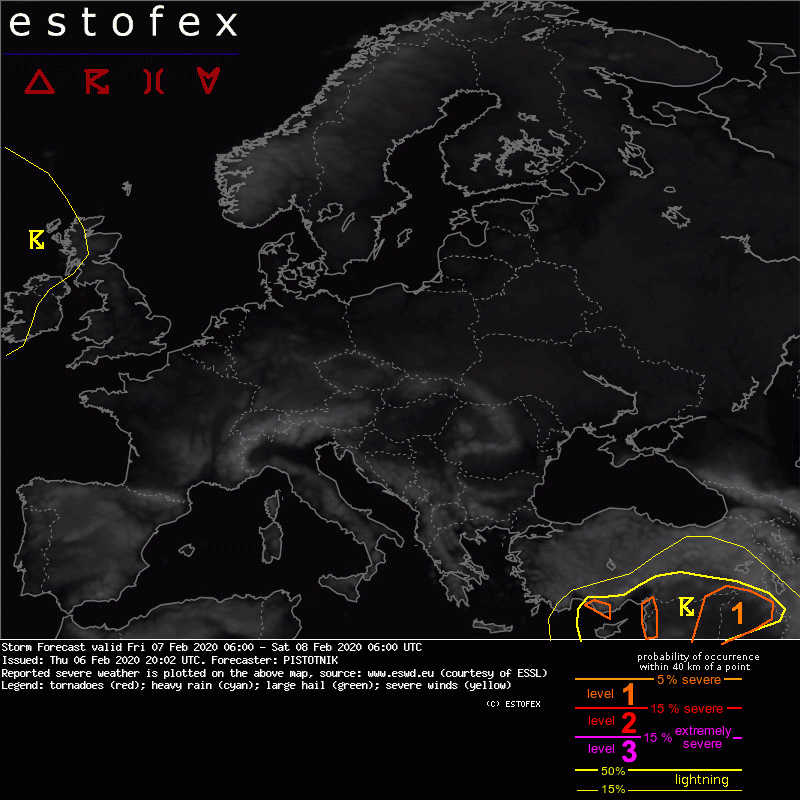 Storm Forecast
Valid: Fri 07 Feb 2020 06:00 to Sat 08 Feb 2020 06:00 UTC
Issued: Thu 06 Feb 2020 20:02
Forecaster: PISTOTNIK
A level 1 is issued for E Syria and N Iraq mainly for severe convective wind gusts.

A level 1 is issued for coastal areas of S Turkey and Syria for excesssive convective precipitation.

SYNOPSIS

Long-wave troughs are placed from European Russia to the E Mediterranean Sea and just west of the British Isles, separated by an amplified ridge from the central Mediterranean region to Scandinavia. These features slowly proceed east. Anticyclonic influence calms the weather on most parts of the continent after the recent stormy episode.

DISCUSSION

... SE Turkey, Syria, Iraq ...

Ahead of the eastern trough, forecast models predict patches of a little CAPE in an environment of strong vertical wind shear (0-3 km: 15-20 m/s) and some synoptic lift. Scattered thunderstorms are expected mainly in the afternoon and evening. An eastward moving cold front may promote linear organization with a risk of severe wind gusts around the borders of Turkey, Syria and Iraq. Further south, discrete convection could organize into multi- or supercells with additional risks of marginally large hail, heavy rain or an isolated tornado. Convection will be embedded and probably elevated when it moves into Turkey, lowering the severe weather risk.
In coastal areas of S Turkey and Syria, the cold postfrontal air over warm waters creates a few hundred J/kg CAPE under quickly relaxing shear. Storms will be disorganized, butonshore and upslope flow could support a few flash floods.