Storm Forecast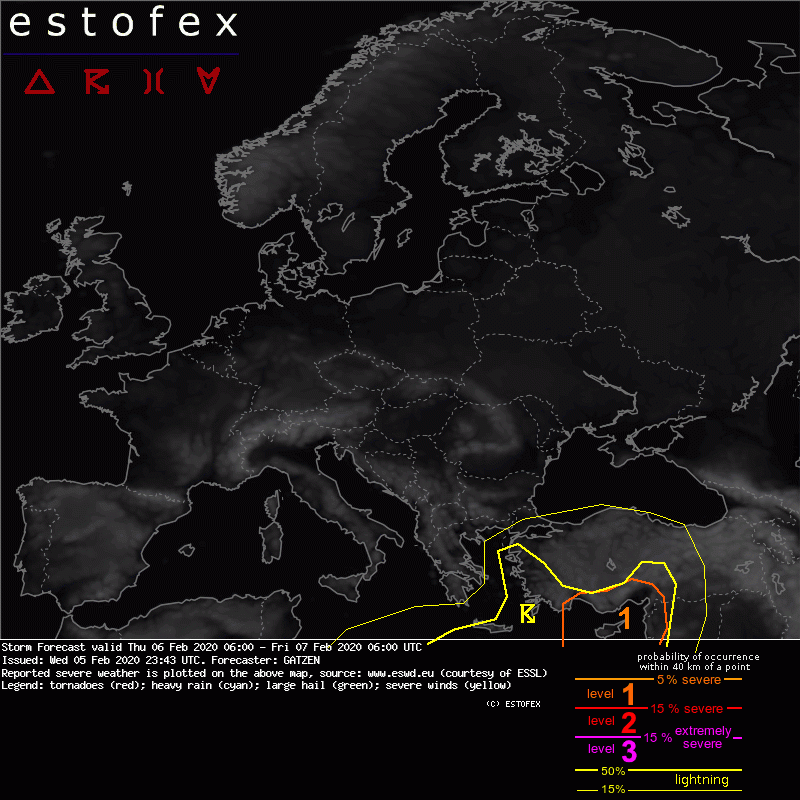 Storm Forecast
Valid: Thu 06 Feb 2020 06:00 to Fri 07 Feb 2020 06:00 UTC
Issued: Wed 05 Feb 2020 23:43
Forecaster: GATZEN
A level 1 was issued across the east Mediterranean mainly due to severe wind gusts, tornadoes, and excessive precipitation. Additionally, waterspouts are expected.

SYNOPSIS

Deeply amplified intense mid-level trough progresses eastward and crosses the east Mediterranean. Ahead of its well-developed frontal zone, a warm southerly flow advects moist air from the Mediterranean towards Turkey and farther into the east Black Sea region and southern Russia. Thunderstorms are expected in the east Mediterranean region, although lapse rates are quite marginal. West of the advancing cold front, polar air masses spread into the Mediterranean. Western Europe is affected by a well-developed ridge.

DISCUSSION

A cold front moves east across the east Mediterranean. Prefrontal warm air mass is relatively moist, with a mixed-layer low-level mixing ratio around 9 g/kg, but lapse rates will be not too steep. Weak CAPE is expected to develop that will slightly improve close to the cold front, supported by frontal lift and low-level stretching. Latest models indicate some 10s J/kg MLCAPE. Equilibrium level temperature around -10°C will be quite high, and thunder is in particular forecast along the shores, where upslope flow adds to the local lift. Along the cold front, linearly organized convection is forecast, favoured by long, straight-line hodographs and front-parallel storm motion vectors. Severe wind gusts are forecast, especially when bowing segments manage to form. Additionally, tornadoes are not excluded, as the low-level flow is modified by the topography, allowing for higher SRH values, e.g. in the wake of Cyprus. Finally, heavy rain is forecast in the upslope flow regime across southern Turkey.

In the wake of the cold front, lapse rates increase towards the base of the mid-level trough. A well-developed mid-level front will be associated with further low-level stretching. Although low-level moisture will also decrease with the advection of polar air masses and increasing vertical mixing, showers and thunderstorms are forecast over the rather warm sea surface. Vertical wind shear will be significantly weaker compared to the frontal zone, and storms will become less organized. Main threat will be local severe wind gusts with stronger storms.

Close to the base of the mid-level trough, waterspouts are forecast close to the shores, initially over the southern Aegean Sea, later on also along the shores of south-western Turkey.