Storm Forecast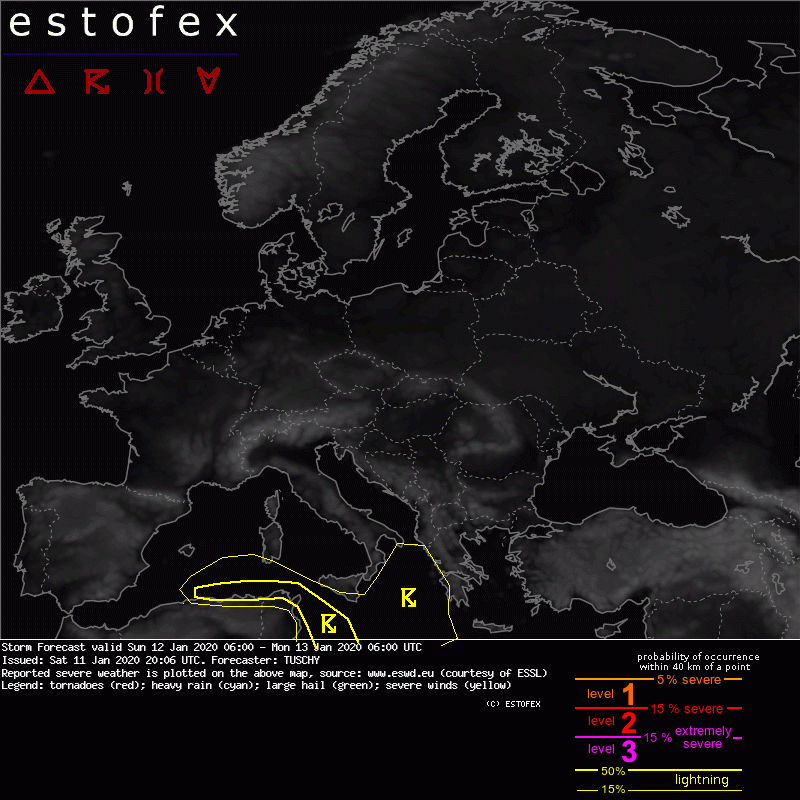 Storm Forecast
Valid: Sun 12 Jan 2020 06:00 to Mon 13 Jan 2020 06:00 UTC
Issued: Sat 11 Jan 2020 20:06
Forecaster: TUSCHY
A stout ridge extends from the Iberian Peninsula towards NE Europe and attendant subsidence and a dry/cool boundary layer preclude thunderstorm probabilities.
Main focus for some activity remains next to / beneath an upper low over NE-Algeria and N-Tunisia with mainly offshore thunderstorm activity forecast. No severe risk exists (despite an isolated waterspout event).

Marine convection off the coast of W-Norway remains too shallow for lightning activity but probably enhances downward momentum on a local scale and an attendant severe wind gust risk exists with 850 hPa winds in the 50 kn range.

A southbound dropping sharp upper trough over far SE-Europe may spark an isolated short-lived thunderstorms over/next to the E-Black Sea, but thunderstorm coverage remains too low for adding a lightning area.