Storm Forecast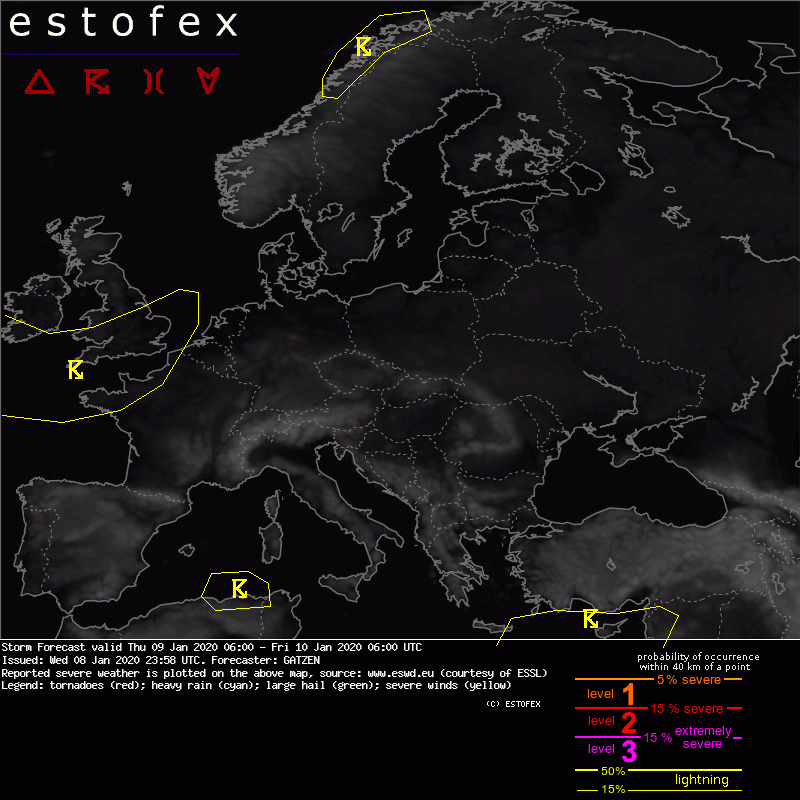 Storm Forecast
Valid: Thu 09 Jan 2020 06:00 to Fri 10 Jan 2020 06:00 UTC
Issued: Wed 08 Jan 2020 23:58
Forecaster: GATZEN
No threat levels have been issued.

SYNOPSIS

An Atlantic short-wave trough runs into the European ridge and pushes the ridge and the downstream trough across Turkey to the east. The trough will start to dissipate as new ridging follows from the west. Ahead of the trough, moist maritime air masses spread into Central Europe, where stable lapse rates are present. Farther west, better lapse rates will not overlap with rich moisture, so that CAPE will be very limited. Across the east Mediterranean, some weak CAPe may be present as well.

DISCUSSION

Western Europe

Weak CAPE is expected across the British Isles, the Channel region, and parts of the North Sea. However, high equilibrium level temperartures over the wouthern parts and very limited CAPE in the northern parts will be associated with only weak convection, and intense convective storms are not expected. Some severe wind gusts along the cold front over the Channel and northern France / southern England will be not due to convective storms.

East Mediterranean

Some showers and weak thunderstorms are forecast. Weak vertical wind shear will limit any severe potential except for a brief waterspout potential.