Storm Forecast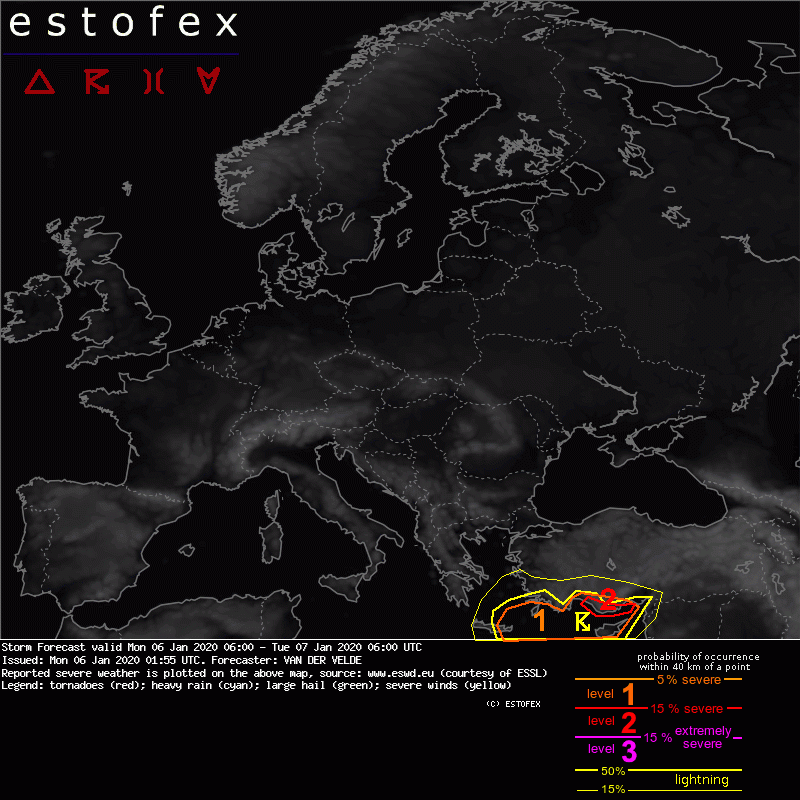 Storm Forecast
Valid: Mon 06 Jan 2020 06:00 to Tue 07 Jan 2020 06:00 UTC
Issued: Mon 06 Jan 2020 01:55
Forecaster: VAN DER VELDE
A level 2 was issued across southern Turkey mainly for excessive precipitation, severe wind gusts and tornado chances.

A level 1 was issued across the eastern Mediterranean Sea mainly for excessive precipitation, tornado and severe wind gust chances.


DISCUSSION

High pressure over central Europe keeps weather at bay, while a potent low affects the eastern Mediterranean with convective rainfall along Turkey and Cyprus coastlines and strong winds across and around the Aegean Sea. CAPE is a couple hundred J/kg.
In the S Turkey level 2 area, flow into the shoreline is strong, lifting moist air and triggering persistent convective cells, with widespread excessive rain likely. Also, severe wind gusts can accompany the storms. Tornado chances are enhanced by >15 m/s 0-1 km shear over land and the deeper shear under the jetstream. Further west, mainly between Crete and SW Turkey, slow storm movement, high vertical vorticity, steep lapse rates and weak shear support waterspout formation.