Storm Forecast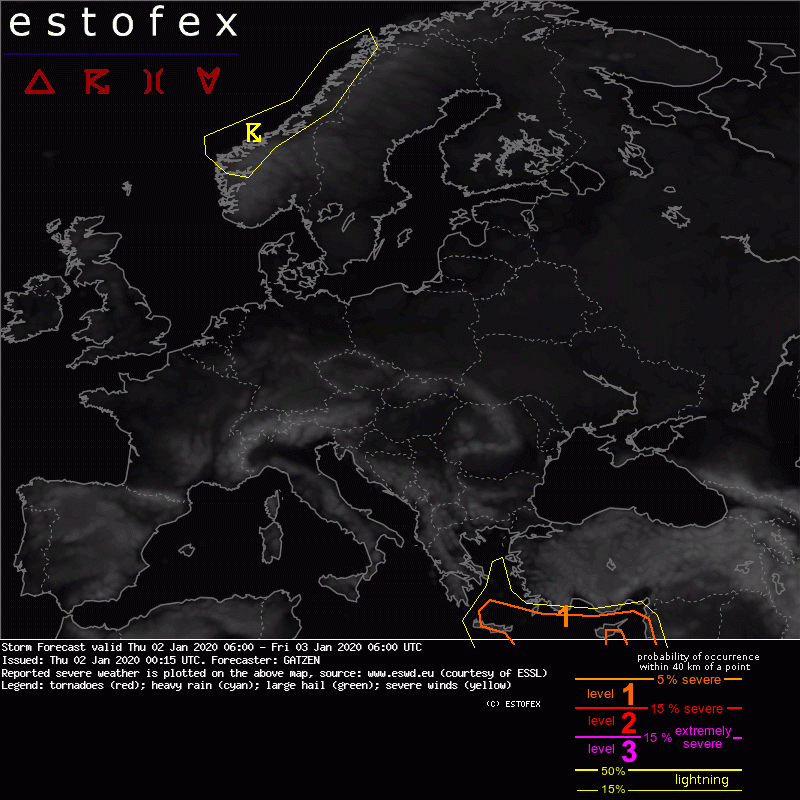 Storm Forecast
Valid: Thu 02 Jan 2020 06:00 to Fri 03 Jan 2020 06:00 UTC
Issued: Thu 02 Jan 2020 00:15
Forecaster: GATZEN
A level 1 was issued across the east Mediterranean for extreme rainfall and waterspouts.

SYNOPSIS

Subtropic high centred across Morocco ridges into Central Europe. It is flanked by the polar jet stream that extends from the British Isles to central Scandinavia and then southward across eastern Europe, where it forms an amplified trough that starts to cut off over the Aegean Sea. Another cut-off trough is located over France and will slowly lift across Germany on Thursday. At lower levels, maritime air masses spread into northern Europe in the range of the ridge axis, with temperatures well above the average across all of Scandinavia. A cold front enters western Scandinavia and most of the British Isles at the end of the forecast period. Cold and dry air masses will be also replaced over most of eastern Europe, whereas polar air masses remain across south-eastern Europe in the range of the developing cut-off trough. Given weak moisture over most of this area, thunderstorms are unlikely. An exception is the Mediterranean Sea, where better low-level moisture overlaps with steep low-level lapse rates.

DISCUSSION

East Mediterranean

In a moist air mass with skinny CAPE profiles in a shallow unstable layer and low LCL heights, showers and thunderstorms are forecast to develop along the land-breeze, mostly across open waters. Due to weak vertical wind shear, slow moving storm will produce high amounts of precipitation. Additionally, waterspouts are forecast.