Storm Forecast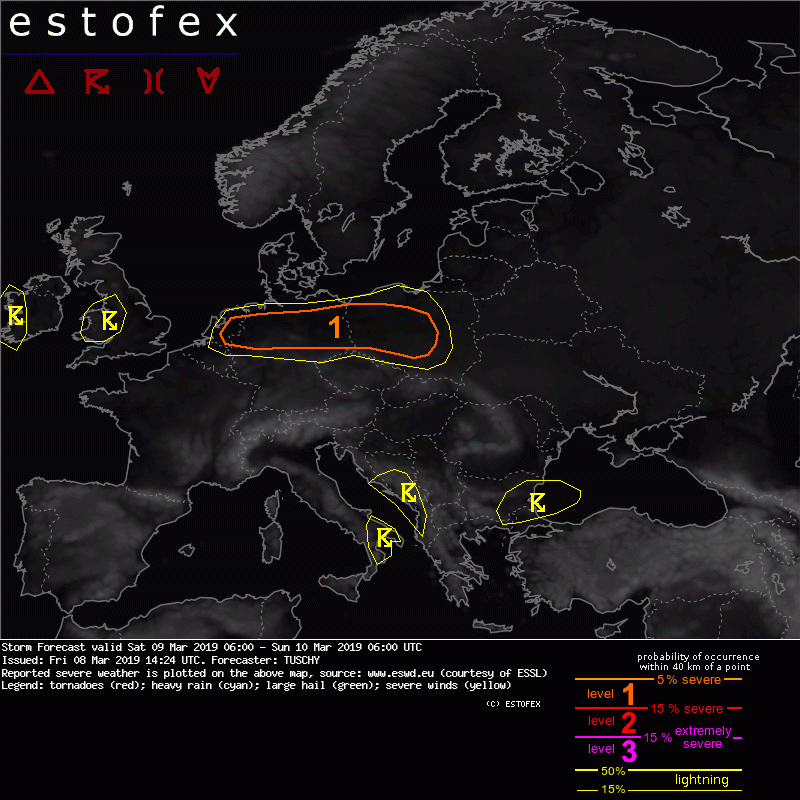 Storm Forecast
Valid: Sat 09 Mar 2019 06:00 to Sun 10 Mar 2019 06:00 UTC
Issued: Fri 08 Mar 2019 14:24
Forecaster: TUSCHY
A level 1 was issued across parts of the Netherlands, N Germany into Poland mainly for severe wind gusts and an isolated tornado risk.


SYNOPSIS

A progressive/zonal flow pattern remains anchored over Europe and takes numerous small-amplitude waves from W-CNTRL to E-CNTRL Europe. In fact standardized geopotential height anomalies show a belt of lower values (-1 to -2 sigma) over N-Europe facing positive values with similar magnitude over S-Europe. It is not a surprise to see an extensive +2 to +3 sigma high-level jet running from Ireland to Germany and during the night all the way to Bulgaria/Romania. Numerous embedded waves ensure some polward moisture advection beneath and north of that jet which will be the focus for enhanced convective activity. Despite those onshore/NE-ward fanning plumes of marine air, meager BL moisture keeps the overall thunderstorm risk low over N-Europe despite favorable mid-level lapse rates. Better BL moisture and at least regionally steeper mid-level lapse rates support a temporal/regional conditional thunderstorm risk along the intersection of a trailing cold front and a broad/flat upper impulse over SE-Europe.


DISCUSSION

... The Netherlands, N-Germany to Poland ...

Pattern recognition points to an enhanced severe risk as the divergent left exit region of an intense 55 m/s mid-level jet overlaps a weakly unstable postfrontal air mass during the daytime hours. Weakness remains a diffuse LL jet, which offers no distinct maximum/core, but nevertheless is accompanied by strong winds and hence strong LL shear.

Despite the forecast pattern recognition uncertainties remain as GFS stays an outlier in trying to develop a weak postfrontal wave over N-Germany during the afternoon. Other models however support weak postfrontal LL ridging driven by temporal CAA or rather take the wave to NW Germany during the later afternoon (6h time lag). Directional shear would be stronger in the GFS solution and hence more favorable for rotating updrafts. Latest RGB/WV imagery over the NE Atlantic hints at enhanced convection/a tightening WV gradient in the region of the potentially evolving wave, so GFS can't be ruled out currently. This wave has to be monitored closely!

The current idea is that the first intersecting shallow mid/upper trough with the main surface front induces enhanced/forced convection over NE Germany before and around noon and over W/CNTRL Poland during the afternoon. Straight hodographs would point to isolated severe wind gusts the main risk with LL wind field relaxing fast in the postfrontal air mass. This risk descends towards Poland with an ongoing severe wind gust risk but also an isolated tornado risk due to peak diabatic heating and slightly better curved LL hodographs.

The next wave will be the main focus for organized convection with severe wind gust certainly the dominant threat as 850 hPa winds increase to 25-30 m/s in a well mixed air mass. If the GFS solution with a sharper/earlier (midday) through materializes a tronado risk may arise with organized convection over N Germany and later-on also over Poland during the evening.
Apart from the tornado risk, convection along/ahead of that wave may grow upscale into small line segments with regional swaths of severe wind gusts. Hail may approach the severe criterion on an isolated scale.

For now a broadly brushed level 1 was issued which reflects the ongoing model spread. Hence even the Netherlands were included with some models delaying the second wave until the afternoon, which would overlap with some SBCAPE. Similar hazards are forecast.

... Far NE Greece/NW Turkey and S Bulgaria and the E-CNTRL Adriatic Sea...

BL mass field responds to falling pressure further to the north and to the southward sagging cold front. This ensures some onshore advection of moist Aegean air beneath a belt of steeper mid-level lapse rates. Incoming broad upper trough from the W may help to spark a few elevated thunderstorms with a conditional hail risk during the daytime and evening hours before convection moves offshore and weakens.

A temporal severe risk is also present at the E-coast of the CNTRL-Adriatic Sea along the dissolving cold front until noon. Despite an isolated waterspout risk and graupel/isolated hail no severe risk is forecast.