Storm Forecast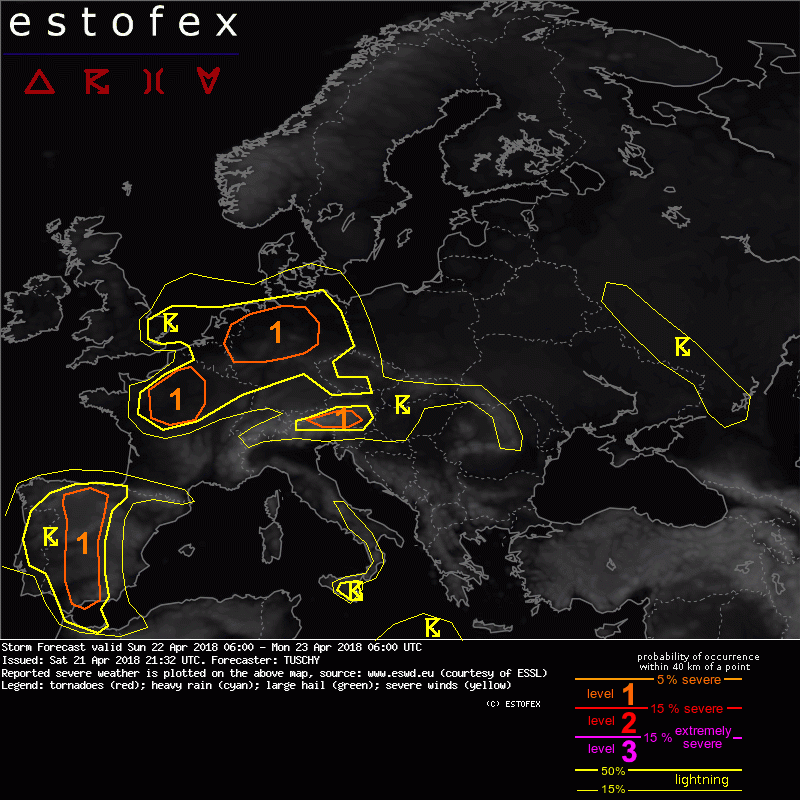 Storm Forecast
Valid: Sun 22 Apr 2018 06:00 to Mon 23 Apr 2018 06:00 UTC
Issued: Sat 21 Apr 2018 21:32
Forecaster: TUSCHY
Numerous level 1s were issued for isolated large hail and severe wind gusts (Spain/E-Netherlands/N-Germany), isolated large hail (N-France) and heavy rain (Alps).

SYNOPSIS

Progressive sinusoidal ridge/trough pattern affects N-Europe. Zonally oriented high over CNTRL Europe weakens as a whole during the forecast but re-strengthens a bit from Germany to CNTRL-Sweden during the day in the shape of a northward building rige, as a negatively tilted trough over NW-Europe approaches with WAA from the W. A deamplifying lead short wave crosses Benelux/N-Germany during the forecast while moving through that ridge and dissolving during the night.
Omega-like blocking pattern persists over the Mediterranean as an upper low over Sicily will drift leisurely east and as a strong upper vortex SW of Portugal remains in place.

DISCUSSION

... Sicily ...

Tenacious upper low results in another active thunderstorm day. Cold upper-levels, diabatic heating and surface Tds in the low to mid tens support capped SBCAPE of 500 J/kg. Slow moving storms in a weakly sheared environment pose a locally heavy rain and small hail risk. Gradually warming mid-levels from the W should help to finish activity until sunset.

.. Iberian Peninsula ...

Numerous short waves eject out of the base of the main trough and impact Portugal and Spain. Scattered clouds are forecast with limited diabatic heating (mainly in temporal subsidence stages behind such waves) plus ongoing shower/isolated thunderstorm activity. CAPE build-up varies in models depending on BL recovery with up to 1 kJ/kg MLCAPE and mostly 15-20 m/s DLS in the level 1 area. Further W towards Portugal, lower CAPE and limited heating should lower the severe risk with locally heavy rain becoming the main hazard due to clustering and slow moving thunderstorms.


... W-/CNTRL-Europe ...

Three foci for CI exist:

a) Leading/dissolving short-wave crosses Benelux/N-Germany during the day. Temporarily cooling mid-levels atop moderate BL moisture (Tds around 10C and recovering 0-1km mixing ratios of 8-9 g/kg) support thinning tongue of somewhat steeper mid-level lapse rates. Forcing emerges from that wave but also from an organizing warm front, which should run from the North Sea to Saxony around noon and moves E/NE thereafter. CAMs agree in active CI especially over NW-Germany as warm sector should stay avoid of thick clouds (despite debris cirrus from overnight convection)- either forced by the wave or the orography towards CNTRL-Germany. 15-20 m/s DLS with rather straight hodographs support splitting and rapidly clustering multicells with large hail and heavy rain - temporal updraft rotation in initially discrete storms is possible. Forecast soundings reveal inverted-V structure in the lower troposphere and hence the risk of conglomerating cold pools with cold pool driven/bowing lines of DMC and a temporal/regional risk of strong to severe wind gusts exists. However, weak low-tropospheric background flow should keep this risk in check. The activity weakens after sunset over NE/E-Germany.

b) Approaching negative tilted trough pushes a cold front S/E over CNTRL-France and W-Germany. Mostly separated CAPE/shear fields limit the risk to isolated large hail during initiation in the French level 1 area. During night, BL cooling/vanishing CAPE assist in elevated/embedded sub-severe thunderstorms wich move into SW/W/CNTRL-Germany.

c) Lowering heights and strong diabatic heating with ongoing unusual warmth result in diurnal driven active mountain convection along the Alps. Slow moving storms pose an heavy rainfall/large amount of small hail risk and a small level 1 was added. Again, activity weakens beyond sunset.