Storm Forecast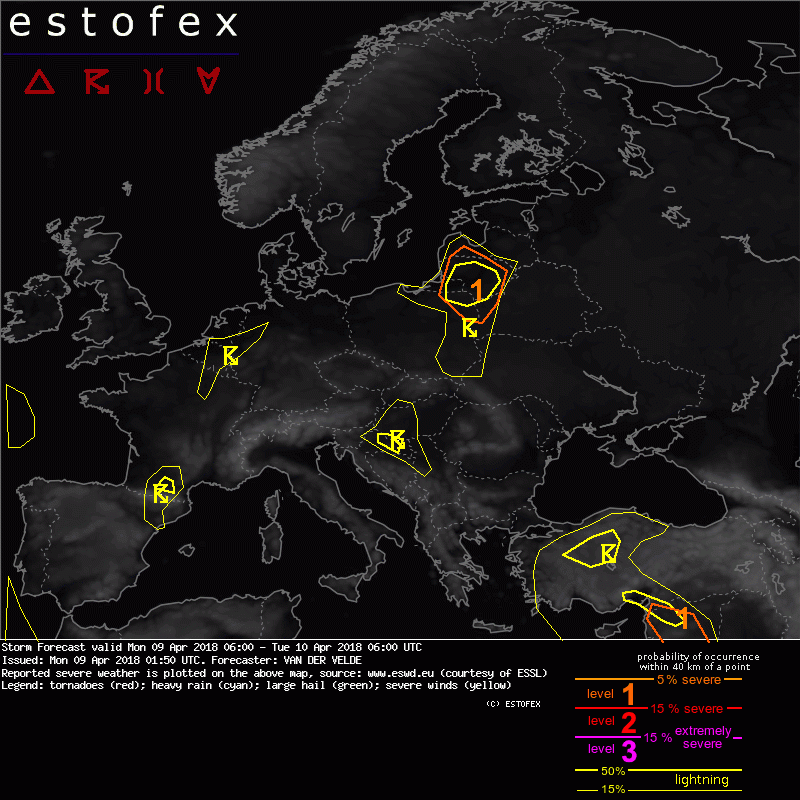 Storm Forecast
Valid: Mon 09 Apr 2018 06:00 to Tue 10 Apr 2018 06:00 UTC
Issued: Mon 09 Apr 2018 01:50
Forecaster: VAN DER VELDE
A level 1 was issued across NE Poland, Russia and Lithuania mainly for tornadoes and large hail.

A level 1 was issued across Syria mainly for large hail.

SYNOPSIS

With a large scale trough across most of the map, southern flow has advected relatively warm low level air into central parts of Europe. A humid zone stretches from N Italy to France, S UK, Belgium, Netherlands and S Scandinavia. A cold front pushes eastwards over Spain. Active disturbances with deep convection are found over NE Spain/S France, Poland/Lithuania, W Balkan, and Turkey/Middle East. Instability is rather modest and sometimes capped.

DISCUSSION

..Poland to Lithuania...

A small upper low destabilizes the area to its east. With slightly enhanced 0-1 km shear (10 m/s), deep layer shear of 15 m/s and somewhat enhanced SREH (150 m2/s2) updraft enhancement/rotation is possible and slightly increases chances of isolated large hail or a tornado. Chances of hail seem preferred due to the cloud base over 1500 m.

...Syria...

Mostly elevated CAPE is present in a sheared environment with SREH over 250 m2/s2. As a mid-level cold front and PV anomaly push through the area, some storms may produce large hail.