Storm Forecast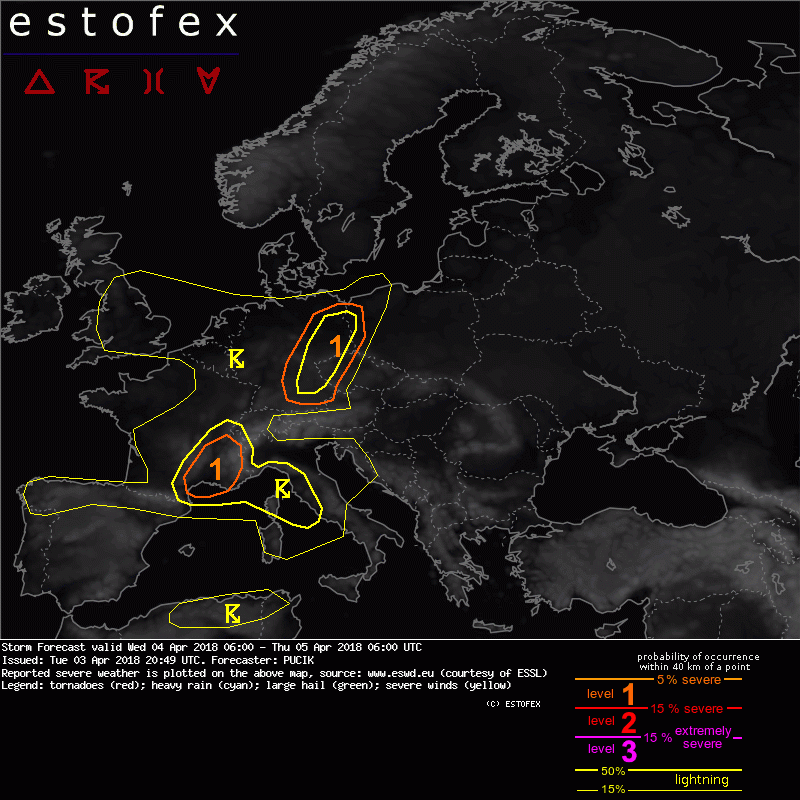 Storm Forecast
Valid: Wed 04 Apr 2018 06:00 to Thu 05 Apr 2018 06:00 UTC
Issued: Tue 03 Apr 2018 20:49
Forecaster: PUCIK
A level 1 was issued across SE France for large hail and severe wind gusts

A level 1 was issued across S to NE Germany and extreme W Czech Republic mainly for large hail and severe wind gusts.

SYNOPSIS

At mid to upper troposphere, a deep trough will stretch from the British Isles towards France and Iberia, moving eastwards. At its forward flank, strong southwesterly flow is simulated, which will have advected mid-tropospheric lapse rates exceeding 6.5 K/km from Iberia towards SE France and from the Alps over much of Germany. In the WAA regime ahead of an advancing cold front, extending across central, SW Germany and SE France, 2 m dew points will exceed 10 deg C. The cold front will move E-ward during the day towards Poland and the Czech Republic, as well as SE-wards towards Central Italy. Isolated to scattered thunderstorms will locally accompany passage of the cold front.Towards E, a large ridge covering much of the SE Europe will hinder chances for DMC.

DISCUSSION

... SE France, S to NE Germany ...

Ahead of the advancing cold front, isolated to scattered DMC is forecast to initiate along the convergence zone and move gradually E-wards during the day. The environment will feature CAPE values ranging from several hundreds J/kg perhaps locally up to 1000 J/kg. The highest CAPE values will be found where the elevated mixed layer advected from the Alps ovespreads the moist airmass near the surface, which will likely be northern Bavaria. However, here, capping may be a problem with convective initiation more likely further to the north. Nevertheless, over the whole Lvl 1 region, a potential will exist for well organized convection given that initiation occurs, as strong mid-tropospheric flow results in 15 to 25 m/s of DLS. Well organized multi and supercells are forecast with the main threats of large hail and severe convective wind gusts. While large hail will be limited by rather low moisture content and CAPE values generally below 1000 J/kg, severe wind gust threat will be limited by lack of deep boundary layer and of strong flow in the lower troposphere. Lvl 1s are issued for the regions, for which the highest certainty exists regarding the overlap of at least marginal CAPE and strong vertical wind shear.