Storm Forecast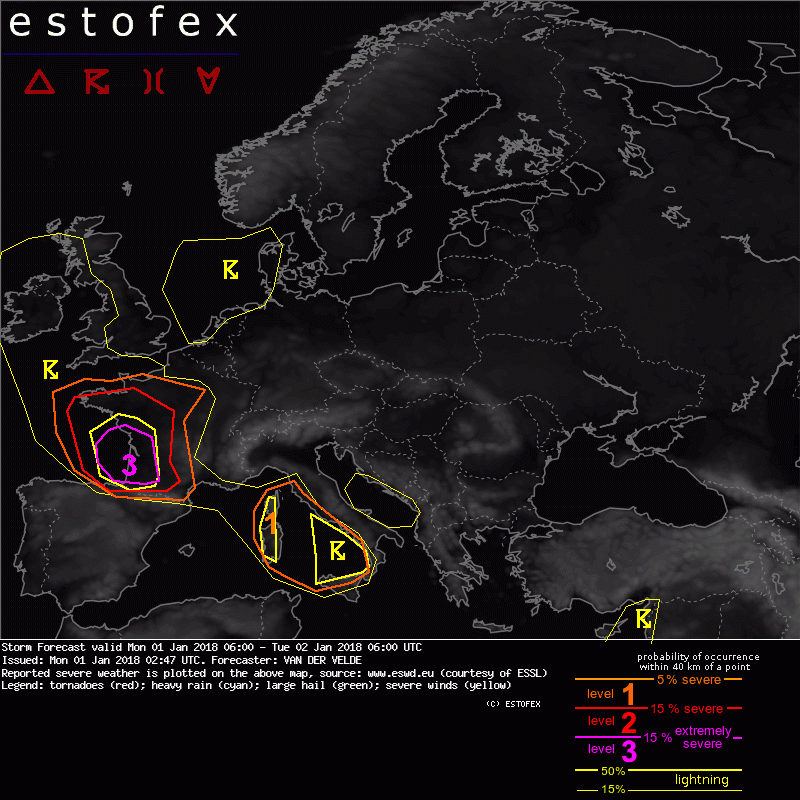 Storm Forecast
Valid: Mon 01 Jan 2018 06:00 to Tue 02 Jan 2018 06:00 UTC
Issued: Mon 01 Jan 2018 02:47
Forecaster: VAN DER VELDE
A level 3 was issued across southwestern France mainly for extremely severe convective wind gusts and tornado probabilities.

A level 2 was issued across western and central France, as well as the north coast of Spain, mainly for severe convective wind gusts and tornado probabilities.

A level 1 was issued across western Mediterranean and Tyrrhenian Sea mainly for severe convective wind gusts.

SYNOPSIS

A large low pressure system with the core over western Norway remains in place over northwestern Europe. An activating satellite low pressure system tracks from the Atlantic south of Ireland through the English Channel towards Belgium and on to eastern Germany. Strong non-convective winds are forecast across northern France and southern Germany. However, the passage of its cold front from Bay of Biscay into southwestern France meets all criteria for severe convective weather. Cold upper air advection combined with 6-7 g/kg BL mixing ratio over the Celtic Sea has caused steep lapse rates and a few hundred J/kg CAPE, while models draw a sharp cold front with strong low-level convergence and differential theta-e advection, supported by a strong PV anomaly.

DISCUSSION

...France...

The cold front will likely trigger a line echo wave pattern (LEWP) with bowing line segments responsible for wind gusts of 30-35 m/s as is present in the 1-3 km layer. 0-1 km shear vectors over 15 m/s (locally even 20 m/s) magnitude will be in place across N Spain and most of France, supporting tornadogenesis as well as the bow echoes. Convection is likely to survive even inland as strong moisture advection, dynamic destabilization factors, lapse rates and orographic lifting are carried as far as central France.
As the front moves on, its structure may be torn apart between Pyrenees and Alps after 15Z, by the cut-off of moisture supply, but convection will likely recover before Corsica and Sardinia around 21Z, while the flow weakens.

Happy New Year and be safe from storms in 2018!