Storm Forecast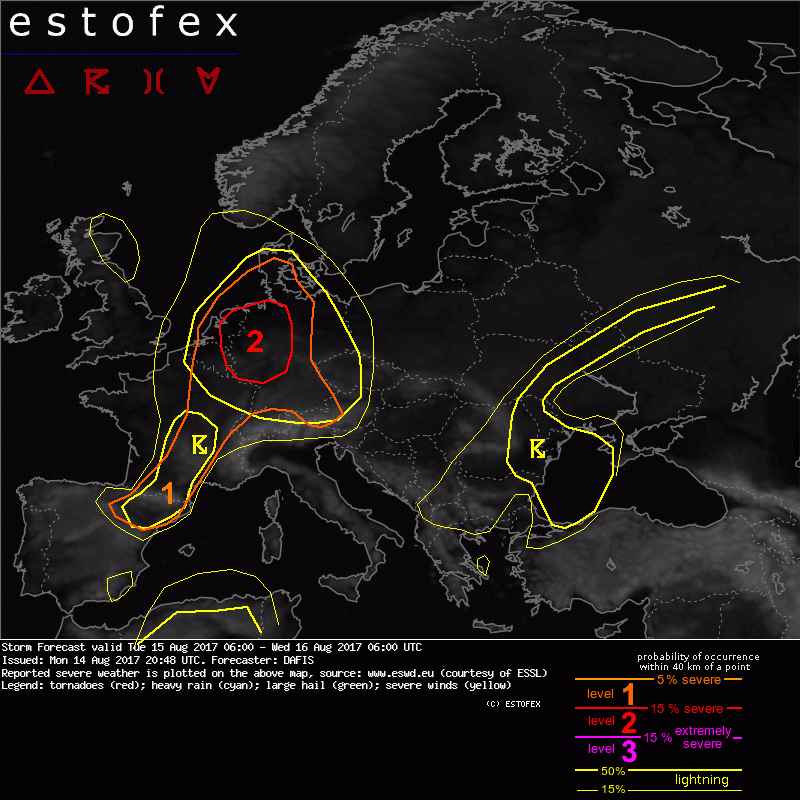 Storm Forecast
Valid: Tue 15 Aug 2017 06:00 to Wed 16 Aug 2017 06:00 UTC
Issued: Mon 14 Aug 2017 20:48
Forecaster: DAFIS
A level 2 was issued for parts of Benelux and Germany for excessive precipitation, severe wind gusts, large hail and tornadoes.

A level 1 was issued for Spain, France, Benelux, Germany, Denmark, Austria and North Italy mainly for excessive precipitation, wind gusts and large hail.

SYNOPSIS

A long-wave trough is crossing the western parts of Europe during Monday and Tuesday, reaching Poland by the early morning of Wednesday. The cold front of a large cyclonic system in NE Atlantic will push some moist air masses towards Germany tomorrow, resulting in widespread lift of unstable air masses and lots of thunderstorms. Convective activity is enhanced by the advection of a EML plume from Spain towards Germany. Most of the Mediterranean countries are under the influence of a ridge and storms will be very local and short-lived. A stationary convergence zone is found at the eastern parts of our domain, under a weak cut-off low, and ongoing thunderstorm activity will continue also during Tuesday but severe threat is very limited.

DISCUSSION

.... Benelux and Germany ....

As the cold front is approaching from the west, WAA is ongoing over the level 2 area. NWP models show a low-level jet streak entering Benelux during the morning of Tuesday, increasing the LLS to 10 m/s: A broken line of multicells or a squall line with bow segments may form in Germany, producing severe to damaging wind gusts and large hail. Forecast soundings based on GFS show saturated vertical profiles over Benelux and NW Germany, high CAPE values and 15-20 m/s DLS, suggesting a potential of organized DMC with torrential rainfall with locally 40-50mm in a short period of time. Some supercells are not ruled out, with strong low-level rotation, able to produce tornadoes, mostly near the borders of Germany and the Netherlands, at the warm air regime ahead of the front. More to the south, quite fat mid-level CAPE profiles overlapping with 15-20 m/s DLS and 10-15 m/s 0-3km shear, increase the probability of large hail from more discrete cells.
QG-forcing seems rather weak but sufficient to provide widespread lift if diurnal heating is limited due to widespread cloudiness ahead of the front (SW mid-level flow is predominant). During the night, the main threat will be excessive precipitation from slowly moving thunderstorms. Some storms may reach W Poland during the night. 

.... Spain, France, Benelux, Germany, Denmark, Austria and North Italy ....

Elevated convective activity from the previous night in France will become surfaced-based during the morning, as storms will be near the borders of Belgium-Luxemburg and Germany, but they will be able to produce locally excessive rainfall and severe wind gusts. Diurnally driven high-based thunderstorms in Spain may lead to large hail or severe wind gusts as high delta-theta-e values and strong DLS are calculated for the eastern parts.

For the rest parts of level 1 area, weak DLS is forecast but CAPE can reach up to 2000 J/kg and discrete storm cells may produce locally severe weather events. During the late afternoon of Tuesday, the main threat in E Germany and Austria will be excessive precipitation from slowly moving storms.