Mesoscale Discussion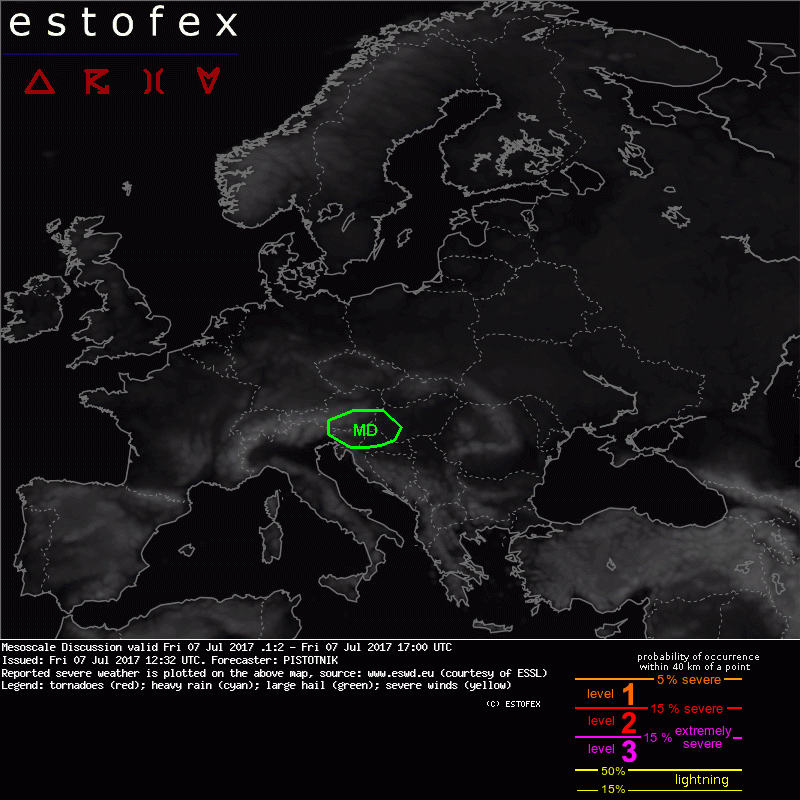 Mesoscale Discussion
Valid: Fri 07 Jul 2017 .1:2 to Fri 07 Jul 2017 17:00 UTC
Issued: Fri 07 Jul 2017 12:32
Forecaster: PISTOTNIK
... S Austria, SW Hungary, Slovenia, NE Croatia ...

Overnight's widespread thunderstorm activity in Germany and the Czech Republic has pushed the cold front further to the SE than the forecast models simulated. Residual clouds with westerly winds have spread over S Germany, N Austria and Slovakia. With 2m temperatures in the mid-20ies and 2m dewpoints in the mid-10s (as of 11 UTC), meager CAPE on the order of a few hundred J/kg will keep the severe weather risk in these regions lower than anticipated.

Much better conditions exists ahead of the cold front in S Austria, SW Hungary, and inland parts of Slovenia and Croatia. Rather strong WNW-erly mid-level flow advects an elevated mixed layer (EML) from the Alps over their SE forelands, as it is impressively shown by the 00 UTC Zagreb and 03 UTC Graz soundings. Insolation is strong and moisture recovery is quick beneath the EML, aided by plentiful evapotranspiration after the previous days' storms. Latest surface oberservations indicate 2m dewpoints mostly between 17 and 20°C, several degrees higher than predicted by the model pool. With expected maximum temperatures around 33°C, CAPE around 2000 J/kg should become available. Surface winds are mostly southerly, aided by upslope flow in Austria.
First storms will likely soon initiate along the main Alpine crest in Austria, which has brought the cold front to a temporary halt. They will move E- to SE-ward and organize quickly under 0-3 km shear around 15 m/s and favourably veering wind profiles. In the later afternoon and early evening, convection is expected to move into Slovenia, SW Hungary and inland parts of Croatia, and one or two large MCSs may develop.
Large hail (especially with discrete supercells) and severe wind gusts are the main risk. Isolated extreme events (hail >5 cm or wind gusts >32 m/s) are not ruled out. Excessive precipitation may occur beneath a large MCS later on, though this risk is somewhat limited by the swift storm motion.