Storm Forecast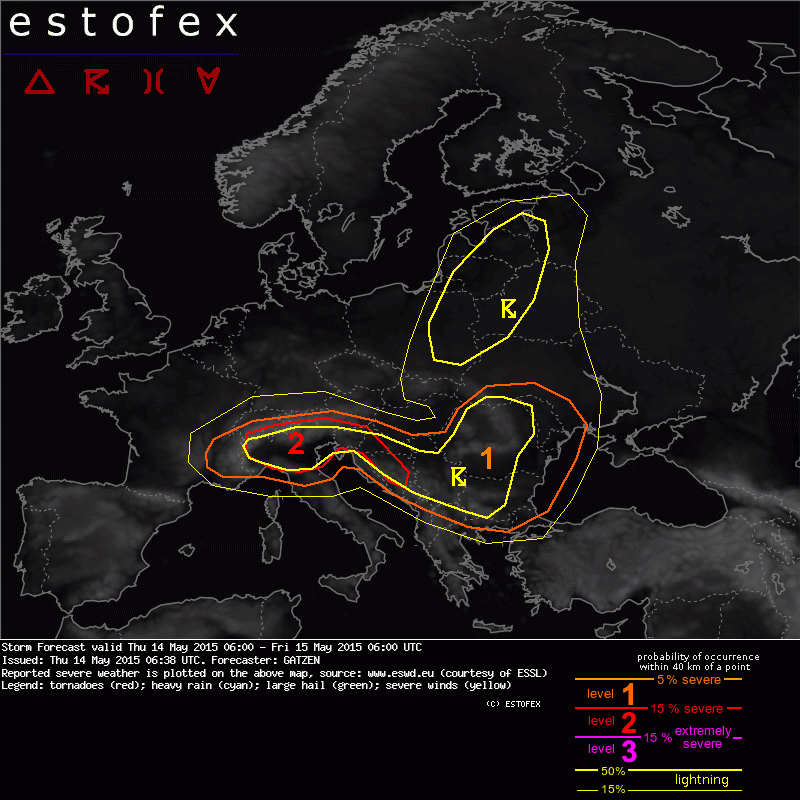 Storm Forecast
Valid: Thu 14 May 2015 06:00 to Fri 15 May 2015 06:00 UTC
Issued: Thu 14 May 2015 06:38
Forecaster: GATZEN
A level 2 was issued for northern Italy and the north-western Balkans mainly for large hail and excessive precipitation, to a lesser extent also for tornadoes and severe wind gusts.

A level 1 was issued for south-eastern Fance and the northern and central Balkans mainly for large hail and to a lesser extent severe wind gusts and tornadoes.

SYNOPSIS

At the southern flank of a Scandinavian long-wave trough, an intense short-wave trough rapidly races across eastern Europe. In its wake, a cut-off low south of the UK will move south-east, crossing France during the period. Both troughs are associated with strong DCVA given the strong flow. A weak ridge will spread across France between both troughs.

At lower level, a sharp cold front extends from north-west Spain to southern France, the Alps, into the northern Balkans. Steep lapse rates south of this cold front overlap with rich low-level moisture that is situated south of the Alps, and also across the northern Balkans. Diurnal heating is most likely south of the Alps and parts of the Balkans, and CAPE can reach about 1000 J/kg according to latest GFS.

Currently, storms are going on across the northern Balkans and parts of the Alpine region. More storms forming during the period will pose a threat of severe weather due to the strong vertical wind shear.

DISCUSSION

Northern Italy into the central Balkans

An elevated mixed layer is present across the north Mediterranean indicated by latest soundings. It caps a rather moist boundary layer that will heat during the day allowing for CAPE around 1000 J/kg. From north-eastern Italy to the northern Balkans, a cold front slowly moves southward. Lapse rates will be weaker over this region, but can improve during the day in the wake of the Alps.

Current thinking is that thunderstorms evolve along and ahead of the cold front across the Balkans and over north-eastern Italy. Strong deep layer vertical wind shear (more than 20 m/s in the lowest 6 km) supports well-developed multicells, capable of producing large hail and excessive rain. Additionally, locally enhanced SRH can result in supercells with very large hail the main threat, but also tornadoes and severe wind gusts are not ruled out.

Later in the period, approaching trough and jet streak from the west will likely assist initiation further west across northern Italy. Lee cyclogenesis results in strongly veering profiles and SRH around 150 J/kg. Supercells, capable of producing very large hail. Low-level vertical wind shear is expected to be relatively weak, limiting the chance of tornadoes, but every isolated supercell that forms will also pose a tornado threat.

Increasing DCVA is expected to support rapidly clustering of the storms, forming one or two MCSs, moving south-east. Excessive precipitation, severe wind gusts, and large hail are forecast to be the main threat, but tornadoes are also not ruled out given increasing low-level vertical wind shear.

Eastern Europe

In the range of the passing short-wave trough, storms are expected to develop due to moist low-level air masses and steep mid-level lapse rates. Chances of severe convection are expected across the northern Balkan States along the cold front, where best moisture is expected and vertical wind shear is strongest with around 15 m/s in the lowest 3 km. Limiting factor will be weak diurnal heating due to convective clouds from the morning storms. A level 1 is issued mainly for large hail, but severe wind gusts and tornadoes are not ruled out completely.

Eastern France into southern Germany

Moist low-level air remains north of the Alps and is advected into eastern France ahead of the approaching cut-off low. Diurnal heating can lead to improving lapse rates especially in the Lapine area, overlapping with the moist air mass and resulting in weak CAPE. Initiation is uncertain, given rather weak surface heating over most places. However, as the trough approaches in the evening hours, DCVA can assist in showers and thunderstorms. These can become well-organized in strinbg vertical wind shear of more than 15 m/s in the lowest 3 km. Therefore, locally large hail or a tornado are not ruled out. Given expected weak diurnal heating, a level 1 is not issued.

Northern France

A highly dynamic wether pattern is taking place ahead of the approaching cut-off low. Strong DCVA is forecast in the noon hours. A moist maritime air mass spreads into the area ahead of a cold front. Given clouds and weak lapse rates, thunderstorms are not likely at this time. However, if unexpected diurnal heating takes place, storms may be possible along the cold front. These could be associated with tornadoes given the very strong vertical wind shear.