Storm Forecast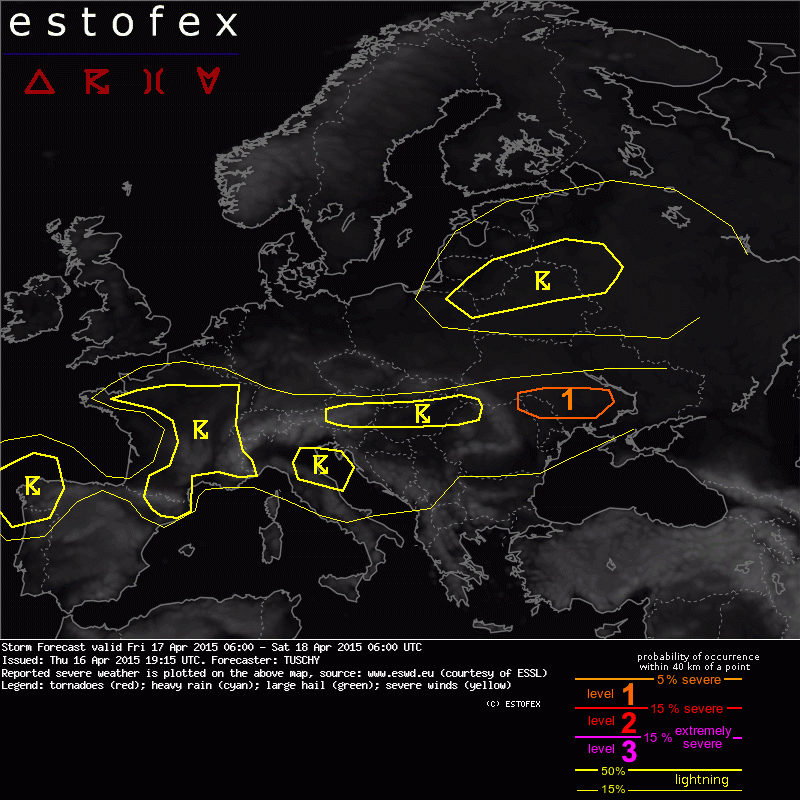 Storm Forecast
Valid: Fri 17 Apr 2015 06:00 to Sat 18 Apr 2015 06:00 UTC
Issued: Thu 16 Apr 2015 19:15
Forecaster: TUSCHY
A level 1 was issued for N-Moldova and S-Ukraine mainly for a few large hail events and an isolated severe wind gust.

SYNOPSIS

A positive tilted trough extends from NW Russia to the Alps. This feature accomodates cold mid-level temperatures. To the west, a high-over-low blocking pattern evolves with rising mid-level geopotential heights north of Scotland and a gradually eastbound moving cold-core low over the far E-Atlantic/far west Iberian Peninsula.
In the lower troposphere a W-E aligned channel with reduced surface pressure runs from N-France to the Ukraine. This boundary separates a cool and dry air mass to its north from a more humid and warmer air mass to its south.

DISCUSSION

...France, Alps, N-Italy, N-Balkan States and S-Ukraine ...

Focus for initiation will be an E-W aligned frontal boundary and the weakly capped air mass to its south. Convection will be subject to the diurnal cycle with peak activity during the afternoon hours. Convection east of the Alps will be fuled by a powerful mid/upper jet and its right entrance region next to weak forcing and enough diabatic heating. BL air mass offers rather marginal moisture content, also being prone to mixing and a diurnal decrease of LL dewpoints. Steep mid-level lapse rates aloft still support the idea of deeper updrafts.

In general, shear remains weak with DLS of less than 10 m/s. Combined with 300-700 J/kg MLCAPE, disorganized convection with graupel/marginal hail and heavy rain is forecast. A strong (downburst) event is also possible and clustering / slow moving storms may bring a localized heavy rain threat.

Somewhat stronger shear (20 m/s in the lowest 6 km) creates a more favorable environment for better updraft/downdraft separation with large hail the primary threat. A small level 1 area was issued to cover that risk. The thunderstorm activity diminishes after sunset.

... NE Europe ...

Regionally enhanced BL moisture and steep mid-level lapse rates cause scattered showers/thunderstorms during peak heating. Forecast soundings don't offer that much CAPE for deep updrafts, so it remains uncertain how many convective cells will be electrified. We issued a 50-% area, where timing and BL moisture will be the best. Graupel and gusty winds remain the main threat. The thunderstorm activity diminishes after sunset.

... Far N-Portugal and far NW Spain ...

As the upper low approaches from the NW during the evening and overnight hours, thunderstorms gradually spread onshore and affect the highlighted area. The highest coverage will occur along the coasts and offshore due to enhanced convergence and warm SSTs. DLS is weak, but steepening lapse rates could result in a few deeper updrafts with marginal hail. A
waterspout event or two can't be ruled out as the environmental conditions for this threat improve during the night.