Storm Forecast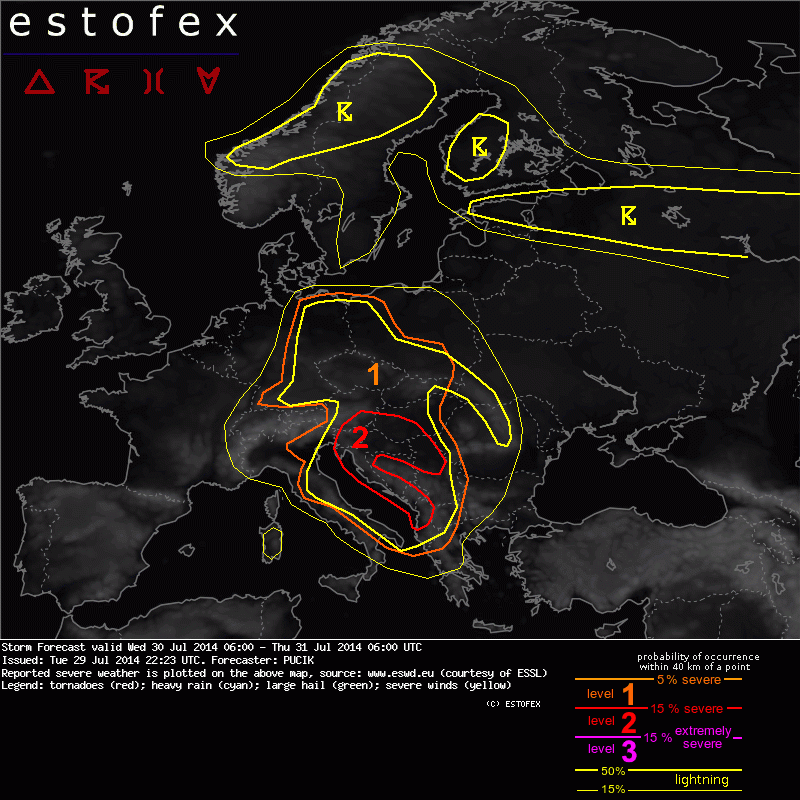 Storm Forecast
Valid: Wed 30 Jul 2014 06:00 to Thu 31 Jul 2014 06:00 UTC
Issued: Tue 29 Jul 2014 22:23
Forecaster: PUCIK
A level 2 was issued for E Adriatics coastline mainly for excessive precipitation and to the lesser extent for tornadoes, severe wind gusts and large hail.

A level 2 was issued for SE Austria, SW Hungary, N Croatia and N Serbia mainly for excessive precipitation, large hail and severe wind gusts.

A level 1 was issued for parts of Italy, Serbia, Balkans mainly for excessive precipitation and to the lesser extent for large hail and severe wind gusts.

A level 1 was issued for parts of Germany, Poland, Czech Republic, Slovakia, Austria and N Hungary mainly for excessive precipitation.

SYNOPSIS

Main macrosynoptic feature will remain in the form of a deep mid to upper tropospheric low moving from N Italy towards Balkans during the forecast period. It is expected to deccelerate and gradually fill out towards the Thursday morning. Scattered to widespread thunderstorms are expected ahead of the progressing low and along the wavy frontal boundary in the unstable airmass. Towards the north, geopotential fields will be rather weak, but still scattered thunderstorms are expected in moist airmass in the belt from N Germany and Poland towards Hungary. Some activity is also expected over Scandinavia with WAA regime ongoing on the forward flank of the low over the Norwegian Sea.

DISCUSSION

... E Adriatics coastline ...

Potentially dangerous setup may unfold over the region as the upper level low approaches the region with strong forcing on its forward flank. Models agree on the highly unstable airmass developing over the already warm Adriatic Sea. Current dew point readings on the coastline are around 20 °C and are not expected to change much during the course of the forecast period. Enhanced mid tropospheric flow will ensure moderate to strong DLS, increasing southwards and towards the late afternoon hours. Current thinking is that widespread rain / tstm area will already be ongoing over the area in the morning hours, possibly in the form of MCS. This system will likely propagate along the coastline towards the south. With perpendicular flow to the coastline, training pattern may evolve, with subsequent threat of excessive precipitation. However, there is significant disagreement between the models on the exact location of the highest rainfall sums. Two areas that deserve the most attention are: 1/ North Adriatics 2/ Montenegro / N Albania. Especially the southern part of the Lvl 2 may also feature some supercells capable of large hail, severe wind gusts or even tornadoes with enhanced LLS close to the coastlines.

... SE Austria, SW Hungary, N Croatia, N Serbia ...

Quite questionable situation will evolve here with some potential drawbacks - one of this being a potential influence of early convection and dense cloud deck emanating from N Adriatics storm complex. Nevertheless, models are in general agreement regarding the development of moderate to strong latent instability, featuring locally more than 1500 J/kg of CAPE. Initiation of DMC may come from outflow boundary progressing from morning MCS, topographic circulations or towards the evening thanks to the approach of the low. Especially the eastern parts of the area may wait till the evening till greater coverage of DMC is achieved. Moderate DLS is simulated, albeit with some disagreement in models, with values around 15 m/s, generally increasing towards south and west. Well organised multicells are expected and some supercells may form, especially in areas with locally enhanced SREH. MCS development is likely by the late afternoon and evening hours, moving NE-wards.

Over the northern part of the area, excessive precipitation should be the dominant threat , with slower storm motions, moister troposphere and high storm coverage. To the south, large hail and severe wind gust threats will be more pronounced, partly also thanks to the presence of steeper lapse rates and higher LCLs.

... E / S Germany, Poland, Czech Republic, Slovakia ...

Once again, a broad Lvl 1 is required for this region, featuring moist airmass with low LCLs, skinny CAPE profiles and deep warm cloud layers. These factors should boost the effective precipitation processes, resulting in enhanced heavy rainfall threat. It seems that development of cell training may be crucial for this threat and is actually difficult to anticipate owing to the complexity of local topography. Models do show surface convergence over E Germany moving towards the NW Czech Republic and W Poland. This region will probably see the highest risk of excessive precip of the whole highlighted area.