Storm Forecast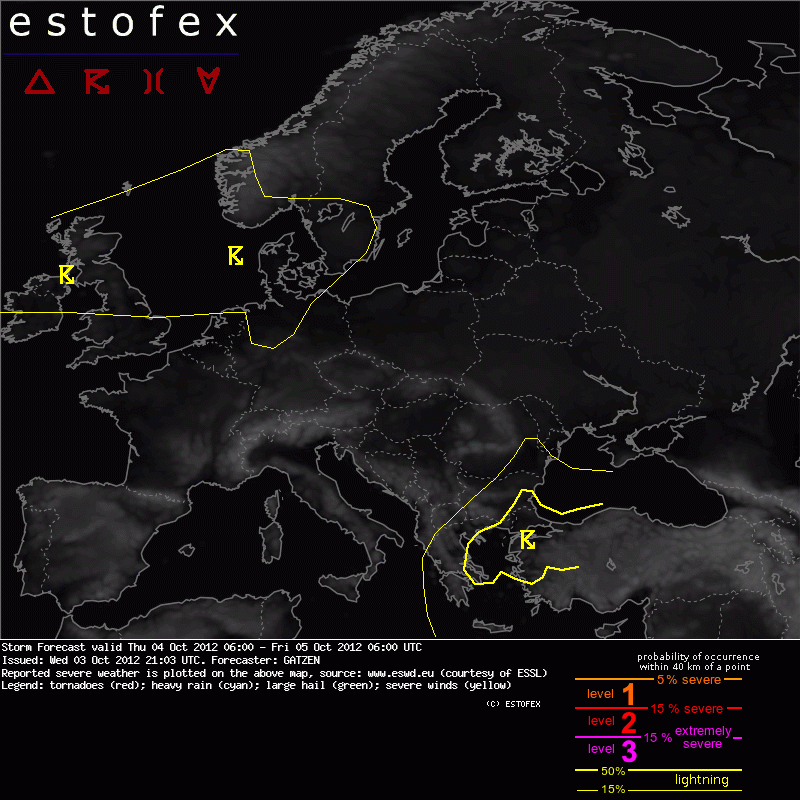 Storm Forecast
Valid: Thu 04 Oct 2012 06:00 to Fri 05 Oct 2012 06:00 UTC
Issued: Wed 03 Oct 2012 21:03
Forecaster: GATZEN
SYNOPSIS

A broad ridge is present across the west and central Mediterranean, whereas a rather weak mid-level trough is placed over the east Mediterranean, Turkey, and the Black Sea. Along the periphery of an intense north-west-European trough, a strong jet affects western and central Europe.

DISCUSSION

Turkey to Aegean and Black Sea region

Rather cool air masses are present at the base of the eastern trough. Daytime heating is therefore expected to increase the lapse rates strongly over Turkey. With the sea breeze, rich boundary-layer moisture from the Black Sea, Aegean Sea, and east Mediterranean Sea will advect on-shore, and CAPE is indicated by latest GFS model. Given northerly synoptic-scale winds, best moisture transport is expected along the Black Sea coasts. Upslope flow will provide enough lift to initiate storms in the afternoon hours. Convective activity is expected to spread inland in the afternoon and evening hours when clusters may develop. Given weak vertical wind shear, organized storms are unlikely, and a threat level is not warranted.

Additional storms are forecast along the coasts of the east Mediterranean and Aegean as well as further north across eastern Bulgaria and Romania, where dry air advection is expected during the afternoon when storms may decay gradually.

British Isles and North Sea region

At the cyclonically sheared flank of a strong mid-level jet, a few strong vort-maxima will travel eastward. The most pronounced will cross the British Isles during the day and will affect the North Sea region during the following night. A weaker vort-max will affect the eastern North Sea early in the period.

Given the rather warm sea surface, steep low-level lapse rates and neutral lapse rates at low to mid levels are expected. Given weak CIN and QG forcing, showers and thunderstorms are forecast. Vertical wind shear is weak over most places, and organized thunderstorms are not forecast.