Forecast Update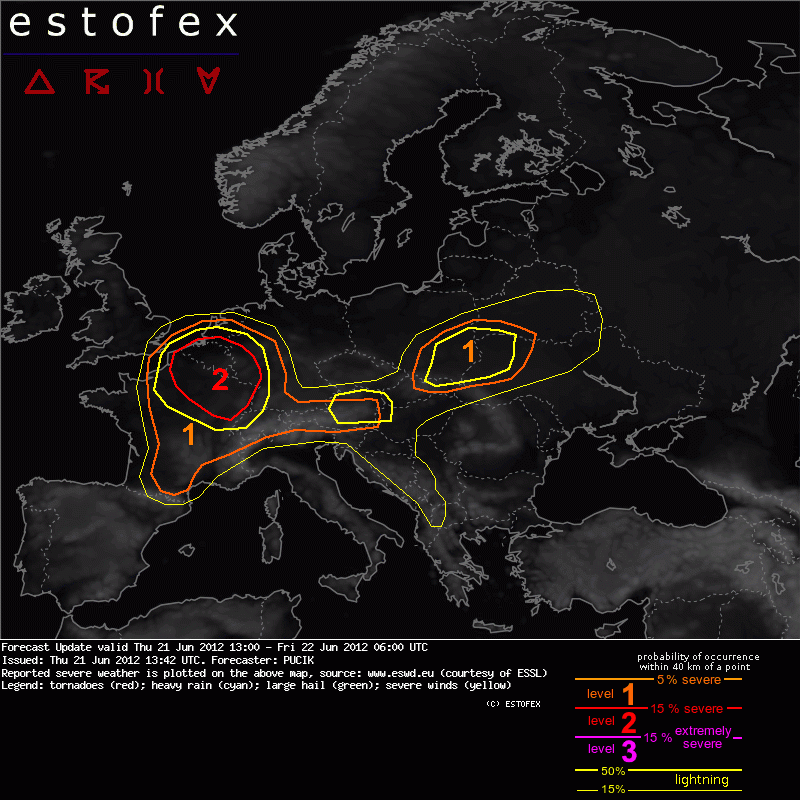 Forecast Update
Valid: Thu 21 Jun 2012 13:00 to Fri 22 Jun 2012 06:00 UTC
Issued: Thu 21 Jun 2012 13:42
Forecaster: PUCIK
A level 2 was issued for Northern France to Belgium and parts of W Germany mainly for severe or extremely severe wind gusts, tornadoes and large hail.

SYNOPSIS

Refer to the storm forecast

DISCUSSION

... Northern France to Belgium and parts of W Germany ...

Trappes 12 UTC sounding shows moderate latent instability overlapped with strong DLS and LLS as well with prevailing SSW-ly flow. Strong short-wave has contributed to the widespread initiation of DMC attm and coverage should increase further towards the evening. Backed low level flow ahead of the frontal boundary is suggestive of enhanced SREH in the warm sector of the low. Conditions look very favorable for well organised convection. Scattered multi/supercells will likely merge into a quasi-linear MCS with potential for severe to extremely severe wind gusts. Low LCLs as suggested by rather low dewpoint depressions and strong LLS also point to the tornado threat, either from supercells or LEWP in the MCS. Large hail threat might be present with the more isolated convection, especially supercells but will likely diminish towards the evening.

... Other areas ...

Some adjustments have been made to other areas, e.g. prolonging Lvl 1 to S France where intense DLS might lead to some supercells capable of large hail and/or severe wind gusts and Lvl 1 for Poland/Slovakia has been shrunk according to the latest trends in convection and movement of short-wave trough.