Storm Forecast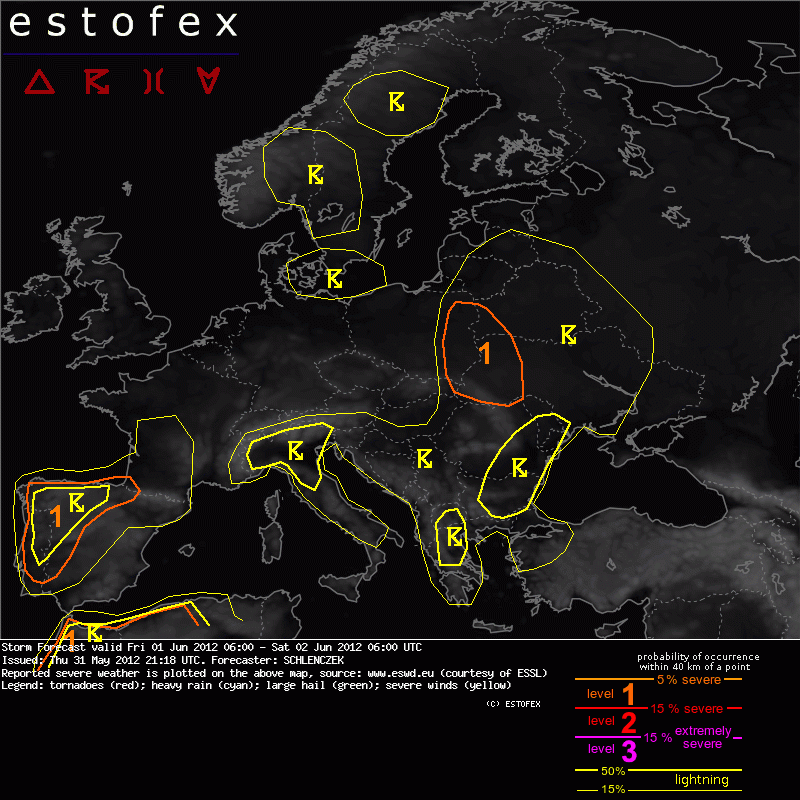 Storm Forecast
Valid: Fri 01 Jun 2012 06:00 to Sat 02 Jun 2012 06:00 UTC
Issued: Thu 31 May 2012 21:18
Forecaster: SCHLENCZEK
A level 1 was issued for E Poland and W Ukraine mainly for tornadoes and severe wind gusts.

A level 1 was issued for parts of Iberia mainly for large hail and severe wind gusts.

A level 1 was issued for N Morocco and NW Algeria mainly for large hail.

SYNOPSIS / DISCUSSION

An upper trough is centered over Scandinavia and moves slowly to the southeast. Ahead of this low, cyclogenesis is underway with a pressure drop of more than 15 hPa / 24h forecast. Only very marginal CAPE is found in the vicinity of its cold front over the western parts of Ukraine and Poland where also a shortwave trough is located. Locally, strong shear might interact with convective systems forming in a low CAPE environment and an isolated severe wind gust is not ruled out. A possibility of tornadogenesis cannot be excluded either as LL shear and SRH3 are maximized southeast of the low pressure system's center, which in the end leads to a low-end LVL1.

Relatively high geopotential heights are found over most portions of southern and western Europe but towards the eastern Mediterranean, a weak upper level disturbance leads to some instability. Showers and thunderstorms are expected to form but severe weather should be rather unlikely.

Ahead of another trough which is located north of the Azores, a very hot airmass from the Saharan region is advected northwards into Iberia with 850 hPa temperatures above 20°C. This airmass has very steep mid level lapse rates but the amount of moisture in the boundary layer is questionable, which makes an accurate forecast for this region very difficult. There is no source of QG forcing available and high CIN will suppress deep moist convection in most places. Nevertheless, a storm which forms in this environment of locally high CAPE should be able to produce large hail and severe wind gusts. The region where convective initiation is most likely is covered with a LVL1.

A similar hail threat is expected for N Morocco and NW Algeria where moderate instability partly overlaps with some 100 m²/s² SRH3.