Forecast Update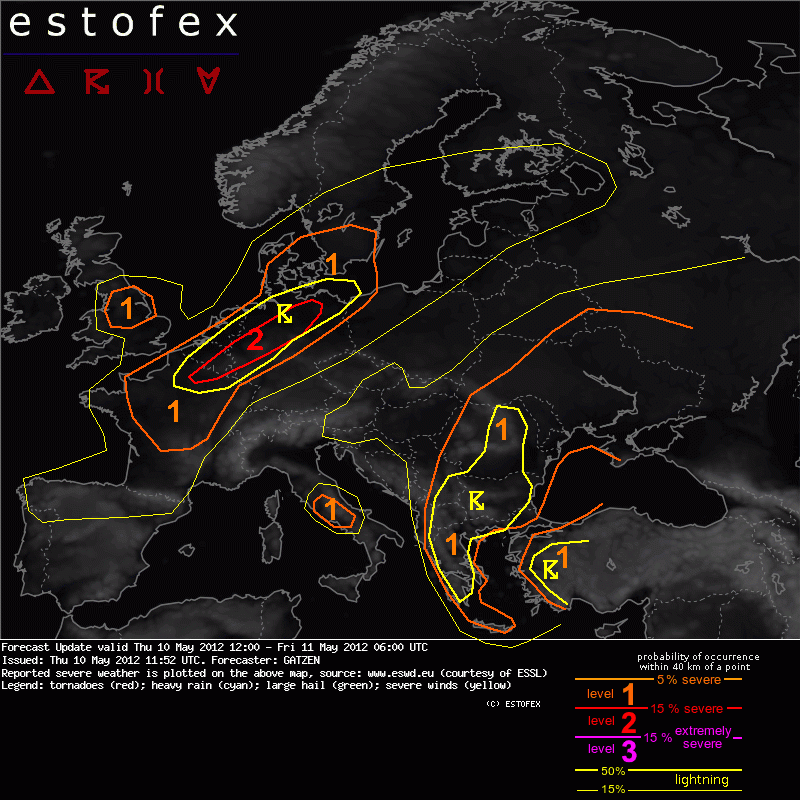 Forecast Update
Valid: Thu 10 May 2012 12:00 to Fri 11 May 2012 06:00 UTC
Issued: Thu 10 May 2012 11:52
Forecaster: GATZEN
A level 2 was issued for parts of the Benelux countries, north-eastern France, and north-western/northern Germany mainly for severe wind gusts and tornadoes.

A level 1 was issued for northern and central France, Benelux, northern and central Germany, Denmark and the western Baltic Sea mainly for severe wind gusts, large hail and tornadoes.

A level 1 was issued for northern adn eastern England mainly for tornadoes.

A level 1 was issued for south-east Europe mainly for large hail and excessive precipitation.

A level 1 was issued for central Italy mainly for large hail.

SYNOPSIS

Please refer to previous outlook.

DISCUSSION

The Benelux countries, north-eastern France, north-western and northern Germany

An upgrade to level 2 is issued for the Benelux countries. Latest observations indicate that the boundary-layer moisture has further increased to about 11 g/kg. The temperature has increased to about 23°C over northern France, and latest satellite image indicates the chance of some further insolation during the next hours. Although the elevated mixed layer air will likely remain across central and southern France, instability will be likely over northern France and Benelux given the rich low-level moisture and diurnal heating.

Current scenario is that storms will develop in the late afternoon hours across southern Belgium. The absence of widespread forcing may result in a couple of cells that remain rather isolated for quite a while. Given the strong 20 m/s 0-3 km and 25 m/s 0-6 km bulk shear and about 100 J/kg 0-3 km SRH, these storms will likely evolve into supercells. These may be capable of producing tornadoes given 10 m/s 0-1 km bulk shear that will even increase in the evening hours as a strong WSWerly low-level jet is expected. Given the strong vertical wind shear, strong tornadoes are not ruled out. The main uncertainty is the backing of low-level winds. Latest observations indicate southerly low-level winds across northern France that may lead to favorable veering profiles, confirming the latest scenario.

The storms will likely move north-east in the evening hours. Despite the tornado risk, locally large hail, severe wind gusts and excessive precipitation is forecast. After some time, storms may merge into clusters what will reduce the potential of severe weather except for high winds given the strong 850 hPa winds. However, isolated cells will be capable of producing severe weather including tornadoes in the evening and night hours across northern Germany, though.