Storm Forecast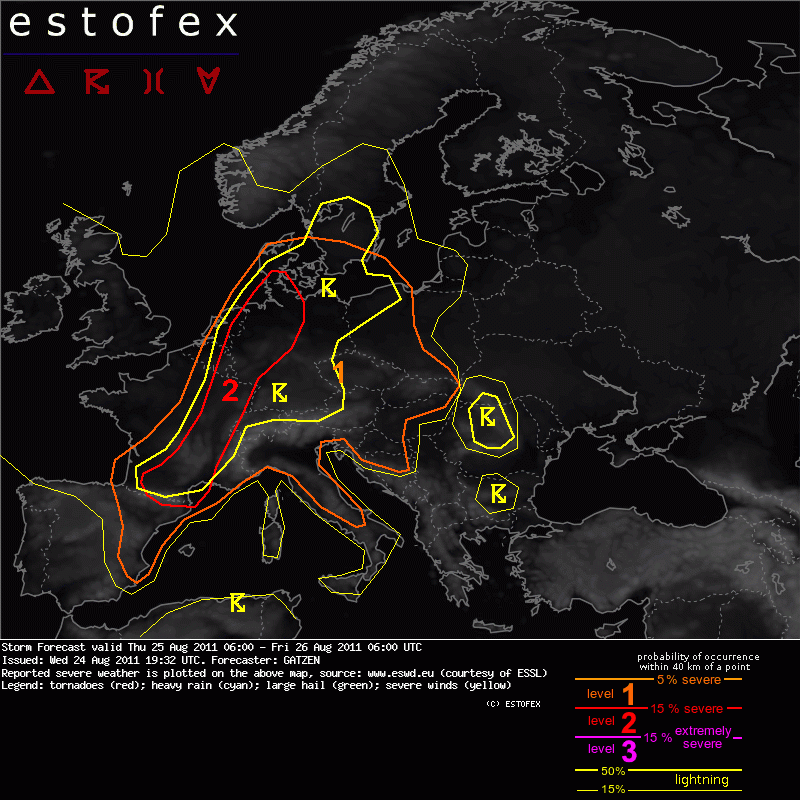 Storm Forecast
Valid: Thu 25 Aug 2011 06:00 to Fri 26 Aug 2011 06:00 UTC
Issued: Wed 24 Aug 2011 19:32
Forecaster: GATZEN
A level 2 was issued for southern France, eastern France, eastern Benelux, north-western Germany southern Denmark mainly for large hail and severe wind gusts.

A level 1 was issued for eastern Spain, Italy, the northern Balkans, and western Poland mainly for large hail.

A level 1 was issued for southern and eastern France mainly for severe iwnd gusts and tornadoes.

A level 1 was issued for Germany, Swiss, Austria, Czech Republic, Slovakia mainly for large hail and severe wind gusts.

SYNOPSIS

An intense long-wave trough over north-western Europe will amplify into Spain during the period. Ahead of the trough, a strong south-westerly flow affects western and northern Europe, while a broad ridge covers southern and most of eastern Europe. At lower levels, a broad zone of well-mixed warm air noses into the Baltic Sea. As the flow ahead of the deepening trough becomes directed to the north, warm air advection sets in over central Europe.

DISCUSSION

Eastern France, Germany, Denmark, northern and western Poland

Latest soundings indicate an elevated mixed layer over the northern Balkans and the Alpine region that extends into Poland, Germany, and France. Rich low-level moisture is present over a broad region to the north and west of the Alps, spreading into the Baltic Sea. This leads to a large overlap of low-level moisture and steep mid-level lapse rates, and CAPE exceeding 1000 J/kg is expected over large area. Locally, CAPE may reach more than 3000 J/kg.

The vertical wind shear roughly increases towards the north-west of the area with instability, and deep layer bulk-shear of 15 m/s can be expected over a large region to the north and west of the Alps. A large overlap of favourable veering low-level winds is forecast to the north of a low pressure region over southern Germany that develops during the day. 0-3km SRH is forecast to exceed 200 mē/sē in the evening hours over northern Germany.

The highest severe potential is forecast to the north of the surface low, affecting western and central Germany, spreading into northern Germany in the evening hours. Current thinking is that in the wake of overnights storms new convection will set in around late morning over eastern France, spreading into western and central Germany during the day. Supercells are forecast capable of producing large or very large hail, severe wind gusts and tornadoes. The main limiting factor will be reduced low-level heating due to clouds and reduced low-level heating. As a consequence, storms may be elevated posing a lower severe threat. Nevertheless the strong vertical wind shear will likely favour the development of one or two bowing MCSs and associated severe winds.

Additionally, other storms may develop in the broad warm air advection regime to the south and east of the main frontal boundary. This affects eastern France, southern Germany and the Alps, Austria, the Czech Republic and Slovakia, western Poland and eastern Germany. Outflow boundaries of overnights convection are expected to be the most prominent sources of initiation. Supercells are expected given moderately strong vertical wind shear and favourable veering profiles. Large or very large hail and excessive precipitation are forecast to be the main threat with these rather slow-moving storms, whereas tornadoes and severe wind gusts are not ruled out.

In the evening hours, the western storms are forecast to spread into northern Germany and possibly into Denmark, where the severe potential will gradually decrease due to the low-level stabilization. However, bowing segments may produce severe wind gusts and maybe tornadoes throughout the night.

Over eastern France, Belgium and western Germany, another bowing MCS may be possible at the end of the period. See the next paragraphs for further discussion.

Southern France/north-eastern Spain to western Alps and southern Benelux

Ahead of the approaching base of the long-wave trough, several vort-maxima can spread across southern France and the western Alps. While the mid-level flow turns to southerly directions, an elevated mixed layer originating from the Iberian plateau can spread northward, overlapping with the moist boundary-layer along the front. With diurnal heating, CAPE of 1000-2000 J/kg can be anticipated during the day.

Latest models indicate that the overlap of strong vertical wind shear with the instability is smaller compared to Germany during the day given the lack of low-level pressure systems. The best potential seems to develop to the north of the Pyrenees as well as over north-eastern Spain, where easterly surface winds can evolve in the afternoon, and favourably veering profiles are possible. Further north and east, the vertical wind shear is expected to increase strongly in the evening hours due to a developing southerly low-level jet.

Storms are forecast along the front and further east. Supercells over southern France and north-eastern Spain may be capable of producing very large hail and severe wind gusts. Storms farther east and north may be also severe, but weaker vertical wind shear may lead to a weaker severe potential. In the evening and night hours, strongly increasing low-level vertical wind shear (10-15 m/s in the lowest km) is forecast and storms will likely organize into supercells and bowing lines. Severe wind gusts and tornadoes are forecast in the evening and night hours over southern and central France.

Storms will likely spread into southern Benelux posing a threat of severe wind gusts throughout the night.

Balkans, Italy

Strong instability and weak to moderate vertical wind shear are forecast over Italy and the Balkans. Local thunderstorms developing along sea breeze convergences and over mountains are forecast to have a potential of producing large hail and excessive precipitation. Storms are forecast to weaken during the night hours.

England

At the cyclonically sheared flank of the strong mid-level jet streak, latest models indicate weak warm air advection over eastern England. In the wake of a frontal wave, new showers and thunderstorms may develop during the day. Given moderate low-level vertical wind shear, some storms may produce weak tornadoes. The threat seems to be too low for a categorical risk.