Forecast Update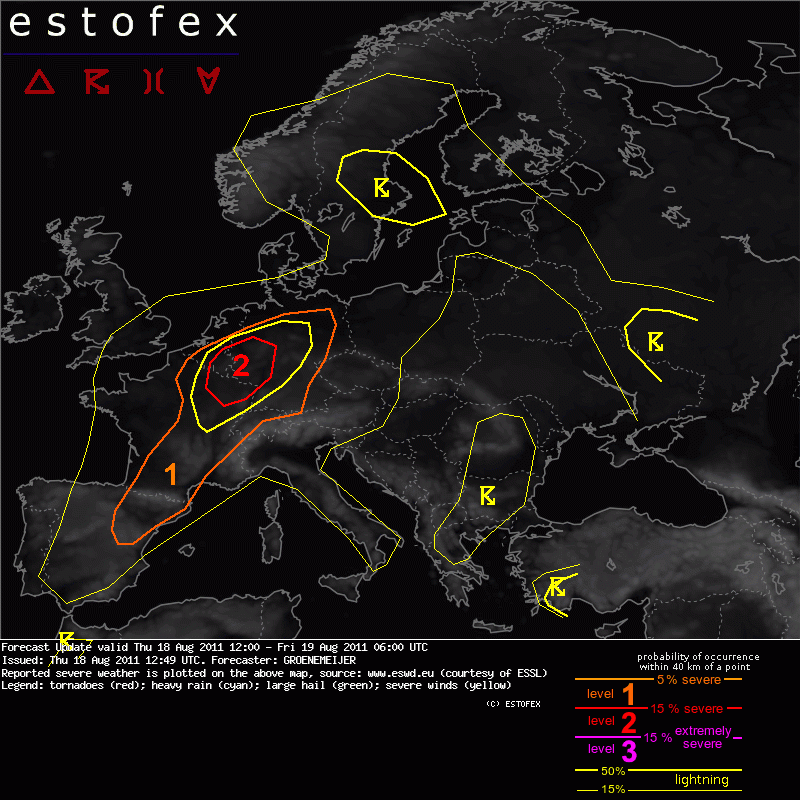 Forecast Update
Valid: Thu 18 Aug 2011 12:00 to Fri 19 Aug 2011 06:00 UTC
Issued: Thu 18 Aug 2011 12:49
Forecaster: GROENEMEIJER
A level 2 was issued for parts of N France, W Germany, and the SE Benelux countries, primarily for large hail and severe wind gusts, and to a lesser extent for tornadoes.

A level 1 was issued across much of Germany and parts of the Benelux countries, France, Switzerland and northern Spain, primarily for large hail and severe wind gusts.

DISCUSSION

...Benelux, France, Germany...

Recent model runs suggest that convective coverage over central and southern France will be lower over much of France than expected earlier. However, northern France and the Benelux countries will probably see quite a few storms later today. These changes resulted in a northward shift of the level 2 area.

The most storms will likely form betwen 12 and 15 UTC over Belgium and north-central France in vicinity of a lifting warm front that stretched from Le Havre to Cologne at 11 UTC. Moderate MLCAPE values of 1000-1500 J/kg are expected to develop near the front given expected temperatures and dew points near 27 and 19 C, respectively.

Just north of the front, where surface-based convection is probably still be possible, surface winds are northeast, which enhances wind shear and should create about 200 m2/s2 SREH. Moreover mid-level winds should strengthen to create 20-25 m/s 0-6 km shear. Such values are more than adequate for storm rotation.

Concluding, it appears that a few supercells will move eastward across the level 2 area with a large hail threat and locally severe winds. An isolated tornado cannot be ruled out, most likely near or just north of the front, but for a more robust tornado threat, low level shear would need to be stronger.

The storms will probably cluster over time, and we expect them to evelolve into bowing structures moving eastward across SE Benelux into adjacent Germany. The severe threat will then change to winds before diminishing overnight.

Further south... across most of the level 1 area, more isolated storms are expected with large hail as their primary threat.

...Southern Spain, Portugal...

Models have ceased to produce deep convection over the level 1 area and therefore this area has been removed.