Storm Forecast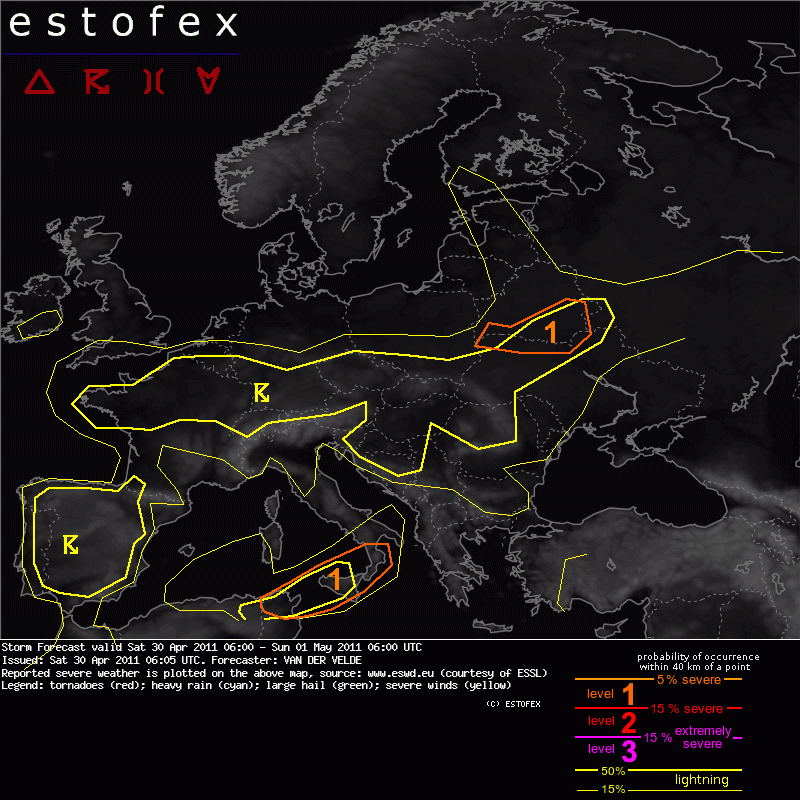 Storm Forecast
Valid: Sat 30 Apr 2011 06:00 to Sun 01 May 2011 06:00 UTC
Issued: Sat 30 Apr 2011 06:05
Forecaster: VAN DER VELDE
A level 1 was issued for Tunisia and Sicily mainly for large hail, severe wind gusts and a chance of tornadoes.
A level 1 was issued for southern Belarus and northern Ukraine mainly for large hail.

SYNOPSIS

A large body of unstable air is present over large parts of Europe, except for the cold northern part, which is under a high pressure area, and a part of the Mediterranean Sea. Surface level low pressure is found mainly over the Iberian peninsula and around Sardinia. Mid level troughs with associated dynamic lifting are found over western France, Sicily/southern Italy, and Belarus, with cold fronts identifiable in the latter two locations. Due to weak capping many thunderstorms can develop over the continent, especially over higher terrain. The lack of vertical wind shear suggests absence of severe weather. Local flash floods are possible. Deep shear is a bit better on the southern border of the CAPE mass over the Balkan.

DISCUSSION

...Tunisia and Sicily...

At the start of the forecast period and the following hours, a large convective system moves over Sicily. While the system is most likely based on elevated parcels, 600-700 hPa in Trapani 00Z sounding, it is possible that it will root in the boundary layer later on. The vertical wind profiles and hodographs are impressive, with large SREH values over 400 mē/sē and 0-1 km shear over 15 m/s in GFS. However, if convection remains elevated this will not be ingested in updrafts and severity may be limited to severe wind gusts. Else.... significant tornadoes and large hail will be likely as well. Level 1 was issued because modeled CAPE, CIN and convective precip in several models are hardly convincing, but current satellite at least suggests chances of strong convection, although it is probably only elevated.

... S Belarus and N Ukraine...

As a cold front moves through the area with several hundred J/kg CAPE, and vertical shear of 15 m/s overlaps, a well-organized multicell line could result, and perhaps an isolated supercell, with large hail as primary phenomenon.