Storm Forecast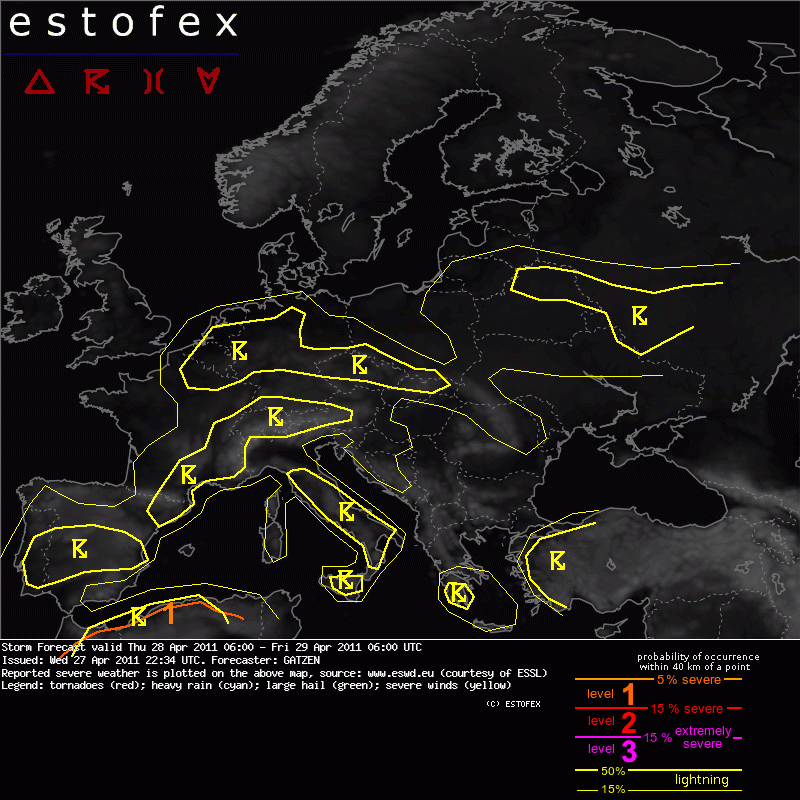 Storm Forecast
Valid: Thu 28 Apr 2011 06:00 to Fri 29 Apr 2011 06:00 UTC
Issued: Wed 27 Apr 2011 22:34
Forecaster: GATZEN
A level 1 was issued for northern Morocco and northern Algeria mainly for large hail.

SYNOPSIS

A weak mid-level flow affects Europe on Thursday. Relatively low mid-level geopotential over France will slowly dig westward. With cool mid-level air masses, diurnal heating can easily result in steep low-level lapse rates that overlap with some boundary-layer moisture especially over Central Europe, Italy, and portions of Spain. This will create CAPE in the order of some hundred J/kg in regions with sufficient insolation. Widespread initiation is expected given the weak convective inhibition and strong low-level heating.

DISCUSSION

Tatra Mountains to the Benelux countries

In the wake of the westward moving cut-off low, warm air advection is forecast from the Ukraine to the Benelux countries. Models indicate that the boundary-layer will be affected by moisture flux convergence from southern Poland across northern central Germany to the Benelux countries from the noon to the evening hours, when daytime heating will result in quite steep low-level lapse rates. CAPE can increase to values of 1000 J/kg locally as indicated by latest GFS model output.

Low-level convergence in the warm air advection regime will locally be enhanced by orographic features. This is expected to result in initiation, and numerous thunderstorms are expected. Weak vertical wind shear will not assist for storm organization over most places, but stronger pulse storms are not ruled out that can produce isolated large hail. The slow propagation speed is forecast to pose a threat of local excessive rain as well.

Iberia, France, Alps, Italy, east Europe, Turkey

Thunderstorms that are expected to develop during the day are not expected to organize over most places given the weak instability and vertical shear profiles. Isolated large hail and excessive rain is not completely ruled out, though.

Northern Morocco to northern Algeria

A moist boundary-layer has developed near the Mediterranean Sea that will be advected southward given the diurnal convergence over the Atlas mountains. Although the lapse rates will be rather weak, weak CAPE will likely develop during the daytime. Upslope flow is expected to contribute to initiation. Thunderstorms that form will profit from increasing deep layer vertical wind shear, as the mid-level westerly flow will strengthen at the southern flank of the European trough. Favourably veering profiles are forecast (150 mē/sē 0-3km SRH, 15 m/s 0-3km bulk shear) and supercells are expected to develop. These will pose a threat of large hail and severe wind gusts as primary threat. During the night hours, convective activity is forecast to move northward along a dry-line moving towards the Mediterranean Sea.