Storm Forecast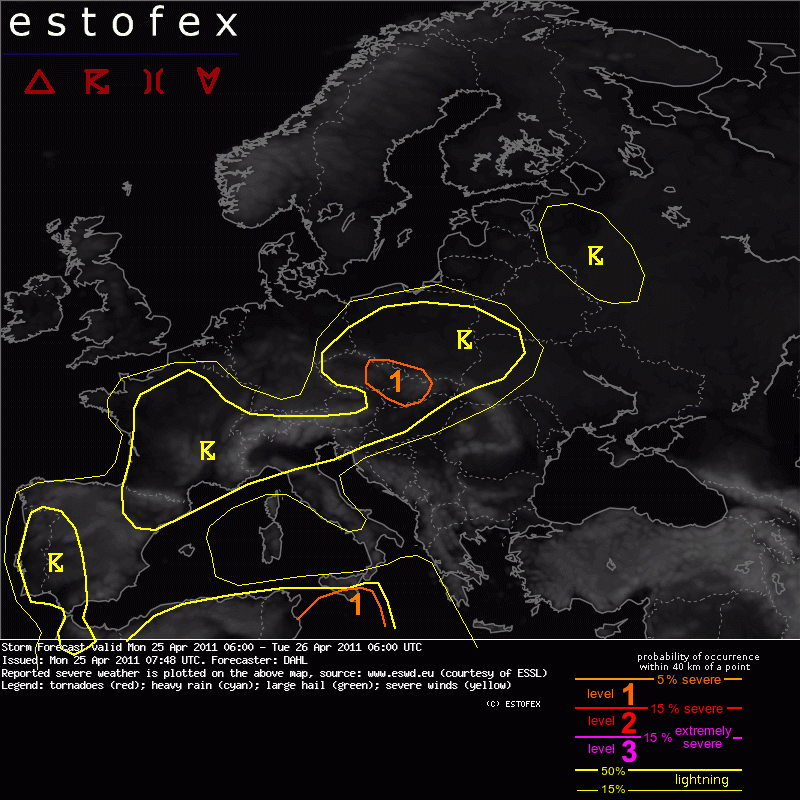 Storm Forecast
Valid: Mon 25 Apr 2011 06:00 to Tue 26 Apr 2011 06:00 UTC
Issued: Mon 25 Apr 2011 07:48
Forecaster: DAHL
A level one threat has been issued across parts of the south-central Mediterranean mainly for large hail and severe wind gusts.

A level one threat has been issued across the eastern Czech Republic and western Slovakia mainly for large hail and severe wind gusts.

SYNOPSIS

General high-over-low configuration persists through the period, with a slight shift of the pattern towards the east, placing the main upper low over the central Mediterranean by the end of the forecast period. Another, rather small cut-off low remains anchored over central Europe. Ahead of the Mediterranean upper low, some cyclogenesis is occurring, supporting the advection of steep lapse rates off the Sahara into the south-central Mediterranean. Otherwise, the synoptic-scale situation at the surface remains rather quiescent over most of Europe.

DISCUSSION

... Poland ... Czech Republic ... Slovakia ...

Scattered thunderstorms are anticipated with diurnal heating mainly at the eastern and southern periphery of the small central European upper low. Although shear and instability remain somewhat marginal, a few severe wind and hail reports cannot be ruled out. Highest probabilities should exist over western Slovakia and the eastern Czech Republic where GFS advertises a small-scale band of 20 m/s DLS.

... France ...

Scattered thunderstorms should form in the early afternoon hours, possibly concentrated along outflow boundaries (OFBs) laid out by Sundays convection, given a lack of large-scale forcing for upward motion. Thermodynamic and kinematic support remain quite weak, so the overall severe threat should be rather low. However, interactions of storms with cold pools/OFBs could briefly promote sufficient storm organization for a marginal hail/wind threat. Given weak large-scale fields, though, a LVL1 does not seem to be required.

... south-central Mediterranean ...

An EML will overspread the south-central Mediterranean Sea and S Italy late in the period. Although only weak CAPE is expected to result, 20 - 30 m/s DLS and 10 m/s LLS may support a few organized cells. Initiation should be aided by focused DCVA. Potential exists for severe wind gusts as well as large hail and perhaps a brief tornado, given favorable low-level shear magnitude.