Storm Forecast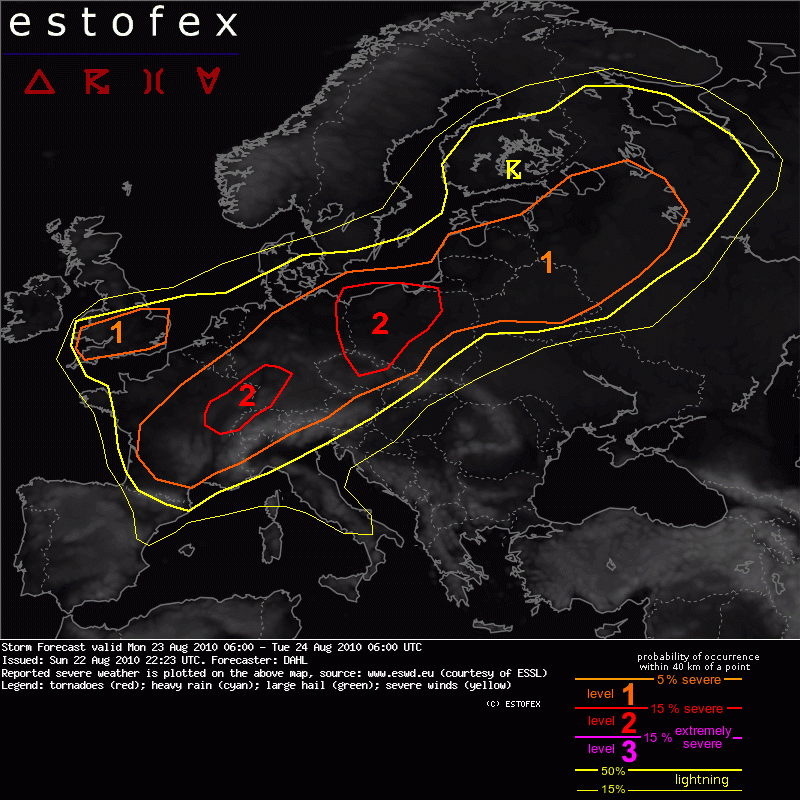 Storm Forecast
Valid: Mon 23 Aug 2010 06:00 to Tue 24 Aug 2010 06:00 UTC
Issued: Sun 22 Aug 2010 22:23
Forecaster: DAHL
A level 2 was issued for NE Germany, the N Czech Republic, and much of Poland for damaging winds, large hail, tornadoes, and excessive rainfall.

A level 2 was issued across east-central France and SW Germany mainly for damaging winds, large hail, and tornaodes.

A level 1 was issued across a region stretching from France across central Europe into NW Russia. See text for individual severe weather elements.

A level 1 was issued across the southern UK, mainly for marginally severe winds/hail and a few tornadoes.

SYNOPSIS

South of a rather extensive upper-low complex over the northern Atlantic, a belt of intense and broad westerlies extends from the Atlantic across central Europe into Russia. Several waves are imbedded in this flow, the strongest of which is associated with unseasonably strong cyclogenesis over the North Sea, Benelux, and N Germay on Monday. The main low-level frontal zone will initially stretch from N France across N Germany into the Baltics, but will leap eastwards in response to the cyclogenesis. The air mass south of the baroclinic zone should remain rather moist and unstable.

DISCUSSION

... France and Germany ...

It sems that rather rather extensive warm advection/DCVA will exist in the developing warm sector over France and Germany, leading to broad upward motion. This will support convective development as early as in the morning along and ahead of the cold front over France and Germany.
However, there will be 20 m/s DLS and 10 m/s LLS ... which suggests that any sustained surface-based cells may become supercellular, with the potential of producing damaging winds and brief tornadoes. However, it seems that the hodographs will be rather straight-line, suggesting that the cells may struggle to develop into persistent supercells. Still, isolated damaging winds, marginally severe hail, and an isolated tornado or two should occur.
WRF suggests a region of enhanced insolation/instabilty stretching from east-central France into SW Germany. The cells developing in this area in the afternoon may have the highest potential of producing large hail, damaging wind gusts and likely also tornadoes.

... ... N-central Czech Republic ... extreme NE Germany ... Poland ...

Farther east over the Czech Rebublic and Poland, unimpeded insolation should occur through much of the day, which should support MLCAPEs in the 1000 to 1500 J/kg range.

WRF 12Z suggests that convection will develop in a strip from the central Czech Republic into NE Germany in the afternoon hours. This activity should be the main focus for the potentially significant severe evolution on Monday.

Based on the environment, any isolated cell that forms will likely become supercellular. It will strongly depend on the hodograph shape whether the storms retain their supercellular characters while moving east into increasing instability and while the large-scale shear increases. Given the strong cyclogenesis and concommitant ageostrophic low-level flow, it seems that there will be tendency for pronounced hodograph curvature, which is supported by GFS output. These supercells will have the potential for producing large hail, damaging winds, and tornadoes, some of which may be long-lived and of > F2 in intensity. However, an increasing fraction of these cells will likely merge into squall lines or morph into bow echoes, so that eventually, more of a linear, outflow-dominant system should evolve. The timing of the transition from isolated supercells to linear mode remains unclear at this time, but will affect the tornado threat.
Though the main threats should shift towards damaging wind gusts and heavy rain in the evening hours, any isolated cell will retain its potential of becoming a tornadic supercell.

GFS 12Z simulates initial stratiform precip over Poland which would affect this scenario. However, extrapolating the current development moving into Poland as of Sunday 20Z, and considering the strong subsidence in the wake of this activity, it seems unlikely that much convective debris will linger over Poland on Monday.

... Baltic States ... Belarus ...

Potentially severe thunderstorms may also develop over the Belarus, the Baltic States, and NW Russia in association with a downstream wave/cyclogenetic regime. Models suggest CAPE in excess of 1000 J/kg, strong synoptic-scale forcing for ascent, 20 m/s DLS, and 10 m/s LLS. Concerns exist about the simulated early initiation of convection and possible stratiform precipitation. However, isolated large hail, damaging wind gusts, and a few tornadoes may accompany this activity.

... S UK ...

Some line segments and/or mesocyclines could develop in rather shallow but strongly sheared airmass over the S UK. Expect isolated wind gusts/hail briefly exceeding severe levels and maybe also a brief funnel/tornado or two.