Storm Forecast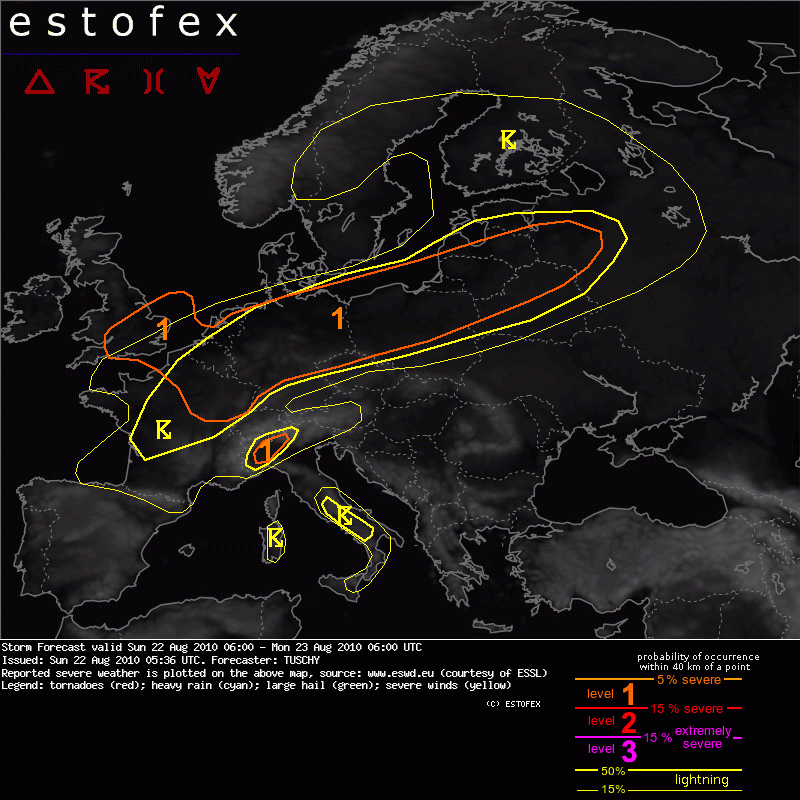 Storm Forecast
Valid: Sun 22 Aug 2010 06:00 to Mon 23 Aug 2010 06:00 UTC
Issued: Sun 22 Aug 2010 05:36
Forecaster: TUSCHY
A level 1 was issued for parts of the UK, Belgium, the Netherlands, Luxembourg, parts of France and Germany, parts of Poland, parts of Belarus, Lithuania and Latvia mainly for large hail, severe wind gusts, a few tornadoes and heavy rainfall.

A level 1 was issued for NW-Italy mainly for isolated large hail and excessive rainfall.


SYNOPSIS

Brisk SW-erly flow has established over N-Europe with a quasi-stationary SW-NE elongated vortex north of Scotland. Numerous waves, embedded in this flow regime, cause regionally enhanced thunderstorm chances. Hot and stable conditions prevail over the Mediterranean and parts of SE-Europe.

DISCUSSION

...Belgium, the Netherlands, Luxembourg, parts of Germany and Poland ...

20 Z WV image reveals disturbance (in leaf stage) just about to enter the English Channel with modest WAA /geopotential height increase already affecting that area. This feature cuts northeastwards, temporarily weakening, but rebounding over the North Sea with strengthening vorticity couplets seen in global model data. Its southern tail grazes the region of interest through the day along with another weak wave, embedded in the bouncing SW-erly flow. Hence forcing is not that pronounced, but more than adequate for initiation in this weakly capped air mass, which is in place.

No discerning analysis needed when comparing the model world with the real one. BL dewpoints at 18 Z yesterday were handled well by most models, including GFS and there is no noticeable reason, why this ought to change. Broad SW-erly flow with ongoing advection of a well mixed /partially modified maritime air mass remains in place all day long. Upper tens (Td) are forecast for most parts during the day and this was already the case yesterday evening. Different types of air mass can be seen in lapse rates analysis, as EML filters in over S-France and Switzerland/S-Germany from the SW, whereas tempered lapse rates overspread N-France, Benelux and N-Germany during the day (representative of a more maritime air mass, incorporated in a weak WCB regime of a disturbance in leaf stage with persistent isentropic lift in place). CAPE fields therefore reveal a sharp north-south gradient with 800 - 1500 J/kg MLCAPE over east-central France and S-Germany and roughly 500 J/kg over Benelux and N-Germany.

The wind field at all levels is quite uniform. The main increase of shear is bound to the short-wave (small amplitude), which crosses central Germany during the evening hours. Then, 0-6 km bulk shear increases to 15-20 m/s with similar 0-3 km shear magnitude. A weak LLJ keeps shear below 1 km on the weaker side, mainly below 10 m/s. Forecast hodographs are straight with some curvature during the passage of the wave, when wind field responds/backs.

More or less uncapped air mass over Benelux, N-Germany and NW-Poland assists in early initiation, probably already during the morning hours. This activity strengthens during the daytime hours and organized multicells are forecast. Not much deviant motion needed for thunderstorms to be embedded in a better helical environment. Therefore, supercells can't be ruled out. Main risk will be large hail and strong to severe wind gusts. Low LCLs and augmented LL CAPE release also indicate a tornado risk, especially with any deviant storm motion. Overall thunderstorm activity increases during the afternoon hours, as the upper wave approaches from France. Signals in model pool still favor different areas, where an organized MCS could evolve, but we tend to mesoscale model outputs, which agree in a swath over central and eastern Germany during the afternoon hours onwards. A more widespread severe wind gust risk could evolve with that activity. Also, model hodographs reveal strong LL curvature, but I'm not yet convinced that this is the truth (this 'model meso-vortex' is probably still assigned to the convective feedback problem). Nevertheless, straight hodographs and drier air at 2-3 km pushing in behind the upper wave could create favorable cold pool/RIJ conditions next to a tornado risk, as isallobaric wind strengthens betimes. We will monitor this scenario. During the night, thunderstorm coverage and intensity decrease, as geopotential heights increase ahead of the Monday wave and instability vanishes and so does the severe risk.

It is still unclear how far south storms evolve due to stronger cap/weak lift over central France/S-Germany. Any storm, which manages to evolve would pose a large hail risk and even a significant hail event would be well possible, given abundant shear/CAPE overlap. A blend of all models was used for the southward expansion of the level 1.

UPDATE 00Z

Since midnight, a trailing stratiform MCS evolved over the Bay of Biscay and moved rapidly to the ENE and onshore along the W-coast of France. Numerous 20-23 m/s wind gusts were reported. This activity was fostered by a first upper wave over the English Channel, but thunderstorms are now on a downswing. Another wave is about to enter the English Channel (06Z) and it ought to increase thunderstorms again over France during the upcoming hours. Those models, which analyze current convection with at least modest success all evolve an organized cluster over central Germany during the afternoon hours. Hence confidence increases that a swath of strong to severe wind gusts could indeed evolve from central to east Germany/west Poland.

... NE-Poland, parts of Belarus, Lithuania and Latvia ...

Similar pattern with less instability, so severe risk is more isolated in nature. Nevertheless, large hail, strong to severe wind gusts and an isolated tornado event are forecast in the level 1 area. A quasi-stationary frontal boundary (SW-NE aligned) assists in local training storms with heavy rainfall. Storms keep going well into the night hours.

... Italy ...

WRF data was used for the general thunderstorm areas. Surface dewpoints at or above 20°C and steepening lapse rates will result in MLCAPE of roughly 1500 J/kg with locally higher peaks over N-Italy. Cap may suppress DMC over N-Italy for most of the day, but local models agree well in initiation over NW-Italy during the late afternoon hours. Large hail and locally excessive rainfall will be the main hazard. Limited activity also forecast over central/southern France with isolated large hail possible. Daytime driven storm activity wanes after sunset.

... NE-France, Luxembourg, Belgium, S-UK and W-Germany after midnight ...

A better organized wave enters the English Channel during the night and wind field at all levels respond to its gradual deepening trend with increasing ageostrophic deflection. Weak SBCAPE signals are present over NE-France in an impressive LL shear environment. It remains questionable if updrafts grow deep enough to produce lightning, but despite that uncertainty, an isolated tornado event can't be ruled out. This tornado risk passes on to the severe risk on Monday. The tornado risk may also include parts of S/SE-UK, if warm sector indeed expands all the way to the NW (what past GFS runs forecast). Surface based convection would find itself in a very favorable environment for LL mesocyclones. However, the current level 1 mainly highlights an heavy rainfall risk, as the crest of the evolving depression and attendant robust deformation zone crosses S-UK with strong and moist inflow from the south.