Storm Forecast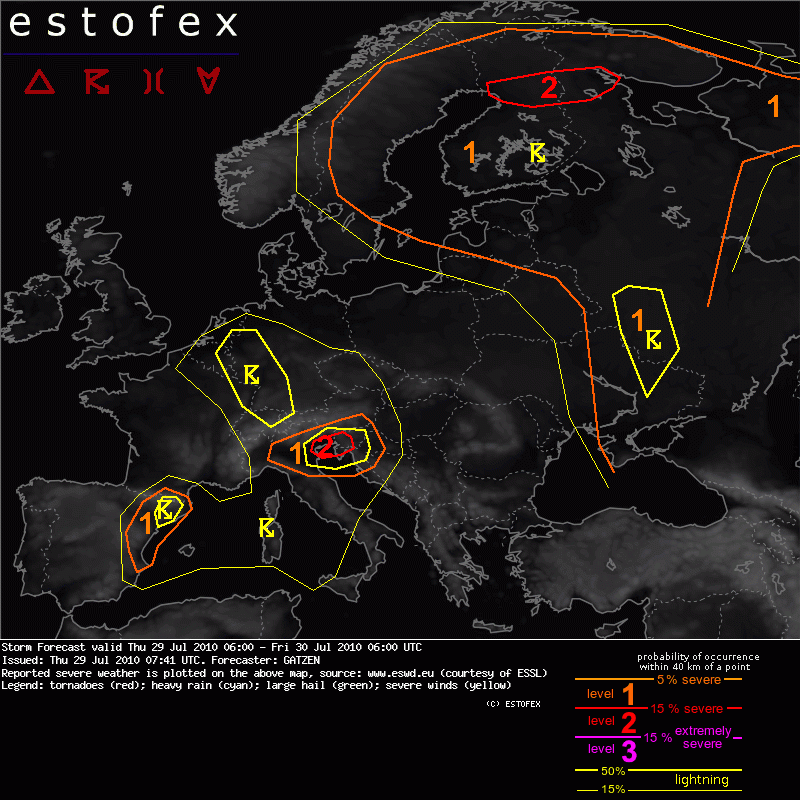 Storm Forecast
Valid: Thu 29 Jul 2010 06:00 to Fri 30 Jul 2010 06:00 UTC
Issued: Thu 29 Jul 2010 07:41
Forecaster: GATZEN
A level 2 was issued for northern Finland and surroundings mainly for large hail and tornadoes.

A level 1 was issued for the northern Baltic Sea region mainly for tornadoes and severe wind gusts.

A level 2 was issued the northern Adriatic sea and WSW Slovenia mainly for excessive convective rainfall, strong wind gusts and tornadoes and to a lesser extent for large hail.

A level 1 was issued for surrounding areas of level 2 over southern Austria, the rest of Slovenia, Croatia and north Italy mainly for large hail, excessive convective rainfall, strong winds and to a lesser extend for tornadoes.

A level 1 was issued for western Russia and northern Ukraine mainly for large or very large hail and severe wind gusts.

A level 1 was issued for north-eastern Spain mainly for large hail.

SYNOPSIS

A large trough is placed over Europe. A short-wave trough at its eastern flank moves northward, while another vorticity maximum travels southward at its western flank. At lower levels, a tongue of very warm air spreads north-westward into Scandinavia, while cooler air dominates north-western and central Europe. Rather warm air is present ahead of the second vort-maxima over the Mediterranean. Steep lapse rates can be found from Russia to Scandinavia and the Baltic States as well as from the west Mediterranean to Germany. Moist low level air is forecast along the frontal boundary over northern and eastern Europe. Plenty of low-level moisture is present over the Mediterranean.

DISCUSSION

Finland and surroundings

A hot air mass with steep lapse rates advects into Finland to the north of a low centred over southern Sweden. At low levels, ample moisture with mixing ratios around 12 g/kg is present in the warm air advection regime, and instability has already developed in the morning hours over Finland. Diurnal heating will likely allow for more than 2000 J/kg CAPE to the north of the warm front that will travel into northern Finland in the afternoon hours. With easterly surface winds and increasing southerly winds aloft, vertical wind shear of 15 m/s in the lowest 3 km and 10 m/s in the lowest km will likely overlap with the instability, and favourably veering profiles are expected with 0-3km SRH 200 mē/sē. Storms that may initiate will rapidly become supercells, and isolated storms may produce very large hail. A tornado is also not ruled out. Weak QG forcing given anticyclonic differential vorticity advection as well as a couple of inversions in the warm air advection regime indicated by latest soundings is expected to hinder widespread convective development, supporting a scenario with discrete cells.

To the south of the warm front, a tongue of warm and dry air will likely reduce the chance for storms over the southern portions of Finland initially. Later in the period, the cold front enters Finland from the south-west and will lead o strong cold air advection at low-levels. Weak low-level convergence and the rapid displacement of the EML is indicated by latest GFS model output, while the low level moisture will start to recover. Along the cold front, thunderstorms seem to me quite unlikely at this time. Storm that may develop will likely be capable of producing severe downbursts given the dry and well-mixed warm air.

In the wake of the cold front, the trough axis will move into southern Finland in the afternoon and evening hours. While a moisture return is expected from the Baltic Sea region, lapse rates will improve as well, and latest GFS model indicates weak CAPE. Thunderstorms are expected given some low-level convergence ahead of the trough axis and some diurnal heating. With the strong southerly jet aloft and south-easterly winds ahead of the surface convergence, the vertical wind shear will be around 15 m/s in the lowest km. With discrete storms, tornadoes are not ruled out, while large hail and severe wind gusts are also possible.

Western Russia and northern Ukraine

Storm have initiated along the frontal boundary over the northern Ukraine and western Russia. Latest soundings indicate that an EML is present over these regions will surface-based instability is not likely in the morning hours. Given the strong southerly jet, these storms are expected to spread northward and may rebuild to the south as low-level moisture is expected to increase and diurnal heating will likely lead to surface-based instability. Large or very large hail as well as severe downbursts is forecast. During the period, the low-level cold air advection is forecast to become more dominant while the jet streak travels northward. The potential of severe convection will gradually decrease in the evening and night hours.

NE Italy, northern Adriatic sea and WSW Slovenia

Ahead of the second vort-max, a surface low will be present over northern Italy. Rich moisture and strong convergence will lead to widespread thunderstorms to the north-east of this low especially during the afternoon. While easterly surface winds will persist, increasing south-westerly winds are expected associated with vertical wind shear of 15 m/s in the lowest 3 km. Supercells may develop with a threat of strong winds and tornadoes as well as isolated large hail. The tornado threat seems to be maximized in the early evening hours especially along the northern Adriatic Sea when the low-level vertical wind shear increases in the range of a south-westerly low-level jet to 15 m/s in the lowest levels as indicated by latest ALADIN/NMM. Strong tornadoes are not ruled out when this scenario comes true. Limiting factors will be the weaker mid-level flow, and storms will tend to cluster. Additionally, dry and cool low-level air spreading southward in the afternoon may reduce instability from the north. To the south of this cold front, excessive convective rainfall seems to be the most significant threat in the evening and night hours given persistent training cells.

Eastern Spain

While the second trough axis travels into Spain, cold air advection is expected over northern Spain. Further south, a surface low is expected to develop during the day in response to diurnal heating, supporting easterly surface winds along the eastern coastal regions together with the sea breeze. This will lead to moisture pooling und increasing instability over eastern Spain. In the range of the vort-max, chance of initiation becomes more likely in the noon hours over the north-eastern portions, while storms may also develop further south over the mountains. Strong vertical wind shear of 15 m/s in the lowest 3 km will support supercells capable of producing large hail and locally severe winds. In the afternoon and evening, decreasing shear and instability will limit the severe potential gradually.

Western Germany region

In the range of the trough centre, weak tornadoes or funnel clouds are forecast given the rather strong low-level buoyancy and weak vertical wind shear coupled with a convergence zone spreading from the Benelux to western Germany during the day.