Forecast Update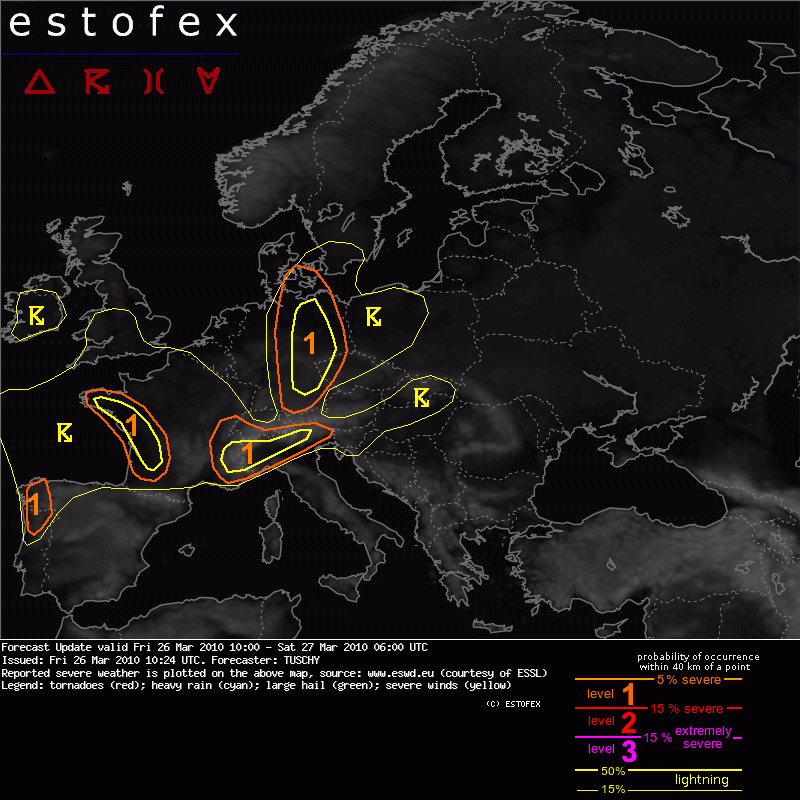 Forecast Update
Valid: Fri 26 Mar 2010 10:00 to Sat 27 Mar 2010 06:00 UTC
Issued: Fri 26 Mar 2010 10:24
Forecaster: TUSCHY
A level 1 was issued for parts of Germany and Denmark mainly for large hail and an isolated tornado (Germany) and locally excessive rainfall (Germany and Denmark).

A level 1 was issued for SE-France and N-Italy mainly for large hail, severe wind gusts and an isolated tornado.

A level 1 was issued for SE-/E-France and parts of Switzerland mainly for excessive rainfall.

A level 1 was issued for W-France mainly for severe wind gusts and an isolated tornado threat.

A level 1 was issued for N-Portugal and NW-Spain mainly for severe wind gusts.

SYNOPSIS

Please refer to the main outlook issued at Thu 25 Mar 2010 20:22 UTC.

DISCUSSION

This update was issued to discuss minor discrepancies in the outlook scenario over S-Germany.

Major V-shaped MCS is currently ongoing over SE-France with its stratiform rain shield spreading northwards ahead of the approaching short-wave and beneath diffluent high-level streamlines. Mid-level winds (GFS output develops a 30m/s streak at 700hPa) indeed increased significantly, which may be supported by the increasingly undulating appearance of the cloud cover (Kelvin-Helmholtz instability), so it looks like the models are on track with the strength of the approaching short wave (also seen in WV image loop).

BL quality over S-Germany is poor at best with ongoing foehn winds just north of the Alps and dewpoints, barely exceeding 5°C and surface RH, running mainly well below 50%. 00Z sounding of Munich reveals a well mixed layer beneath 3km and we see no reason, why this ought to change until the afternoon hours. It is interesting to see GFS/WRF and EZMWF, which persistently indicate initiation over S-Germany during the afternoon hours, as surface cold front pushes eastwards. Steep mid-level lapse rates, the strength of the approaching wave, the forecast impressive surface gradient of the isotherms/isotropes, the cold thermal structure of the wave and the sunny prefrontal conditions increased the confidence level for initiation to upgrade parts of S-Germany. The conditions for severe wind gusts with the cold front passage are good with a deep and well mixed (inverted-V-type) subcloud layer, a strong isallobaric wind and a strengthening pressure gradient along the southern fringe of the surface depression. This risk for severe wind gusts could become more widespread, if an organized line of not necessarily deep convection manages to evolve. Large hail will be also an hazard, especially if more discrete storms can evolve.

We went with a 15% thunderstorm area despite cold EL temperatures, but we want to reflect ongoing concerns in respect of thunderstorm coverage, given the hostile BL quality.

The level 1 and the thunderstorm area over W-Germany was adjusted a bit to the west, to reflect the model difference in respect of initiation.

The good run-to-run consistency in model data assists in a quite straightforward update for the rest of Europe with only minor modifications.