Storm Forecast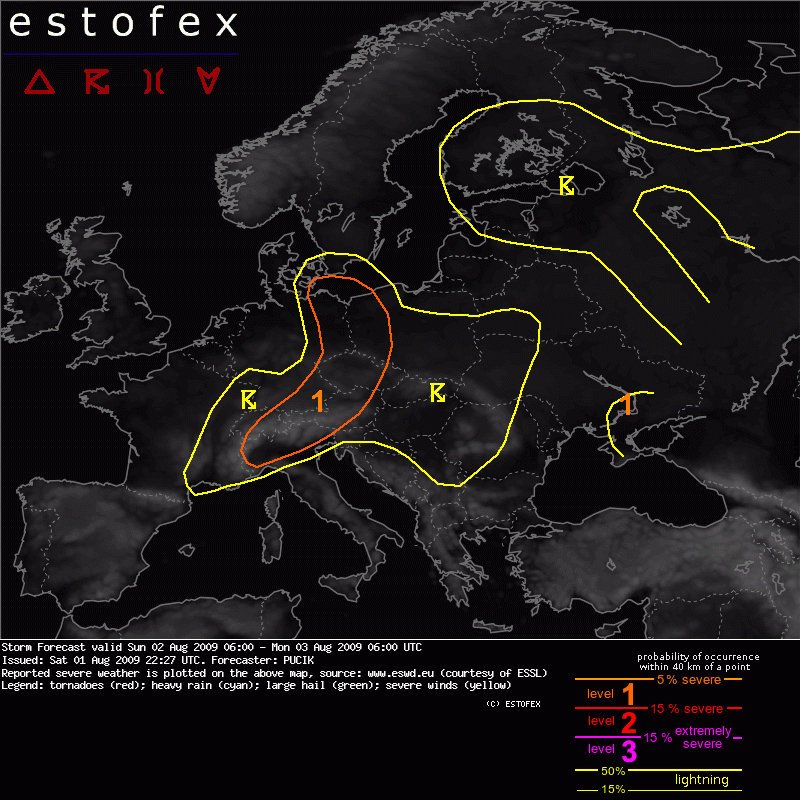 Storm Forecast
Valid: Sun 02 Aug 2009 06:00 to Mon 03 Aug 2009 06:00 UTC
Issued: Sat 01 Aug 2009 22:27
Forecaster: PUCIK
A level 1 was issued for Northern Italy, Switzerland, Germany, Austria, Czech republic, Eastern Poland mainly for large hail and excessive precipitation.

SYNOPSIS

A trough at mid and upper levels will progress eastwards during the day with several impulses rotating around it. A mid level cut off low will stagnate over Southern Finland with diurnally driven thunderstorms expected on its forward flank, while ridge, stretching from the Mediterranean into Central Europe will move eastwards, weakening slightly. In the trough placed at lower levels a cold front, exhibiting wavy structure, will move eastwards during the day, passing Germany and most of Czech republic. Ahead of the front, tropical airmass will be advected northwards with temperatures at 850 hPa over 20°C.

DISCUSSION

...Northern Italy, Switzerland, Germany, Austria, Czech republic, Eastern Poland...

Ahead of the cold front, models predict an abundant instability release with GFS simulating MLCAPEs over 1000 J/kg locally, especially in the region of SE Germany / S Czech republic. ECMWF is more pessimistic with the highest values shifted to the east towards the evening. In the weakening flow surrounding the trough, wind shear values in 0-6 km layer should stay moderate, around 15 m/s. With easterly / southeasterly flow prior to the passage of the frontal trough and surface low on the frontal wave, belt of enhanced SREH is simulated by GFS with values up to 200 J/kg in 0-3 km layer. With such environmental conditions, well organised storms are possible, not ruling out a brief supercell.

One of the discrepancies found in the model output is the timing of the passage of the cold front, which might be crucial to the thunderstorm occurrence over certain areas, with ECMWF being slightly delayed when compared to GFS. Storms will be also linked to the passage of the mid-level impulse which will move towards northeast. With quite low CIN values, thunderstorms might initiate thanks to the local topographic circulations before any synoptic scale lift occurs. Strong multicells that form in a region of moderate instability might possess a threat of large hail. GFS simulates that one or two MCS might form over Northern Italy and Southern Germany, with the latter one moving into Czech republic and Poland ( in the late afternoon and evening hours). With high precipitable water values, a localised heavy rainfall event is possible and a marginally severe wind gust might occur as well, in case that part of MCS will start building downwind.

A deep and dry boundary layer is forecast over NE Germany / E Poland with a belt of MLCAPEs up to 1000 J/kg ahead of the front. Significant convergence on it suggests that a squall line might form with strong cold pool due to the dry boundary layer, which could support a downwind propagation. In such case, severe wind gusts might occur on the leading edge of the convective system.