Forecast Update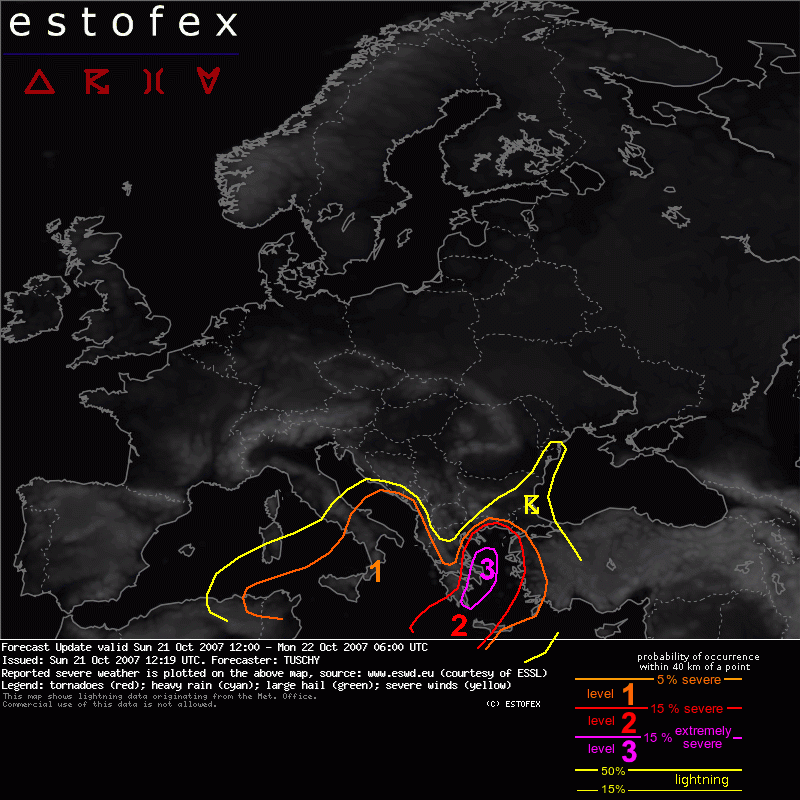 Forecast Update
Valid: Sun 21 Oct 2007 12:00 to Mon 22 Oct 2007 06:00 UTC
Issued: Sun 21 Oct 2007 12:19
Forecaster: TUSCHY
SYNOPSIS

Please refer to the outlook issued at Sat 20 Oct 2007 19:52!

DISCUSSION

...S / E Greece, the Aegean Sea and extreme western Turkey...

Latest IR / WV images show a rapid increase in thunderstorm coverage SW of Greece and those storms already exhibit a strongly sheared appearance. It's not necessary to mention that we are in an area with bad data coverage but Tunis 00Z already had 50kt at 500hPa and the 06Z sat.derived wind shear analysis of METOSAT 9 had about 40m/s shear ( 150-300mb layer mean minus 700-925mb layer mean ) with increasing tendency. In addition, the 150-300hPa maps of UW-CIMMS hint on an area of strong upper-level divergence, which developed over northern Tunisia and now affects the area SW of Greece.
It looks like this is the result of a weak short-wave, coming out of the base of the main upper-level trough. Attendant forcing and increasing support of upper-level divergence should help to increase thunderstorm activity during the next hours or so. Those thunderstorms will be the first round of storms, affecting Greece during the next few hours.
The severe weather threat should not yet be too high, as wind field stays quite weak. Still, an isolated tornado can't be excluded comparing the 00Z sounding report of Athinai with the current conditions. A few strong to severe wind gust reports and mostly sub-severe hail can be expected, too.

The main concern /severe weather wise/ should evolve over the level-3 area , starting at 18-20Z south / southwest of Greece and spreading rapidly towards the north/northeast.
The focus for widespread thunderstorm re-development will be a constantly eastward shifting cold front, affecting S-Greece from the west.
Latest synop reports(12Z) locate the front just west of Malta.
In addition we have to deal with the well developed and increasing negatively tilted trough axis and attendant compact PVA field, spreading rapidly northeastwards.
At lower levels a well developed low pressure channel is forecast to cross Greece during the late evening and night hours from the southwest while slowing down somewhat.
Strong moisture advection in the prefrontal airmass, signals of persistent and deep convergence in a nearly uncapped environment and increasing 0-3km CAPE signals raise the confidence of surface-based storms along and ahead of this frontal boundary.

The main reason for upgrading was the persistence of the past few GFS model runs indicating an enhanced risk of widespread severe weather over SE-Greece and the Aegean Sea although there are still some run-to-run variations and hence more or less impressive severe weather parameters, but even in the weaker cases a risk for widespread severe weather would exist.
Another uncertainty will be the quality of the airmass behind the currently ongoing thunderstorms , but we think that impressive forcing and a rapidly cooling atmosphere should easily compensate the potential negative impacts ( e.g. missing insolation ).

As mid-level trough / surface trough and cold front converge Greece during the evening and night hours, wind field in all levels increases significantly ( winds at 850hPa between 25 and 30m/s, at 700hPa about 35m/s ) and shear is quite intense over S-Greece ( SRH1 about 200 J/kg and SRH3 between 400 and 600 J/kg ). Current thinking is that an already organized line of storms enters the level-3 area from the SW between 18 and 20Z, racing N/NE-wards. Dependant on the internal organisation of this line widespread severe-damaging wind gusts can be expected with numerous gusts exceeding 33m/s. As shear vector and expected orientation of the MCS still include a large angle a few discrete thunderstorms can't be excluded with an attendant enhanced tornado / large hail risk...
The severe weather threat then continues to expand northeastwards and should pass over to a widespread severe wind gust risk, as front is located more and more parallel to the intense background flow.

During the early morning hours, severe weather risk should also increase over western Turkey, but main risk will evolve after 06Z and hence is not reflected in this outlook.

Regarding the flash flood threat which is not reflected in our level criterion.
It looks like cold front slows down and stalls somewhere southeast of Greece, maybe affecting western Crete during the night hours. Strong convergence and deep parcel layer depth, coupled with a very moist LL inflow should enhance the excessive rainfall risk, moving slowly eastwards and reaching extreme western Turkey during the end of the forecast period.

...Western Crete..

Better instability and intense shear also favor an enhanced tornado / severe wind gust and large hail risk, especially if the storms stay more isolated due to weaker forcing. The strongest activity can be expected during the latter part of the forecast period as cold front is forecast to slowly approach from the west.

Please refer to the paragraph above regarding the excessive rainfall risk.


...Eastern Romania and extreme northern Bulgaria...

We decided to lower the probabilities due to the marginal risk for severe weather.