Storm Forecast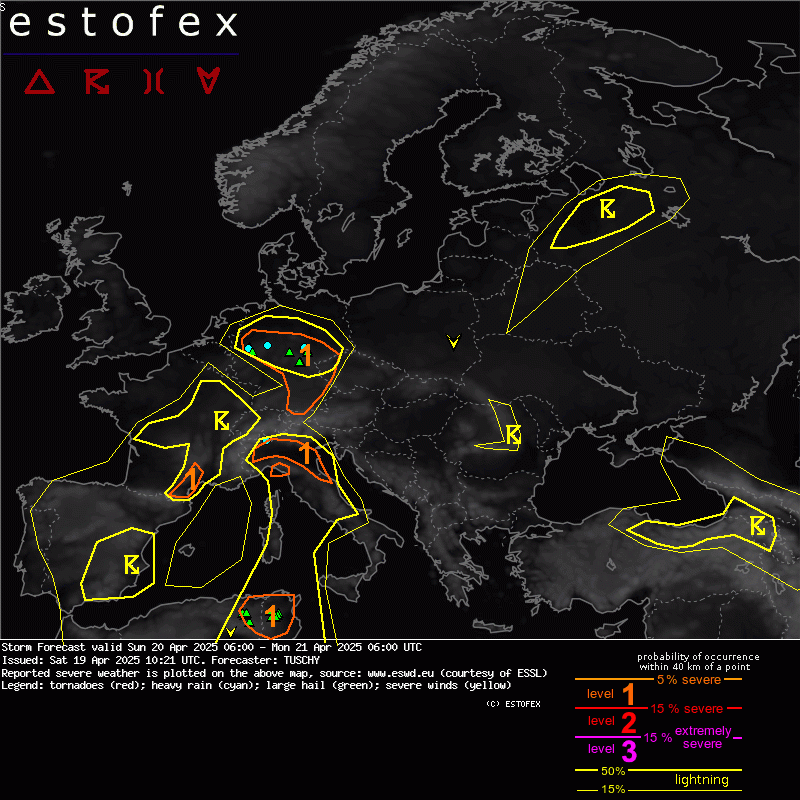 Storm Forecast
Valid: Sat 08 Aug 2020 06:00 to Sun 09 Aug 2020 06:00 UTC
Issued: Fri 07 Aug 2020 12:12
Forecaster: PISTOTNIK
A level 1 and level 2 are issued for south-central Italy, Greece, Albania, S Serbia, North Macedonia and SW Bulgaria mainly for excessive convective precipitation and to a lesser degree for large hail. Non-supercellular tornadoes (waterspouts) are possible in coastal and offshore areas.

A level 1 and level 2 are issued for parts of Spain mainly for severe convective wind gusts and to a lesser degree for large hail and excessive convective precipitation.

A level 1 is issued for SW Poland mainly for excessive convective precipitation and to a lesser degree for large hail.

A level 1 is issued for central Norway and central Sweden mainly for severe convective wind gusts.

SYNOPSIS

A calm midsummer circulation pattern with weak pressure and temperature gradients and warm to hot air covers the European sector. An extensive blocking anticyclone stretches from the central North Atlantic to Belarus. A mid-level cut-off low creates more unsettled conditions from Italy to the Balkans. Zonal flow increases to the far north, and an embedded short-wave trough and a cold front cross Norway and Sweden.
All in all, changes to the previous forecast period are limited.

DISCUSSION

... S Italy to S Balkans ...

Scattered to widespread convection is expected in vicinity of the cut-off low. The airmass features meagre lapse rates, but plentiful maritime moisture with 2m dewpoints often between 18 and 23C in coastal areas, yielding CAPE up to 1000 J/kg or locally more.
Most storms occur in the afternoon over land, in particular in the areas covered with a level 2. Efficient rainfall production in the moist air and slow storm motion or anchoring over the hilly to mountainous terrain may promote some dangerous flash floods. Whereas weak vertical wind shear keeps the other severe weather risks (aside from excessive rain) low in the areas of the expected highest storm coverage, slightly stronger 0-6 km shear of 10-15 m/s circles the cut-off low. Convection near the western, southern and eastern margin of the level 1 can therefore organize into multicells with an enhanced risk of large hail. It is somewhat unclear how many storms will manage to form in the belt of stronger shear, though.
Under weak capping, some convection can also initiate in or propagate into coastal or offshore areas, especially early and late in the forecast period. A few waterspouts are still possible along nocturnal land breeze fronts or other convergence zones, though this risks gradually subsides with the filling of the cut-off low and increasing northerly background flow at low levels.

... Spain ...

Scattered to widespread afternoon storms are foreseen over orographic features in inland Spain. Hot and dry, deeply mixed air can promote downbursts, which could also merge to larger swaths of strong to severe gusts with increasing storm coverage in the late afternoon and evening. In addition, large hail and heavy rain become secondary risks in case moister air in the Ebro Valley and in coastal areas can be ingested by the storms, which features CAPE up to 1000 J/kg and enhanced vertical wind shear. A capping inversion over low terrain and a lack of synoptic lift can make this process somewhat difficult, though. Convection will gradually weaken and decay overnight.

... east-central Europe ...

CAPE will gradually build in response to daily strong insolation in the synoptically tranquil setup over east-central Europe. The forecast models once more strongly disagree how widespread and how much CAPE will form. The chances for scattered afternoon and evening storms appear highest in SW Poland due to slightly converging winds and some orographic lift. Under weak vertical wind shear and slow storm motion, a few excessive rain events are possible and isolated instances of marginally large hail - or copious amounts of small hail - are not ruled out.
In the other areas, convective initiation appears unlikely against the background of large-scale subsidence, but the most aggressive GFS solution with substantial CAPE and quite widespread precipitation signals is reflected by a low-probability thunder area.

... central Norway and Sweden ...

Scattered storms are expected along and ahead of the cold front in an environment of some hundred J/kg CAPE and moderate vertical wind shear. The main risk are strong to isolated severe convective wind gusts in case the linear forcing of the cold front can create some bowing line segments. Limiting factors are the limited CAPE magnitude and the rather low cloud tops.