Storm Forecast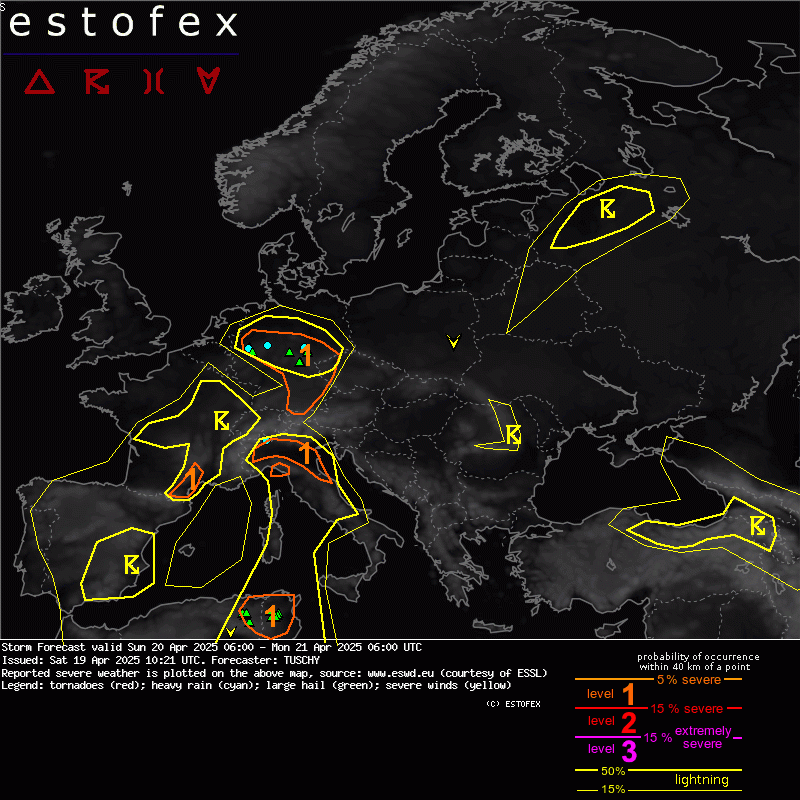 Storm Forecast
Valid: Mon 14 Jun 2021 06:00 to Tue 15 Jun 2021 06:00 UTC
Issued: Sun 13 Jun 2021 20:10
Forecaster: VAN DER VELDE
A level 1 was issued across N Algeria for large hail and severe wind gusts.

A level 1 was issued across N Turkey for large hail.

A level 1 was issued across S Russia for large hail and severe wind gusts.


DISCUSSION

In the mid levels, a trough is passing over Scandinavia, a cut off low is moving from the Balkan to Turkey, and another lies west of the Iberian Peninsula. A cold front pushes east across northern Russia.

A surface thermal low over the Iberian Peninsula with steep lapse rates should trigger some thunderstorm activity under MLCAPE mostly under 1000 J/kg. Similarly, NW Italy and S France. 0-6 km shear should stay mostly under 10 m/s, which does not allow much organization needed for severe updrafts, plus the ambient environment is very dry causing weakening by entrainment. A mild PV intrusion should support the NW/C Spain convective development.

North Africa sees elevated SREH along the coast, which can support supercells but this region is exactly the most capped. Storms form easier away from the coast.

Around the Balkan system, most upper lifting is found on the west and southeast sides (PV field). The southeastern part digs into Turkey where weakly capped CAPE should allow many storms. The northeastern section of that lies under a jet with enhanced shear (25 m/s) and SREH (250 m2/s2). It may produce large hail, although the CAPE tends to be marginal.

S Russia offers CAPE >1000 J/kg and the outskirts of the enhanced shear band from Turkey, where still 15 m/s should be present. Large hail and some severe wind gusts can be produced. It misses a major lifting mechanism so it should not result in widespread severe weather.

Finally, over southern Scandinavia a strong wind field and favorable wind shear exist along with very weak CAPE. If any convective cell could be supported, a tornado or severe wind gusts could occur.