Storm Forecast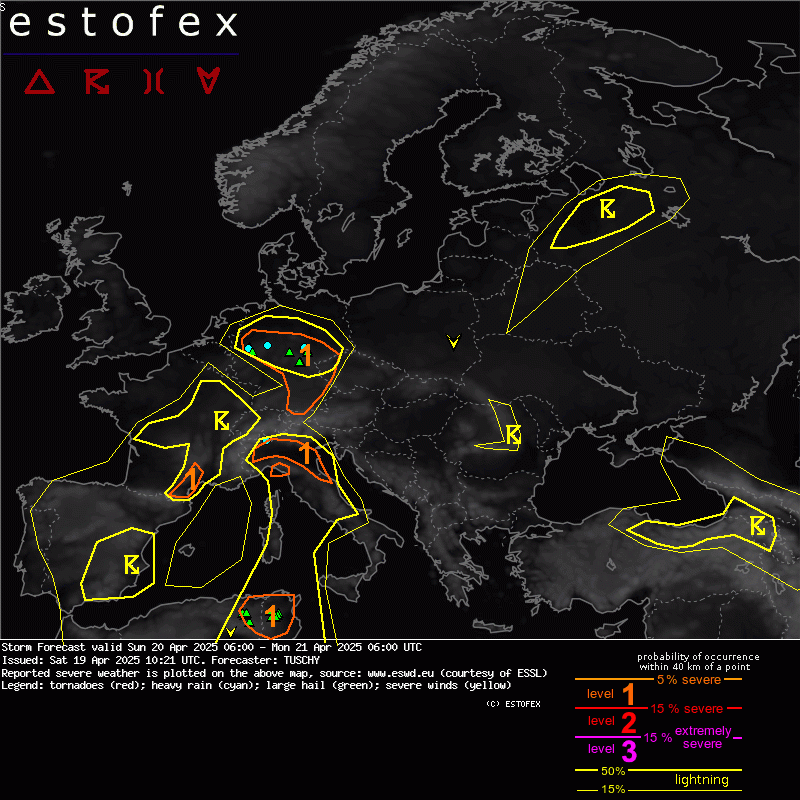 Storm Forecast
Valid: Tue 05 Dec 2023 06:00 to Wed 06 Dec 2023 06:00 UTC
Issued: Mon 04 Dec 2023 23:17
Forecaster: PUCIK/KUZMENKO
A level 1 was issued across central Italy and southern Croatia mainly for heavy rainfall.

A level 1 was issued across extreme S Turkey and N Cyprus mainly for large hail.


DISCUSSION

... Italy and the Adriatic Sea ...

A negatively tilted trough will cross the area during the forecast period. Ahead of the cold front, an area of strong synoptic scale lift in mid to upper troposphere is simulated by all models. Marginal low-level moisture and mediocre mid-tropospheric lapse rates will limit the values of CAPE.

Storms are forecast to form along the west coastline of Italy throughout the forecast period. Due to moist thermodynamic profiles, the slow-moving nature (with the mean wind being <10 m/s) and possible redevelopment of the storms caused by an onshore flow the primary threat will be heavy rainfall. This may also be supported by majority of CAPE in the warm part of the cloud.

A mix of convective and stratiform rainfall is forecast across S Croatia. Forecast profiles suggest almost all CAPE in the temperature warmer than 0 deg C. Convergence caused by the presence of surface low may keep the storm development focused for several hours in one spot, yielding local heavy rainfall threat.

... S Turkey and N Cyprus ...

A plume of steep mid-tropospheric lapse rates will be present over the area, yielding MLCAPE values of up to 1500 J/kg. At the same time, a dry layer of air around the 700 hPa will be present, limiting the convective initiation, at least initially. Synoptic-scale lift will provide moistening towards the evening hours, increasing the convective coverage. The mesoscale lift will come from the convergence zone that will develop to the N of Cyprus. Given 0-6 km shear above 15 m/s, well-organised multi or even supercells are possible with the primary threat of (very) large hail.