Storm Forecast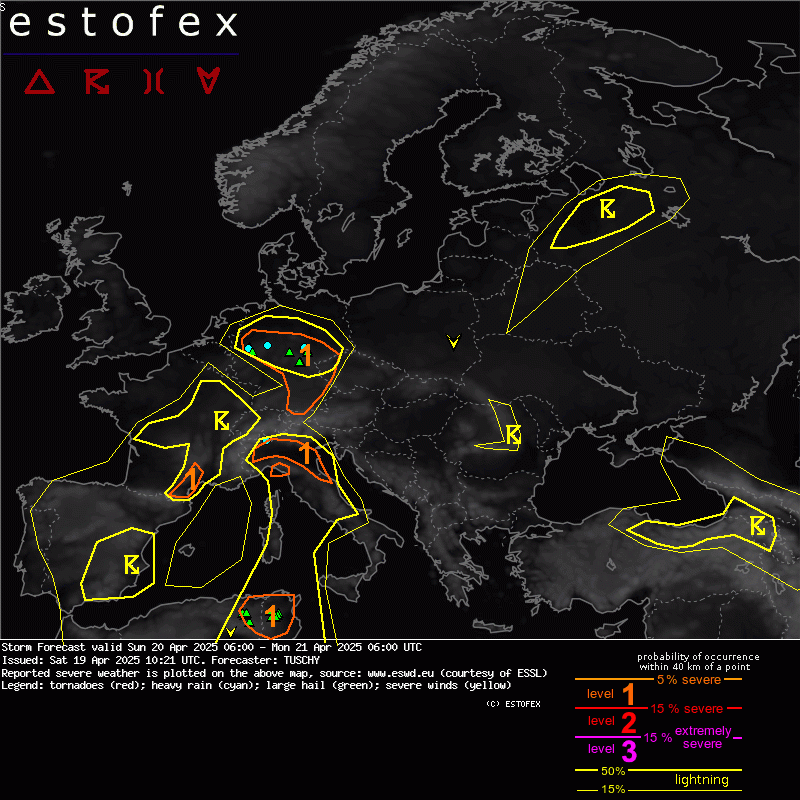 Storm Forecast
Valid: Thu 13 May 2021 06:00 to Fri 14 May 2021 06:00 UTC
Issued: Wed 12 May 2021 23:14
Forecaster: GATZEN
A level 1 was issued across northern Spain, southern Italy, and southern Balkans mainly for large hail and severe wind gusts.

A level 1 was issued across and western Russia mainly for severe wind gusts, large hail, and tornadoes.

A level 1 was issued across eastern Czechia and Slovakia mainly for heavy rain.

SYNOPSIS

A ridge across Scandinavia is flanked by a trough adross the east Atlantic that extends into southern Europe. Several vort-maxima travel east with the strong flow and affect the Mediterranean and western Europe. Across eastern Europe, an intense cut-off trough moves westward. Rather cool air has spread into most of Europe, and low-level moisture and mid-level lapse rates are limited, allowing for rather weak CAPE. Warmer and increasingly moist air masses are located along a frontal boundary across eastern central Europe. Warm and well-mixed air is spreading into south-eastern Europe.

DISCUSSION

Northern France to southern Balkans

On the cyclonically sheared flank of the jet stream, severe vort-maxima travel east on Thursday. They will be focus of convective development in a rather dry, rather stable air mass. Diurnal heating across northern France, Italy and the southern Balkans will result in some MLCAPE durin the afternoon, and storms are expected to form. Although most storms are expected to be rather short-lived and weak, strong deep-layer vertical wind shear can help to support some well-organized storms, including spitting storms due to rather straight hodographs. These storms will be capbale of producing large hail and severe gusts. Limiting factor will be weak CAPE and the fact that initiation can fail due to strong shear and rather dry LFC levels especially over Italy and the Balkans. Storms will gradually spread east as the upper vort-maxima will travel east as well. Late in the period, storms are expected to form across the west Mediterranean ahead of a vort-max. These storms also form in a strongly-sheared environment. However, due to cool low-levels, it is expected that these storms will be elevated and severe weather threat is rather low, although some better organization into a bowing system is not completely ruled out. A severe wind event can form if this scenario comes true.

Western Russia

A strong, negatively tilted vort-max spreads across western Russia in the wake of the cut-off trough. Latest models indicate that within the cool air mass, weak, skinny CAPE profiles develop. As CIN is weak, diurnal heating is forecast to result in initiation. Strong vertical wind shear is present, and well-organized storms, including supercells and bow echos, are forecast. Limiting factors for severe wind gusts are the moist and rather stable boundary layer with a weak cold-pool potential. Limiting factors for hail and tornadoes is the tendency of clustering storms due to strong forcing ahead of the trough and associated cold front. Storms will merge to bigger clusters that spread northward where a gradually weakening is forecast after sunset.

Czechia and Slovakia

Along a frontal boundary, moist, skinny CAPE profiles are expected with storm motion vectors mainly parallel to the frontal boundary and slow moving storms. Heavy rain is the most likely threat with these storms.

France, UK, Germany

In a weakly-sheared environment, numerous storms are forecast due to local boundary-layer heating of a moist air mass. Rather skinny CAPE profiles, low, warm cloud layers and surface-based CAPE are forecast and locally, heavy rain can result. Additionally, non-mesocyclonic tornadoes are not ruled out.