Storm Forecast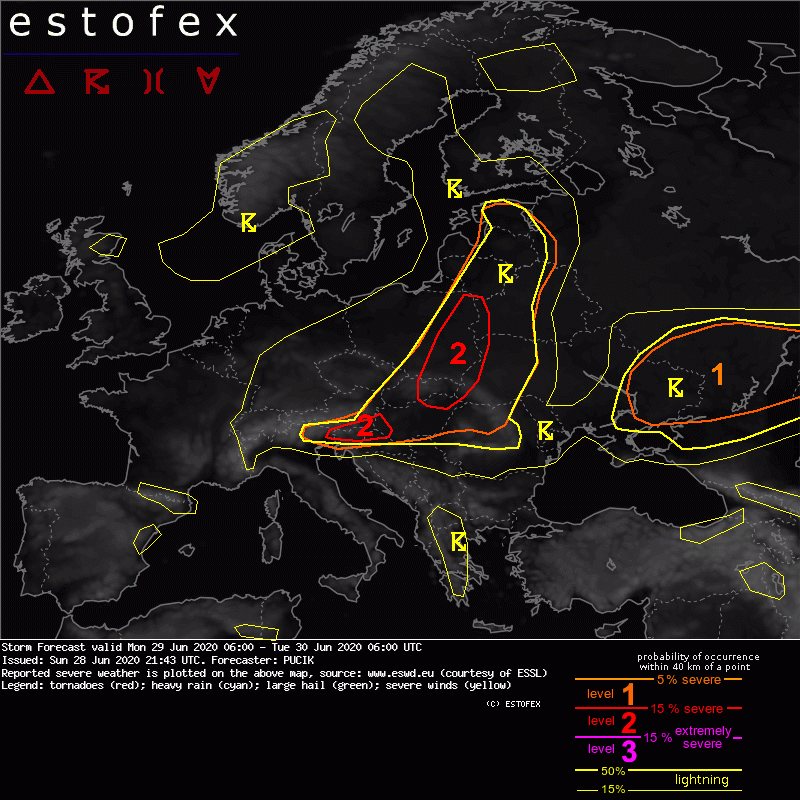 Storm Forecast
Valid: Mon 29 Jun 2020 06:00 to Tue 30 Jun 2020 06:00 UTC
Issued: Sun 28 Jun 2020 21:43
Forecaster: PUCIK
A level 2 was issued across eastern half of Slovakia and southeastern / eastern Poland mainly for damaging wind gusts, excessive rainfall, large hail and tornadoes.

A level 2 was issued across extreme northeastern Italy, southeastern Austria and Slovenia mainly for large hail, severe wind gusts and excessive rainfall.

A level 1 was issued across northeastern Italy, southeastern Austria and parts of Hungary mainly for large hail, severe wind gusts and excessive rainfall.

A level 1 was issued for Slovakia, central Poland, Latvia, Lithuania, Estonia, western Belarus, western Ukraine and northwestern Romania mainly for excessive rainfall, large hail and severe wind gusts.

SYNOPSIS

At mid to upper troposphere, an extensive cyclonic vortex centered over the northern UK will be the dominant macrosynoptic scale feature during the forecast period. At its forward flank, a short-wave trough is forecast to travel rapidly eastwards from BENELUX and western Germany towards Czech Republic and Poland. Strong jet-streak, with windspeeds of 40+ m/s is simulated at 300 hPa just behind the short-wave. Closer to the surface, a cold front is forecast to cross Central Europe during the day and under strong synoptic-scale lift, cyclogenesis is forecast along the frontal zone over southern and eastern Poland. Scattered to widespread thunderstorm activity is forecast along and ahead of the advancing cold front.

Further thunderstorms are forecast along the southward advancing cold front across southern Russia, associated with a subtle short-wave situated in between of the low over northwestern Russia and a ridge stretching from Balkans into Belarus.

DISCUSSION

... eastern Slovakia, eastern Poland, southwestern Belarus ...

The evolution of situation over this region will be influenced by two factors:
1. The extent of overnight and morning convection arriving over the area from the Czech Republic.
2. The track and depth of the surface low developing along the cold front.

Very moist airmass will be present ahead of the cold front with dewpoints reaching 18 to 22 deg C both over Slovakia and eastern Poland. This will allow for a rapid build-up of moderate CAPE values, ranging from 1 to 2kJ/kg of MLCAPE as the surface heating commences. Arrival of the cold front and strong synoptic-scale lift will allow for widespread coverage of thunderstorms, at least over the areas, where the CAPE build-up was not hindered by the morning convection. 0-6 km bulk shear will reach around 15 m/s along the front, allowing for well-organised convection. Strongest storms will be capable of large hail, severe wind gusts and also excessive rainfall. The highest rainfall threat is anticipated over central Slovakia, where mountainous terrain combines with several possible rounds of convection.

The strongest shear is forecast ahead and to the north of the deepening surface that will travel from southern towards northeastern Poland. Strengthening lower tropospheric wind field will yield 0-3 km bulk shear values above 15 m/s and 0-1 km shear values above 10 m/s in the evening hours. In combination with the widespread initiation and a substantial latent heat release due to the significant CAPE values, it is possible that a severe-wind gust producing MCS will form and track towards northeast across eastern Poland in the afternoon and evening hours. While most models converge on this scenario, exact track and timing of the MCS is uncertain. Should isolated convection form in the area of enhanced SRH to the north of the surface low, it may bear a substantial tornado risk given strong lower tropospheric shear and low LCLs.

... northeastern Italy, southeastern Austria, western Hungary ...

NWP simulates very strong 0-6 km bulk shear, ranging from 20 to 30 m/s (increasing towards west) over the region as the cold front wraps around the Alps with colder and drier airmass surging first over eastern Austria, then towards Slovenia, western Hungary and northeastern Italy. MLCAPE values around 1000 J/kg are forecast locally near the Alpine range but poor mid-tropospheric lapse rates will yield rather skinny CAPE profiles, especially in the upper troposphere. Towards west, subsidence in the wake of the short-wave trough may inhibit development of convection past the 600 or 500 hPa level. High resolution, convection-allowing models simulate several supercells forming over the Alps or Alpine foothills, tracking SE-wards towards the lowlands. Main threats will be large hail and severe wind gusts. While these threats will be limited to some degree by the skinny CAPE profiles, a narrow Level 2 was issued for an area with the highest likelihood of severe weather.

... Baltic states ...

Similar to the areas to the south, the aforementioned cold front will initiate scattered to widespread storms. Given the weaker vertical wind shear, storms will stay mostly in the form of multicell clusters. These may be capable of isolated excessive rainfall event and large hail, owing to the substantial CAPE and lower-tropospheric moisture. Southeastern part of this area may be affected by the MCS arriving from Poland in the late evening to overnight hours.

... southern Russia ...

Widespread convection is forecast over the area along the southward moving cold front and ahead of it, under the influence of advancing short-wave trough. At first, excessive rainfall and large hail will be the primary risk with the first storms. Subsequently, clustering of cells and also strengthening of 0-3 km shear in the evening hours may yield one or more line segments producing swaths of severe wind gusts.