Storm Forecast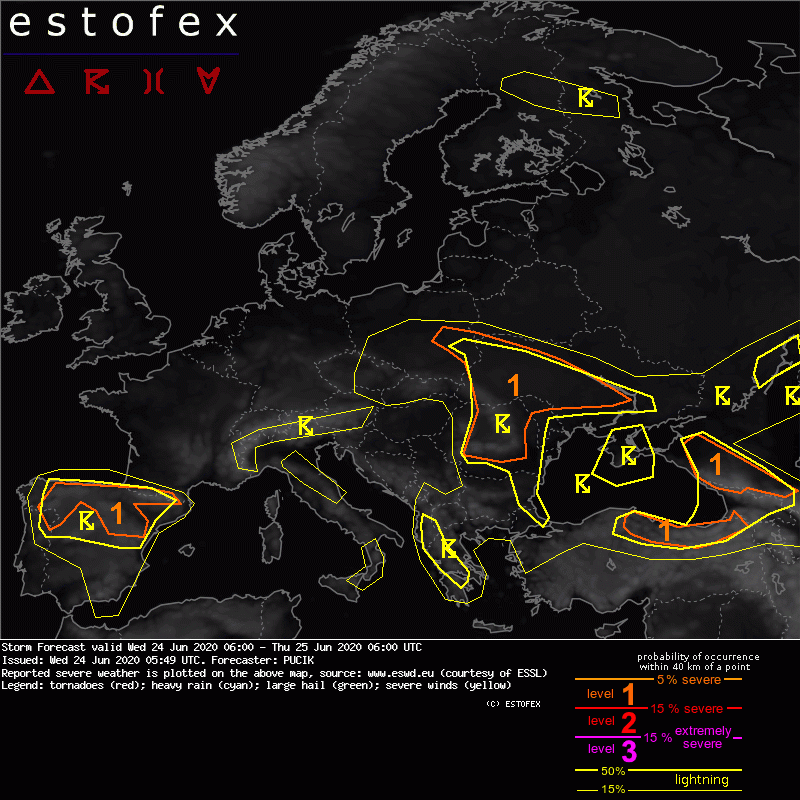 Storm Forecast
Valid: Wed 24 Jun 2020 06:00 to Thu 25 Jun 2020 06:00 UTC
Issued: Wed 24 Jun 2020 05:49
Forecaster: PUCIK
A level 1 was issueed acorss northern Spain and extreme northeastern Portugal mainly for large hail and severe wind gusts.

A level 1 was issued across Romania, Ukraine and parts of eastern Poland mainly for heavy rainfall and to the lesser extent for large hail and severe wind gusts.

A level 1 was issued across nrotheastern Turkey mainly for large hail and severe wind gusts.

A level 1 was issued for southern Russia mainly for heavy rainfall, large hail and to the lesser degree for severe wind gusts.

SYNOPSIS and DISCUSSION

Satellite imagery reveals numerous separate cyclonic vortices over Europe - the most prominent one situated over southern Poland, moving towards the Czech Republic. Another vortices are located west of Iberia, over the Black Sea and over southern Russia. At the time of writing the forecast, scattered thunderstorms were ongoing over the Black Sea and isolated storms were ongoing over Spain.

NWP models and surface observations reveal abundance of lower tropospheric moisture around the Black and the Aegean Sea, with a tongue of enhanced moisture wrapped around the cyclonic vortex over eastern Poland. A level 1 is introduced for the zone of scattered to widespread convection to the northwest of the Black sea, where slow moving storms forming in the environment of moderate CAPE and low LCLs will be capable mostly fo heavy rainfall.

Over northeastern Turkey and to the north of the Caucasus, steeper lapse rates will be present along with stronger mid-tropospheric flow, shifting the threat more towards the large hail and severe wind gusts. It is possible that an MCS capable of heavy rainfall and perhaps some severe wind gusts will form north of the Caucasus.

Stronger DLS is also forecast over central Finland, where a Lvl 1 was considered for the threat of severe wind gusts and large hail. Due to the skinny CAPE profiles and overall uncertainty in CAPE values due to the lingering cloudiness and degree of available moisture, only low prob lightning line was introduced.

While the simulation of storm coverage over northern Iberia differs among the models, scattered to widespread storms will likely develop over the area in the afternoon hours in the environment of steep lapse rates and MLCAPE locally up to 2000 J/kg. The highest DLS values are forecast over the western fringe of the Lvl 1 area, reaching 10 - 15 m/s. Predominantly multicellular convection is forecast, with stronger cells capable of large hail and isolated downbursts. A heavy rainfall event is not ruled out in the mountainous areas.