Storm Forecast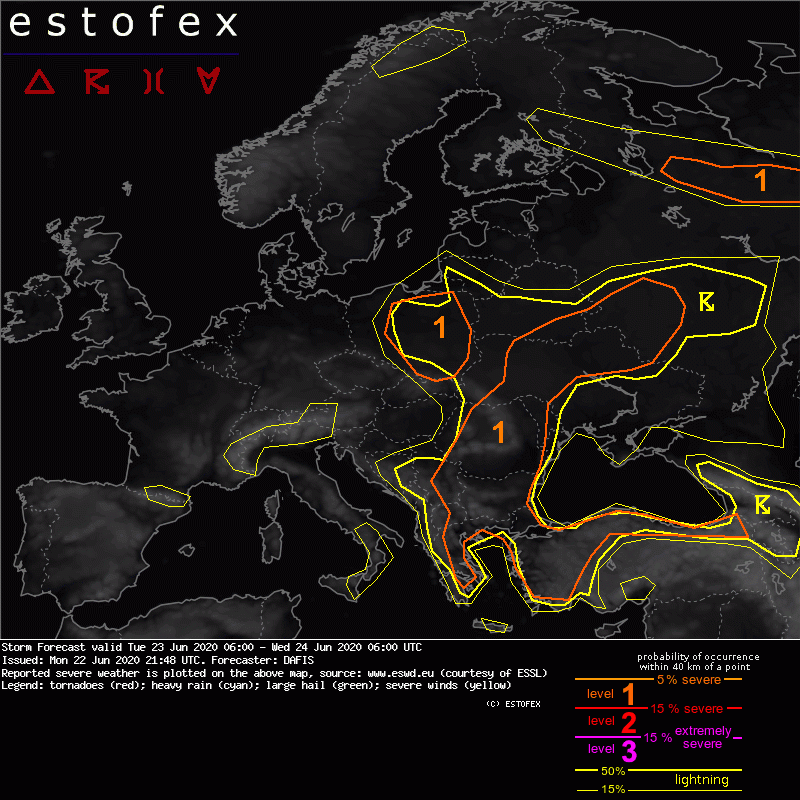 Storm Forecast
Valid: Tue 23 Jun 2020 06:00 to Wed 24 Jun 2020 06:00 UTC
Issued: Mon 22 Jun 2020 21:48
Forecaster: DAFIS
A level 1 was issued for Poland mainly for excessive precipitation and large hail.

A level 1 was issued for E Europe, the Balkans and Turkey for excessive precipitation, large hail and severe wind gusts.

A level 1 was issued for parts of NW Russia mainly for severe wind gusts.

SYNOPSIS

Europe is divided into two main areas with high geopotentials in the west and low-pressure systems in the east. An intensifying ridge over Western Europe will inhibit convection with large-scale subsidence and WAA, while several cut-off lows will destabilize Eastern Europe and Asia Minor. More specifically, a cold drop over Poland, a short-wave trough in Russia and a dissipating cut-off low over the Balkans will provide favorable conditions for DMC. Weak baroclinicity though, keeps jet-streams away from unstable air masses and severe weather threat will be limited.

DISCUSSION

.... Poland ....

A cut-off low with high values of mid-level vorticity will cross Poland on Tuesday, where a few hundreds of CAPE will build up as a response to diurnal heating, low-level moist air masses, and rather steep lapse rates. The mid/upper-level wind configuration leads to 15-20 m/s DLS, overlapping with up to 600-800 J/kg. Large hail could develop into this strongly sheared and unstable environment, but the main threat will be large amounts of small hail as the freezing level drops significantly close to the core of the low-pressure system. High PWAT in the eastern parts of the country increases the flash flood threat during slow-moving storms and training convection.

.... Balkans and Turkey ....

Diurnally-driven thunderstorm activity is expected over this part of Europe where locally pools of very moist low-level air masses lie. This will lead to MLCAPE up to 2000 J/kg but wind shear is weak and most of the storms will not be able to cluster. The steepest lapse rates will be found in Turkey where large hail is expected. First, storms will develop on mountains where CI will be achieved faster. Cloudiness will then limit surface heating, thus reducing the severe weather threat potential. During the night a few elevated storms will continue until the early morning of Wednesday and excessive precipitation will be the only threat to anticipate. A few waterspouts may appear close to the coasts of Aegean and Black Seas.

.... NW Russia ....

Parts of NW Russia will experience DMC during the fast movement of a surface cold front associated with a mid-level jet. The overlap of more than 500 J/kg CAPE and 20-25 m/s DLS increases the probabilities for large hail and severe wind gusts. The DLS vector has a large angle with the convective boundary and storms should stay isolated, with a rear-to-front inflow jet posing a threat for severe winds at the surface. A few short-lived tornadoes cannot be ruled out.