Storm Forecast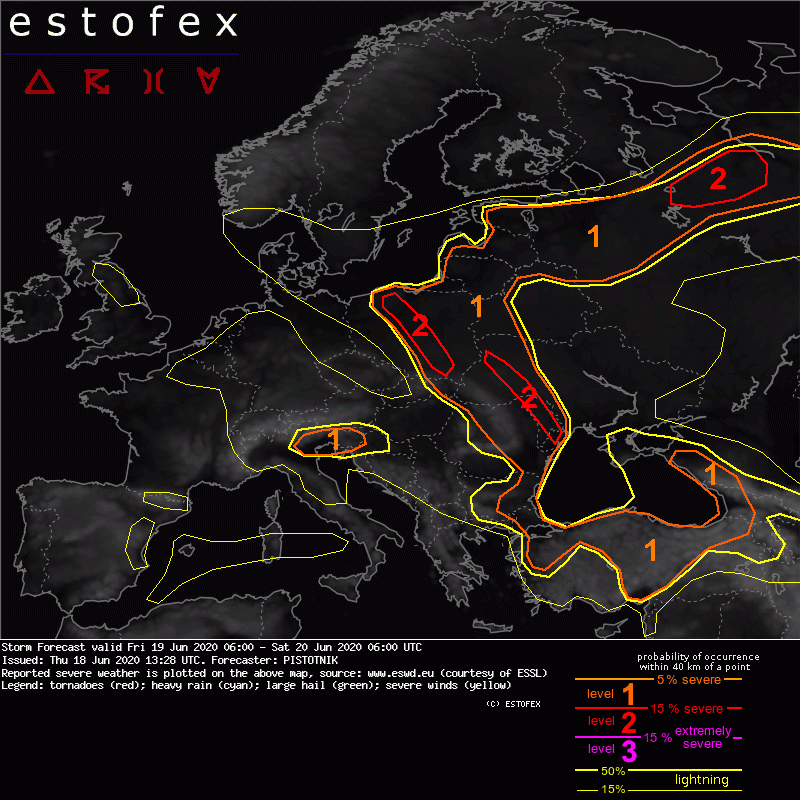 Storm Forecast
Valid: Fri 19 Jun 2020 06:00 to Sat 20 Jun 2020 06:00 UTC
Issued: Thu 18 Jun 2020 13:28
Forecaster: PISTOTNIK
A level 2 is issued for a part of NW Russia for large hail, severe convective wind gusts, excessive convective precipitation and tornadoes.

A level 1 is issued for Lithuania, Latvia, Estonia and larger parts of NW Russia for large hail, excessive convective precipitation and severe convective wind gusts.

A level 1 and level 2 are issued for parts of Poland, Belarus, the Ukraine, Slovakia, Romania, Moldova, Bulgaria, Turkey, Georgie and SW Russia mainly for excessive convective precipitation and large hail.

A level 1 is issued for NE Italy and Slovenia mainly for large hail and to a lesser degree for excessive convective precipitation.

SYNOPSIS

A late springtime circulation pattern remains in place in the European sector. A broad low pressure zone filled with cool and moist air stretches from the British Isles to central Europe, the Balkans, the Black Sea and Turkey. Higher pressure and warmer air masses are in place further northeast. In general, the pressure and temperature gradients are quite weak, though.
Stronger westerly mid-level flow is confined to the Mediterranean region in an otherwise quiescent synoptic environment.

DISCUSSION

... NE of a line Denmark - Cyprus ...

The warm air mass is heavily overworked by daily convection, which weakens the lapse rates aloft but "recycles" low-level moisture based on rich evaporation. Daytime heating will allow CAPE in the range of 500 to 1500 J/kg before scattered to widespread convection starts again in the late morning to afternoon. The main foci for initiation are insolation gradients, outflow boundaries, sea breeze fronts penetrating inland, and other convergence zones. Weak deep-layer shear around or below 10 m/s keeps the storm organization low.
The highest storm coverage is expected in a belt of persistent low-level convergence ahead of an almost stationary cold front from NW Poland to Moldova. The main risk is clearly excessive rain due to very moist air and slow, almost front-parallel storm motion from SE to NW. Especially discrete and early storms can also produce moderately large hail or copious amounts of small hail.
Further east into the Baltic States and NW Russia, somewhat drier environmental air and less obvious convergence zones keep the storm coverage lower and balance the risks more evenly between heavy rain, large hail and cold-pool driven severe wind gusts. Deeper into the Russian prairies, low-level moisture will likely be mixed out too early to allow more than isolated convective storms.

In a confined area of particular concern in NW Russia, a lobe of the unstable air is fed into the warm sector of a cyclone moving eastward from Finland and Karelia. Much stronger shear allows well-organized storms with all kinds of severe weather, also including a risk of (possibly strong) tornadoes if the overlap of substantial CAPE with 10-15 m/s low-level shear indeed establishes.

... SW of a line Denmark - Cyprus ...

Scattered daytime convection is also expected in the well-mixed cool air behind the main frontal boundary, but will be less deep and mostly non-electrified. The severe weather risk is low.
The only exception is the southern Alpine region, where the fringes of the Mediterraean mid-level jet can create 10-15 m/s deep-layer shear under some hundred J/kg CAPE. In the eastern half of this area (i.e., NE Italy and Slovenia), the passage of a strong vorticity maximum and upslope circulations allow scattered afternoon storms. The dominant convective mode is multicellular with a main risk of large hail and a secondary risk of heavy rain. Further west into NW Italy, vertical wind shear is even stronger, but synoptic subsidence during daytime will largely suppress convective initiation.