Storm Forecast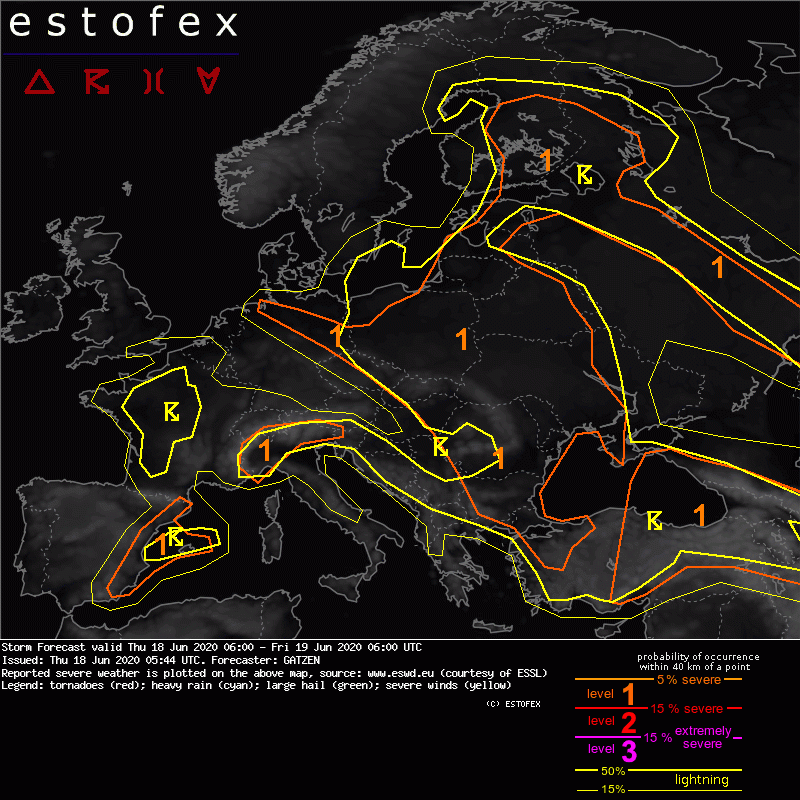 Storm Forecast
Valid: Thu 18 Jun 2020 06:00 to Fri 19 Jun 2020 06:00 UTC
Issued: Thu 18 Jun 2020 05:44
Forecaster: GATZEN
A level 1 was issued across northern Italy for large hail and heavy rain and to a lesser extent severe wind gusts.

A level 1 was issued across eastern Spain mainly for large hail and severe wind gusts.

A level 1 was issued across eastern Turkey and Black Sea region for large hail and severe wind gusts.

A level 1 was issued across eastern and central Europe for heavy rain.

A level 1 was issued across Finland and north-western Russia for severe wind gusts.

SYNOPSIS

Europe is influenced by subtle mid-level flow with weak deep layer shear. An exception is a cut-off low traveling into Finland that is surrounded by stronger mid-level flow. Furthermore, strong mid-level flow is forecast across the south Mediterranean. At lower levels, a warm and moist air mass is present across eastern and central Europe. High instability can be found across eastern Turkey where steep lapse rates advect north ahead of a weak mid-level trough.

DISCUSSION

Turkey

Ahead of the progressing trough, high instability is expected to develop today. Forecast soundings indicate steep lapse rates and high CAPE in the hail growth layer. Lift is expected to develop across the mountains and multicells are expected to develop due to modest vertical wind shear. Main threat is large hail, however, given deep boundary layer mixing, severe wind gusts are also forecast. These can also affect north-east Turkey where stronger 0-3 km shear can support longer-living multicells with deeper cold pools.

Eastern and central Europe

Convergence lines and outflow boundaries will be the main foci of initiation. Weak shear, skinny CAPE, humind profiles and a deep warm cloud layer support excessive rain.

Finland

Cyclogenesis is forecast ahead of the progressing cut-off trough, with a humid air mass advected into Finland. Initiaion is forecast during the day and storms will likely organize due to high converage of storms and increasing vertical wind shear towards the north. Bowing lines are possible. The main threat is severe wind gusts and will continue in the evening as the convective systems move east.

Italy

Along the Alps, moderate instability is forecast to develop due to rich low-level moisture overlapping with steep lapse rates. Ahead of the west-European trough, a frontal boundary will support lift and storms are forecast to develop. Although shear is limited, some multicells and brief mesocyclones can develop, capable of producing large hail. Severe wind gusts and heavy rain are not ruled out with the stronger storms.

Eastern Spain

Some storms are not ruled out during over the mountains the day within a south-westerly flow advecting steep lapse rates ontop of a moist boundary layer. Initiation is limited due to strong vertical wind shear, but storms that form will be cappable of large hail and severe wind gusts. Storms can cluster later on across the Mediterranean.

France

In a weakly sheared environment, non-mesocyclonic tornadoes are not ruled out due to locally high low-level buoyancy.