Storm Forecast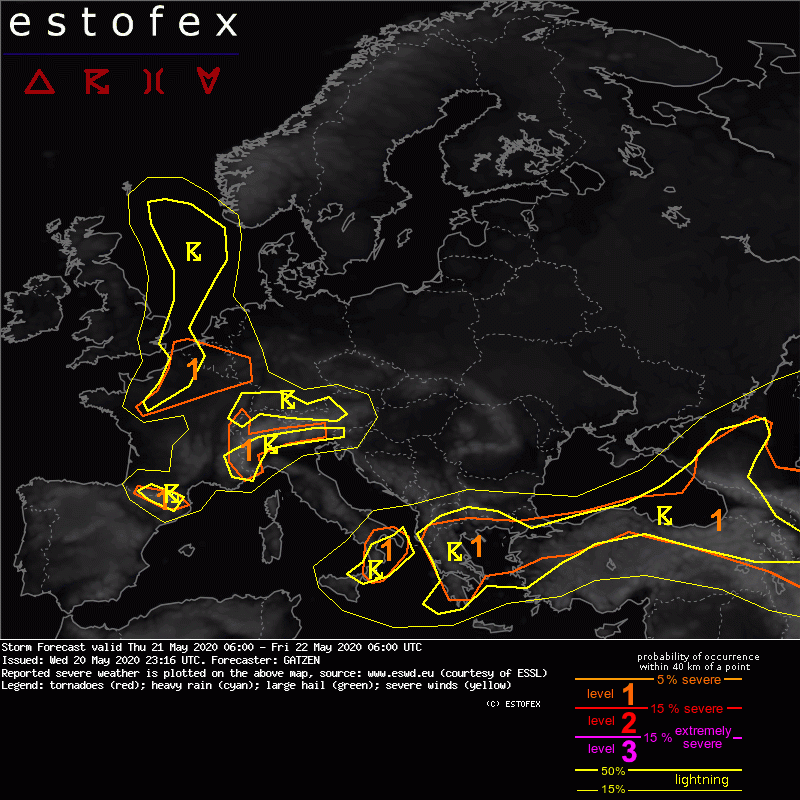 Storm Forecast
Valid: Thu 21 May 2020 06:00 to Fri 22 May 2020 06:00 UTC
Issued: Wed 20 May 2020 23:16
Forecaster: GATZEN
A level 1 was issued across northern Turkey mainly for large or very large hail and for severe wind gusts.

A level 1 was issued across Greece and surroundings mainly for extreme rainfall and for large hail.

A level 1 was issued across southern and western Alps, Pyrenees, northern France and Belgium into Luxembourg and western Germany mainly for large hail and locally extreme rainfall.

SYNOPSIS

At the southern flank of a polar trough across eastern Europe, a well-developed vort-max travels eastward across south-eastern Europe. An unstable and strongly sheared air mass is located ahead of this vort-max, whereas moist and slightly unstable air is expected near the trough's base across Greece. Western Europe is affected by a plume of unstable air that advects into the North Sea ahead of a short-wave trough that crosses the British Isles in the morning.

DISCUSSION

Northern Turkey, Armenia, Azerbaijan, Georgian Republic, southern Russia

An unstable air mass with steep lapse rates is forecast. Low-level moisture is modest close to a frontal boundary from the Black Sea towards southern Russia, where some weak CAPE will develop. Over Turkey, deep boundary-layer mixing occurs. In between, some overlap of rich moisture over the Black Sea and steep lapse rates is forecast along the sea breeze over northern Turkey, with MLCAPE exceeding 2000 J/kg. However, the cooler boundary layer will also result in larger CIN around 50 J/kg.

QG forcing spreads from Greece to western Turkey during the day. Most storms will form due to topographic lift withing the deeply mixed air mass over Turkey, with a potential of downbursts and some large hail. Near the Black Sea, both CAPE and shear will increase, and storms can develop into supercells given 20+ m/s deep layer vertical wind shear. Large or very large hail is possible with these storms. Capping will be rather strong, though, and storms are forecast to be rather isolated. However, widespread initiation can result is the formation of a mesoscale convective system moving east across northern Turkey, forming into a potentially severe bow echo. Moddel confidence is too weak to issue a level 2 at this time.

Greece and surroundings, southern Italy

Near the base of the trough, model soundings indicate skinny CAPE profiles due to rich low-level moisture. Topographic forcing will support slow-moving and weakly orgabized storms capable of producing excessive rain. In the eastern parts, stronger deep layer shear will allow for multicells capable of large hail.

Alps, Pyrenees, northern France

Although CAPE/shear values are marginal, some storms are forecast to produce large hail and excessive rain. In northern France, multicells are forecast, whereas isolated storms or clusters are forecast farther south.