Storm Forecast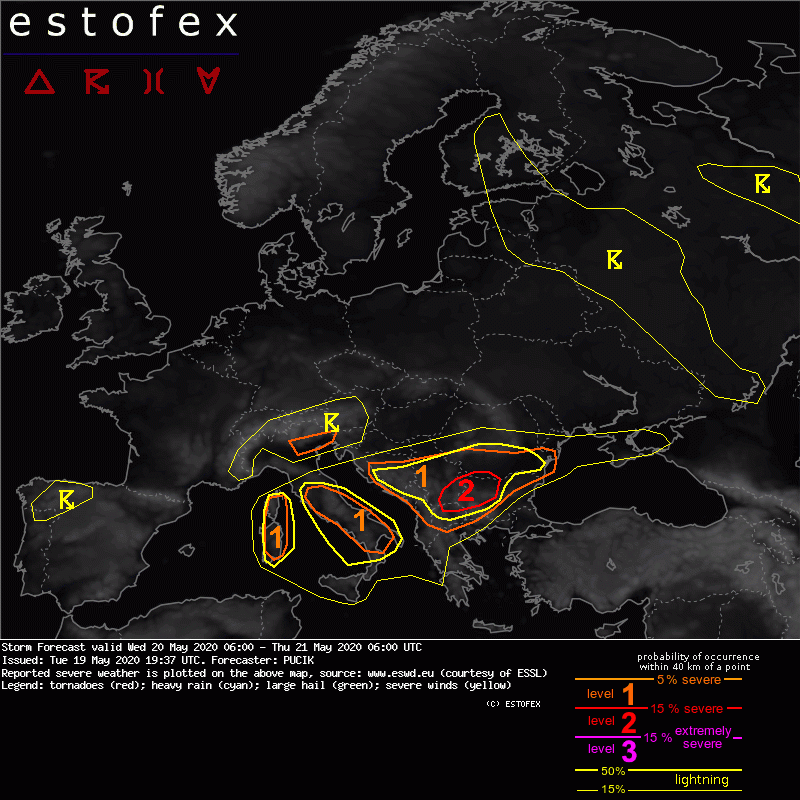 Storm Forecast
Valid: Wed 20 May 2020 06:00 to Thu 21 May 2020 06:00 UTC
Issued: Tue 19 May 2020 19:37
Forecaster: PUCIK
A level 2 was issued across S Serbia, SW Romania and NW Bulgaria mainly for severe wind gusts, large hail and excessive rainfall.

A level 1 was issued across Bosnia, central Serbia and S Romania mainly for excessive rainfall and large hail.

A level 1 was issued across Albania, N Macedonia and W Bulgaria mainly for large hail and severe wind gusts.

A level 1 was issued across Central Italy, Corse and Sardegna mainly for excessive rainfall.

A level 1 was issued across northeastern Italy mainly for large hail.

SYNOPSIS

Two main macrosynoptic features at mid to upper troposphere will be an highly amplified ridge stretching from W Iberia through France into the UK and a deep trough reaching from E Scandinavia into N Balkans, where it will connect with a cyclonic vortex centered over Italy. This vortex will be the primary feature associated with deep, moist convection over Europe on this day. Scattered to widespread thunderstorms are forecast under the core of the trough over the land. Further storms are forecast on the forward flank of the vortex, along a southward moving frontal boundary that will cross Balkans.

DISCUSSION

... Balkans ...

On Wednesday morning, numerous elevated storms will be ongoing along and north of the frontal boundary, especially over Bosnia, where synoptic-scale lift from the cyclonic vortex will combine with isentropic lift along the frontal boundary. These storms will pose threats of excessive rainfall and also of isolated large hail. Towards 12 UTC, NWP models simulate overlap of moderate buoyancy with MLCAPE around 1000 J/kg and strong vertical wind shear (0-6 km and 0-3 km bulk shear > 20 and 15 m/s respectively) over S Serbia, extreme SW Romania and NW Bulgaria.

Combination of large-scale lift from the vortex and the mesoscale from the boundary and local orography will result in widespread initiation of convection that will progress from Serbia towards S Romania and W Bulgaria. While large hail may be common with the first isolated cells that form in this environment, an upscale growth is forecast with an eventual trend towards the severe wind gusts. More isolated convection is forecast over the southern part of the area, including N Macedonia. Towards the evening, storms will become elevated as the frontal boundary surges south and some of the storms may reach as far as SE Romania.

There are several possible limitations regarding the severe weather risk on the given day:
1/ Cloud cover from the overnight convection, limiting surface heating
2/ Large CIN over central and E Bulgaria, limiting the progress of the convective system.
3/ Storms being undercut by southward moving frontal boundary


... Central Italy, Corse, Sardegna ...

Scattered to widespread initiation is simulated in the environment of weak buoyancy (couple of hundreds of J/kg of MLCAPE), weak vertical wind shear, but high RH throughout the troposphere. While most of the storms will possess rather weak and unorganised updrafts, their slow moving nature combined with low LCLs suggests an enhanced threat of excessive precipitation.

... Northeastern Italy ...

NWP simulates a southern upslope flow towards the Alps overlaid with 15 - 20 m/s northerly flow at mid-troposphere. Isolated storms are forecast to form by the afternoon hours. Degree of vertical wind shear will allow for well organised storms, stronger of which may be capable of large hail in the environment of moderate buoyancy.