Storm Forecast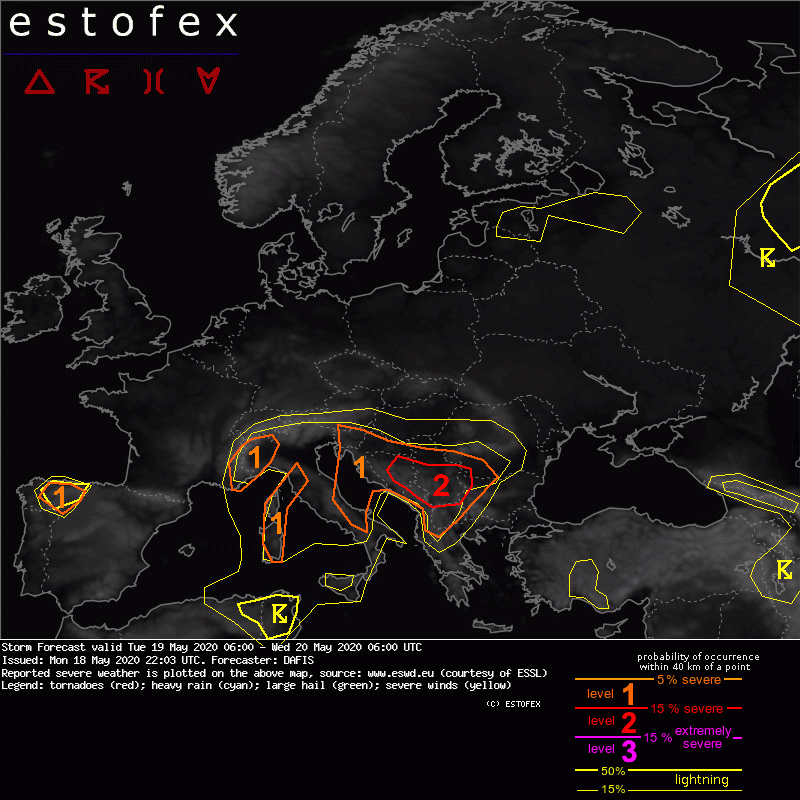 Storm Forecast
Valid: Tue 19 May 2020 06:00 to Wed 20 May 2020 06:00 UTC
Issued: Mon 18 May 2020 22:03
Forecaster: DAFIS
A level 2 was issued for parts of Bosnia and Herzegovina, Montenegro, Serbia, NW Bulgaria, North Macedonia, and Albania for very large hail, severe convective wind gusts, and tornadoes.

A level 1 surrounds the Level-2 area and parts of Croatia, Slovenia, Italy, SW Romania and NW Greece for large hail and severe wind gusts.

A level 1 was issued for Sardinia and Corsica mainly for excessive convective precipitation.

A level 1 was issued for NW Italy and SW mainland France for large hail and severe wind gusts.

A level 1 was issued for NW Spain for severe wind gusts.

SYNOPSIS

A well-defined polar jet stream has formed in northern Europe as unseasonably cold air masses are placed over Scandinavia. More to the south, a cut-off low has formed over West Mediterranean and strong baroclinicity has resulted in the establishment of another southwesterly jetstream above Italy and the Balkans. At the surface, a low-pressure system over the Tyrrhenian Sea, even though will become almost vertically aligned with the cut-off low center, does not give signs of dissipation soon. Its cold front will cross the Adriatic and Ionian Seas and reach the Balkans the early morning of Wednesday.

DISCUSSION

.... Bosnia and Herzegovina, Montenegro, Serbia, NW Bulgaria, North Macedonia, and Albania ....

Several ingredients are found in the forecast maps for issuing a high-level threat for severe thunderstorms. First, starting from the surface, a pool of high moisture exists in the area and during the night of Mon 18/05 and early morning of Tue 19/05 rainfall is expected which will further increase the amount of low-level moisture and evapotranspiration during the day. During the morning of Tue, cloudiness under the mid/upper-level jet stream will limit surface heating but in the afternoon, synoptic lift will complement the diurnal heating in producing the first convective cells. Strong upper-level divergence is expected and storms forming after 12-15z will be able to organize in MCSs and supercells under a strongly sheared environment.

In Bosnia and Herzegovina, and Montenegro, the main threat will be large hail given the overlap of 20-25 m/s DLS with 1000-1500 J/Kg MLCAPE and high PWAT. In Serbia, also large to very large hail is expected (MLCAPE locally exceeds 2000 J/Kg and high NCAPE), but also the tornado threat is elevated. The very moist PBL reduces LCLs locally below 600 m and strong low-level shear with 100-200 m2/s2 SREH0-1km will create a very favorable environment for tornadogenesis. Storms will continue during the night moving east but the severe threat will be reduced.

In parts of N Albania, North Macedonia and W Bulgaria the main threat will be severe convective wind gusts due to the dry PBL which leads to LCLs above 1200-1500 m. Downdrafts will be able to accelerate through evaporation cooling. A strong CAPESHEAR overlap cannot also rule out very large hail events.

.... Italy and SE France ....

The cut-off low creates a wind field configuration that divides Italy into different zones. In the west, a mid-low level jet in NW Italy and SE France along with diurnally built CAPE will increase the threat for hail-producing storms, also able to produce severe gusts.
Under the core of the low-pressure system, the weak wind field creates very slow storm motions over Corsica and Sardinia. In addition, high PWAT and low NCAPE suggest that storms will be stationary and able to produce excessive precipitation. Large amounts of small hail mostly in the mountainous areas cannot also be ruled out.
In the eastern parts of Italy, east of Apennines, high CAPESHEAR values increase the threat for severe convective activity. Straight-line hodographs in NWP models and weak SREH0-3km limit the threat for supercells, but still storms will be able to produce large hail and severe gusts.

.... NW Spain ....

A weak short-wave trough and diurnal surface heating may provide enough lift to rather unstable air masses in the afternoon of Tue. Very steep lapse rates, up to 1000 J/kg MUCAPE and high mid/low-level delta-thetae values increase the threat for storms able to produce severe wind gusts. Better chances for CI in this strongly capped environment will be found in mountainous areas where also a few large hail events may unfold.