Storm Forecast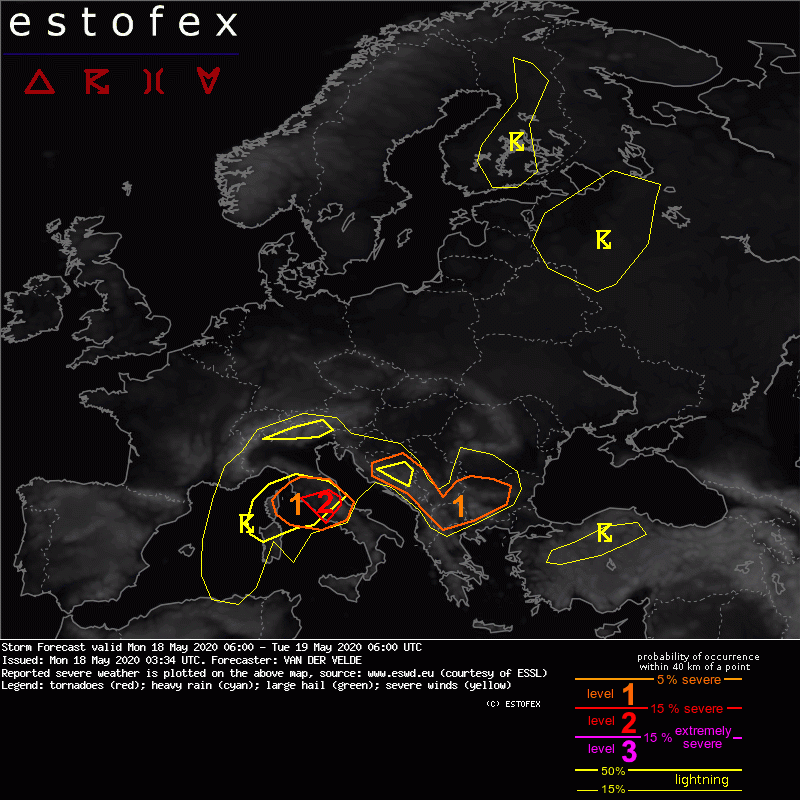 Storm Forecast
Valid: Mon 18 May 2020 06:00 to Tue 19 May 2020 06:00 UTC
Issued: Mon 18 May 2020 03:34
Forecaster: VAN DER VELDE
A level 2 was issued across central Italy mainly for large hail.
A level 1 was issued across Balkan and central Italy mainly for large hail and tornado chances.
A level 1 was issued across Corsica mainly for excessive convective rainfall.


SYNOPSIS / DISCUSSION

High pressure is centered near France with an extension through the central latitudes across Europe, with a low pressure system to the south across Italy and in northeastern Europe. A warm mid level ridge spans the eastern Mediterranean and southern Balkan. More than 1000 J/kg MLCAPE is present around North Macedonia and W Bulgaria, but initiation will likely remain small scale, with weak forcing. Thanks to the southwesterly jetstream, the southern half of Italy and Balkan feature 20-35 m/s 0-6 km shear and 0-3 km SREH of 150 to 350 m2/s2, strongest over Italy. The center of the low wraps moist low level flow with convective activity around Corsica, with persistent storms which may produce excessive rain on the east and north sides of the mountainous island. Central Italy will see best initiation conditions just north of the edge of the jet stream, but part of the storms could profit and become (very) large hail producing supercells, and other phenomena like severe gusts or an isolated tornado are not ruled out.