Storm Forecast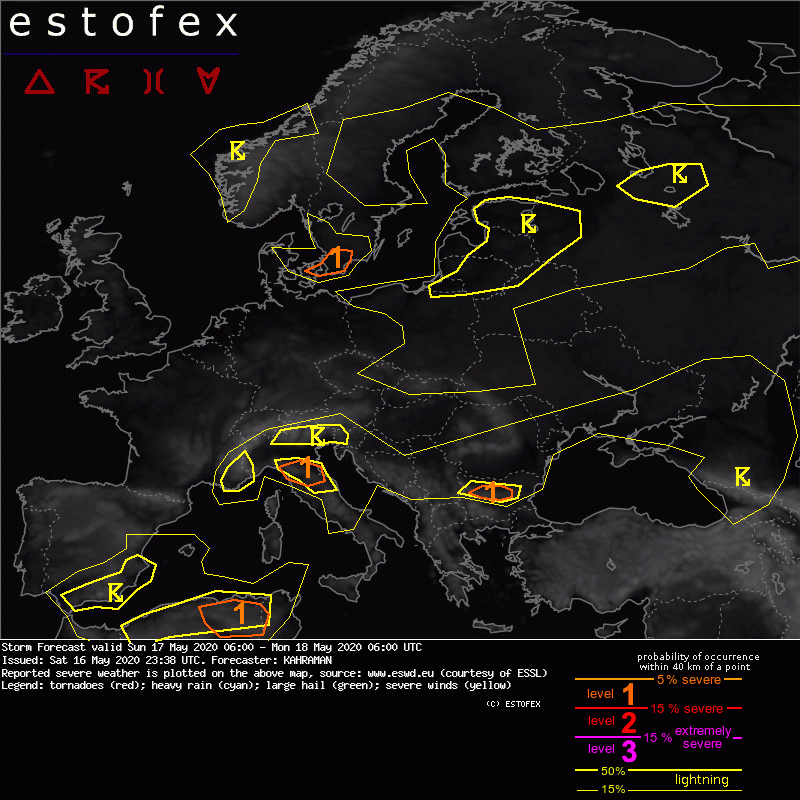 Storm Forecast
Valid: Sun 17 May 2020 06:00 to Mon 18 May 2020 06:00 UTC
Issued: Sat 16 May 2020 23:38
Forecaster: KAHRAMAN
A level 1 was issued across Algeria for large hail, wind gusts, and tornadoes.

A level 1 was issued across Italy for large hail and wind gusts.

A level 1 was issued across Bulgaria for large hail and severe wind gusts.

A level 1 was issued across S Sweden and E Denmark for wind gusts.

SYNOPSIS

A slow moving low pressure centre over E Baltic and an adjacent low over W coasts of Norway cover Northern Europe with cold air mass invasion. Western Europe is under Azores High, while there is a weak cut off over W Mediterranean, and a shallow low just to the east of it. Another high pressure belt extends north of Black Sea. A very warm air mass of African origin affects Southeastern Europe. The southwesterly subtropical jet cuts through Central Mediterranean, and gets zonal over Northern Balkans, moving parallel to polar jet just to its north.

DISCUSSION

... Algeria ...

Just behind the shallow low over Central Europe, a strong moisture advection occurs over Northern Algeria. Daytime lapse rates are already steep inlands, where the jet and a very warm air mass further southeast lies. The convection should occur even with limited advection of moist air regionally, but storm organization is pronounced over the eastern parts of Northern Algeria via steeper lapse rates and strong deep layer shear. Very large hail is possible over the area, with strong wind gusts due to downburst-favouring V-shape soundings. A few supercells may produce tornadoes, given the marginal low level shear.

... Italy ...

Same low pressure advects moisture to Italy on the other side. More than 8 K/km 850mb-500mb lapse rate is forecast over Southern Italy, but the instability is mostly capped. The most promising overlap of instability, moisture and shear is simulated to the north of Appennines, where orographic lift is very likely. 1000 J/kg CAPE and 20 m/s 0-6km shear with curved hodographs support a few right-moving supercells, with very large hail potential. Downbursts are also possible with these storms. Since the CAPE is relatively skinny, a Level 2 is not issued.

... Bulgaria ...

Bulgaria is in-between the African warm air and cooler air to the north, right under the jet resulting in more than 30 m/s deep layer shear. The MUCAPE locally gets over 1500 J/kg. The most critical situation is with the high LFC and questionable lift. If the cap can be removed with the help of Balkan Mountains, severe thunderstorms with very large hail are likely. Downbursts wit damaging wind gusts are also possible with these storms.

... Southern Scandinavia ...

Weak instability and modest moisture form patches of a few hundred J/kg of CAPE over the Northern Europe during daytime. The storms around a low level jet passing over Southern Scandinavia may produce damaging wind gusts.