Storm Forecast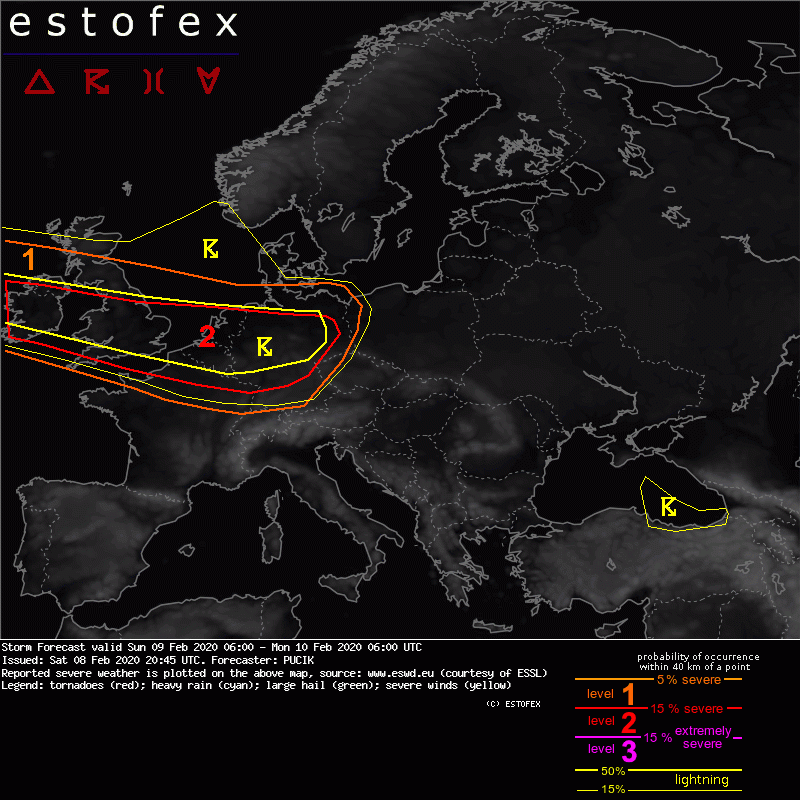 Storm Forecast
Valid: Sun 09 Feb 2020 06:00 to Mon 10 Feb 2020 06:00 UTC
Issued: Sat 08 Feb 2020 20:45
Forecaster: PUCIK
A level 2 was issued for Ireland, southern UK, northern France, Benelux and Germany mainly for severe to extremely severe wind gusts and tornadoes.

A level 1 surrounds level 2 for the same threats, but with lower certainty.

SYNOPSIS

Synoptic-scale setting over the forecast domain is dictated by two main features at mid to upper troposphere: a deep low centered over eastern Turkey and a rapidly moving trough from the Atlantic towards NW Europe. In between of these two features, a ridge will stretch from the Mediterranean into E Europe. A powerful jet-stream, with windspeeds up to 100 m/s, is simulated over the Atlantic. Cyclogenesis is forecast in its exit region and low-level wind field will strengthen over the UK and NW Europe from Wednesday to Thursday. Deep moist convection is forecast along and behind the advancing cold front.

DISCUSSION

... Ireland into Germany ...

NWP is in good agreement regarding the track of the low, positioning of the exit region of the jet-stream and also on the overlap of modest low-level moisture with 6.5 - 7 K/km lapse rates along the front. Such overlap should allow for at least few tens up to 200 J/kg of MLCAPE. Widespread lift will promote generation of one or more strongly forced convective lines. Lines will likely be electrified given EL temperature below -15 deg C.

Given very strong background wind field, with 850 hPA windspeeds around 35 m/s, convective line may enhance the wind gusts near the surface, resulting in widespread severe and isolated extremely severe gusts. While the zone of very high SRH, exceeding 500 m2/s2 in 0-3 km layer, may be mostly displaced east of the advancing line, degree of lower tropospheric shear will remain more than enough to consider tornadoes in the forecast.

A deliberation between Lvl 2 and Lvl 3 was made for parts of Benelux and Germany, where ECMWF simulates pockets of CAPE and convective precipitation in over 40 m/s flow at 850 hPa. Such configuration could yield widespread extremely severe wind gusts, but Lvl 3 is not issued as other models show slightly weaker lower tropospheric flow in the areas of non-zero CAPE.

Line segments will first form in the morning hours over Ireland, progressing east-southeastwards in the afternoon hours over the UK, towards Benelux in the evening and are forecast to reach SE Germany and extreme W Czech Republic by Monday morning.